Brussels might not be the first choice for European city breaks for families. After a 6 night break, we found it a great place to visit with loads to do for kids. In this post, you'll find the best things to do in Brussels with kids, and some of the most popular tourist attractions.
1. Atomium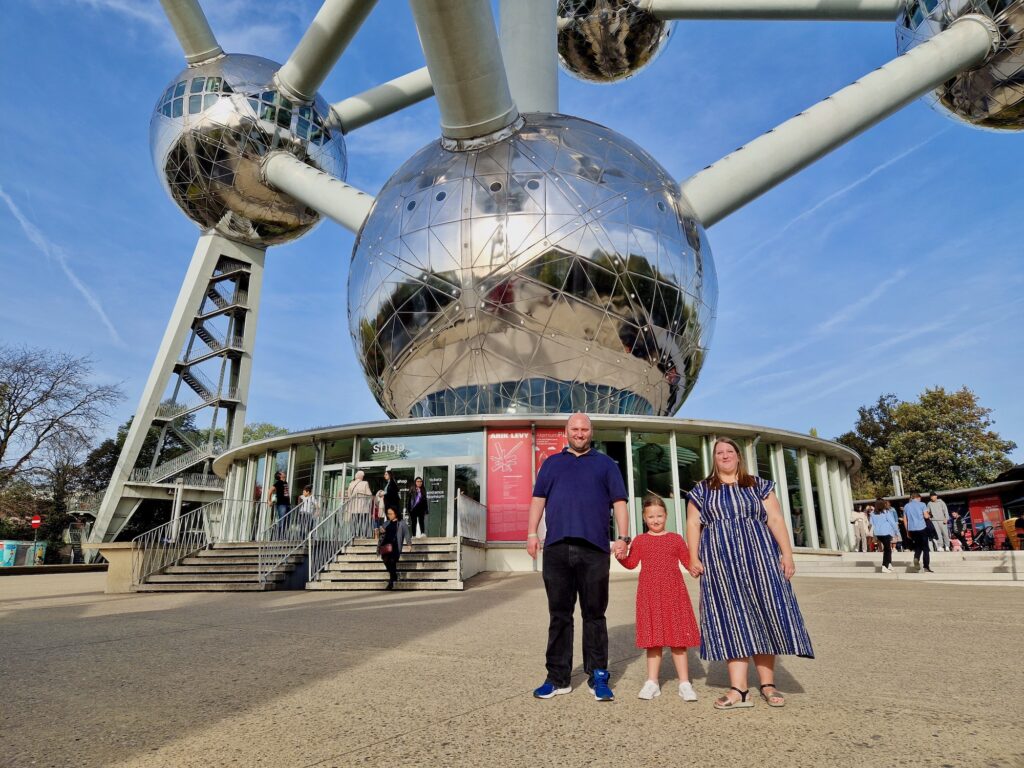 Atomium is one of the things that people might not know too much about before visiting. Originally built for a world fair, it was supposed to be knocked down but was later renovated and turned into a tourist attraction. Inside you can learn the history of the Atomium in a permanent exhibition while others are only temporary exhibitions. In the top sphere, you can get a panoramic view of the city, which is worth going for alone. The best way to get to the Atomium is by public transportation as it's not in the city centre. However, it's only around a 15-minute journey by metro.
Address: Place de l'Atomium / Atomiumplein 1
B-1020 Brussels
2. Mini Europe
Mini Europe is located just across the road from Atomium so it's the perfect place to visit on the same day if you have time. This is a great outdoor attraction, with lots of miniature buildings of Europe's famous landmarks. Think the Berlin Wall, the Eiffel Tower and the Leaning Tower of Pisa… to name a few. This was somewhere we would spend an hour or so but in fact, we spent so much longer just walking around. Visiting at Halloween is fun too as there are lots of great spooky details added to the scenes. Mini Europe was one of the most fun things we did while in Brussels and it's great for the whole family.
Address: Bruparck – 1020 Brussels (Laeken)
3. Choco-Story
Everyone knows that Belgian chocolate is a big deal and why not learn about the history of chocolate while you're in the Belgian capital? Choco-Story has so many interesting facts about the history of chocolate and how it's made. You can get a great audio guide to listen to as you walk around, and there are interactive games to play to keep children entertained and happy. Part way through your visit you can watch a little film and also a demonstration of chocolates being made. If you fancy it, you can also buy some chocolate from the shop at the end. If you have a Brussels Card, entry to Choco Story is free.
Address: Rue de l'Etuve 41, 1000 Bruxelles, Belgique
4. Belgian waffles
You can't go to Belgium without eating Belgian waffles at some point. Brussels has dedicated cafes for waffles, as well as street food stands and sit-down restaurants. Whether it be for breakfast, lunch or dinner, eating Belgian waffles is a great thing to do here with kids. You'll find all different kinds of toppings available, from sweet to savoury, and also options you might not even know exists until you get there. How many do you think you can eat while you're in Belgium?
5. Eat frites for lunch
Travelling with children can sometimes mean needing quick and cheap food at mealtimes. What better way to do this than to eat some classic Belgian frites for lunch? There are plenty of fritteries around the city centre so it won't take very long to find somewhere to eat. Although traditionally eaten in a cone with mayonnaise, there are lots of different options now and I'm sure most children will be happy with this choice of food.
6. Manneken Pis
The Manneken Pis is a really famous statue in Brussels and something tourists flock to see. Who wouldn't want to go and see a figure of a little boy having a wee in a fountain? Thought to go back as far as the 1400s, the first Manneken Pis statue was replaced by a new bronze version, commissioned in 1619 by Brussels' city council. That statue has also been replaced although the 1619 version now sits in Brussels City Museum.
Railings quite well protect the statue so you can't get too close to this one but some clever camera placement will get you a clean shot. The area, being in the centre of Brussels, means that it is always quite busy so you'll have to get up early if you want a quiet, uninterrupted view. Depending on when you visit, you might get to see the Manneken Pis dressed up in a fun outfit.
7 & 8. Jeanneke Pis and Zinneke Pis
If your children enjoy seeing the Manneken Pis statue then carry on with the theme and see the 'weeing girl' and 'weeing dog'. These two statues are also a short walk from the centre of Brussels and not hard to find. Unlike the Manneken Pis statue, the Jeanneke Pis and Zinneke Pis statues are not heavily guarded and in fact, you can get right up close to them. The dog is a particularly fun one to take pictures with. Maybe get your children to give the dog a name of their own while you're visiting.
9. Museum of Natural Sciences
If you're looking for something fun but also educational to do while you're in the capital of Belgium then the Museum of Natural Sciences should be near the top of your list. The museum is huge and there's so much to see, including an impressive collection in the dinosaur area. What we loved the most about the Museum of Natural Sciences is how many interactive exhibits there are. Erin found so many different things to do during our visit and they were all free to do, meaning no extra cost during your visit. This is such a fun way for children to learn about what they are seeing without getting bored!
You can get free access to the Museum of Natural Sciences with a Brussels Card and it's somewhere you can easily spend the majority of the day.
Address: Vautierstreet, 29, 1000 Brussels
10. Parc du Cinquantenaire
Children often need some time and space to run around and be free, especially when you're doing a lot of things indoors. Parc du Cinquantenaire, or Cinquantenaire Park, is one of the best places to visit if you're looking for a public park during your time in Brussels. The park was created in 1880 to celebrate Belgium's independence and spans a huge 74 acres. Here you'll find beautiful gardens, a fountain, tree-lined paths and even a sort of turret/ tower (although you can't go in it).
Close to the big arch in the middle of the park, you can find Auto World, the Art and History Museum and the Royal Museum of the Armed Forces and Military History. Sometimes you'll also find markets, events and live music being held here. There are local restaurants close by so there are lots of options for a delicious family lunch when you get hungry.
11. Auto World
If you're spending some time at Cinquantenaire Park then Auto World is a great place to visit at the same time. Entry is free with a Brussels Card so it's also a good place to go if you want to save a bit of money and not spend on tickets. From vehicles used for royalty to super fast race cars to sections dedicated to different countries, you'll definitely see a really wide range here. Your children don't have to be car enthusiasts to enjoy this museum as there are lots of different things to see while you're there.
Address: Autoworld. Parc du Cinquantenaire 11. 1000 Brussels
12. Comics Art Museum
Brussels is well known for street art and comic books so the Comic Art Museum at the Belgian Comic Strip Center is one of the top things that people choose to do when they're visiting Brussels with kids. This is a really fun and colourful museum, unlike any I've ever been to before. There's a real mixture of older comic strips along with more modern and popular titles such as The Smurfs. Not only can you learn loads about the comic, and look at some really cool comic strips, but there are interactive sections and a shop near the entrance.
This is another attraction where you can get free entry with a Brussels Card.
Address: Belgian Comic Strip Center, 20 rue des Sables, B-1000 Brussels
13. Cathedral of St. Michael and St. Gudula
Even if you only pay it a flying visit, the Cathedral of St. Michael and St. Gudula is absolutely somewhere you should visit. The medieval Roman Catholic cathedral was finished in the 16th Century and given cathedral status in 1962. However, restoration work was done in the 19th century, including some of the stained-glass windows. The cathedral is one of the most popular tourist attractions in the city so be prepared for it to be fairly busy. You can light a candle if you wish for a small donation, sit in a pew and take in your surroundings or walk around and see what details you can pick out. The cathedral is free to enter but donations are welcome.
Address: Pl. Sainte-Gudule, 1000 Brussels
14. Shop for chocolates
With Belgian chocolate being something so well-known, it would be hard to visit Brussels without going in at least one in this great city. You can spend a long time just looking around the shops, whether that be inside or just window shopping. The shops have fantastic displays and some even offer free samples as you look around. We chose to wait until our last day in the city to do our chocolate shopping as it's easy to go crazy and spend too much. Stick to a budget and make sure you don't go over it.
15. Visit the Grand Place
Somewhere you cannot miss while visiting Brussels is the Grand Place. Situated right in the centre of Brussels, you're bound to come across it even by accident if you're just walking around. The Grand Place is one of the most beautiful squares I have ever seen and you, and the children, will be amazed at the buildings once you get there. Around the square, you'll find buildings such as the town hall, as well as shops and restaurants (Hard Rock Cafe being one of them). Be sure to visit both in the daytime and at nighttime when the square is all lit up.
Address: Grote Markt, 1000 Brussels