Sheringham Park is one of my favourite places to go for a walk in Norfolk. It's beautiful no matter when you decide to go but visiting Sheringham Park in autumn is particularly lovely for a woodland walk.
Part of the National Trust
Sheringham Park is part of the National Trust and was designed by Humphry Repton. You'll find Sheringham Hall in Sheringham Park, although this is privately owned and visitors are asked not to approach the railings.
Getting to Sheringham Park and opening times
Sheringham Park is open from dawn until dusk.
Address
Upper Sheringham, Norfolk, NR26 8TL
By Car
Sheringham Park can be reached quite easily by car, 5 miles away from Cromer and 6 miles from Holt. There is plenty of parking spaces at Sheringham Park, costing £6.50 or free for National Trust Members. For those with electric vehicles, there are also charging points available.
By bus
Sanders Coaches, Fakenham to Sheringham service stops on request at the main entrance.
By train
The Bittern line from Norwich runs into Sheringham Station, it's a 2-mile walk from the Upper Sheringham entrance to the park.
What facilities are there?
You'll find the visitor centre at the entrance to Sheringham Park, a short walk from the car park. In this area, there are toilets (including a left-hand transfer disabled WC), small lockers and the Courtyard Cafe. The cafe serves hot and cold drinks, light snacks and cakes.
Why visit in autumn?
Every season at Sheringham Park is beautiful but personally, autumn is my favourite for a few reasons.
Glorious colours
From September, the trees and plants throughout Sheringham Park start to change. The leaves change from deep and bright greens to yellows, browns and coppers. If you manage to visit on a day with good sunlight, it really helps to make the trees shine and stand out.
Hidden gems
There are different areas to Sheringham Park. You can choose to follow the marked walks (red, white and blue) or just a slow leisurely stroll where you think looks nice. This is how I found this arched walkway, seen below. This tunnel led to one of the two lookout towers at Sheringham Park, somewhere I hadn't discovered before. The lookout towers offer spectacular views of Sheringham and you'll be able to see for miles.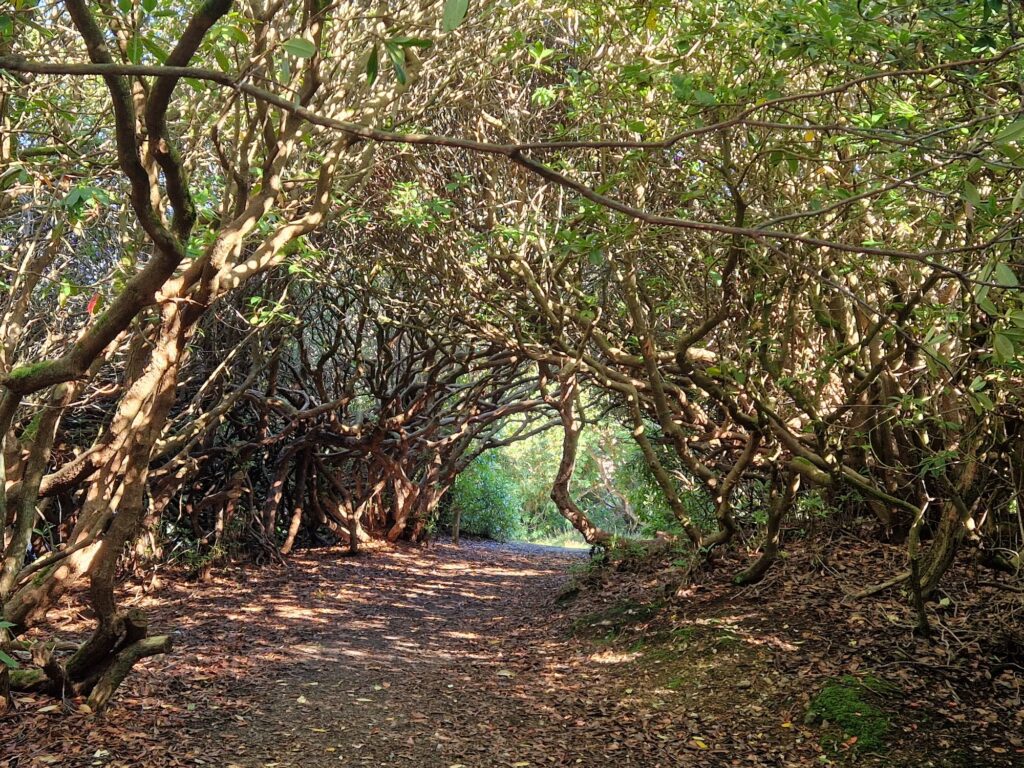 Fungi hunting
It's well-known that Sheringham Park is home to lots of different varieties of fungi. At the entrance, you can often find a blackboard offering suggestions of which fungi can be found at that time. Unless you're already knowledgeable about fungi, it's a good idea to take a picture of the board and then you can look things up as you walk around.
There are lots of great places to look for fungi. On a recent walk, we were lucky enough to find some within a couple of minutes just at the side of the path while others were in interesting-looking tree trunks or damp areas. Take your time when hunting for fungi though as some can be hard to spot or can be quite hidden.
Get those steps in!
Sheringham Park is the ideal place for a long stroll whether that be on your own or maybe with a friend, the dog or your family. As the park is open from dawn until dusk, you can walk around for a good few hours without rushing. The walks are easy to follow and the main path is perfect for walks with pushchairs etc.