Norfolk has some wonderful National Trust properties to visit. Although you can visit all year round, the festive season means being able to see something a bit different if the houses are decorated. We recently visited the Blickling Estate at Christmas. The first sight of Blickling is truly breathtaking and not something you'll want to miss out on.
Parking at Blickling
The Blickling Estate has four different car parks and all are pay and display. There is a base charge of £5 for those who are not National Trust Members. Machines only take coins. You can, however, pay by card in the visitor's reception. Members can scan their cards for a free ticket.
Prices and opening times
Opening times vary in December due to the Garden of Lights event that runs at this time. Opening times may be shorter than normal so refer to the website for up to date information.
Prices correct as of December 2022
| Ticket type | Gift aid | Standard |
| --- | --- | --- |
| Adult | £15.40 | £14.00 |
| Child | £7.70 | £7.00 |
| Family | £38.50 | £35.00 |
| Family with one adult | £23.10 | £21.00 |
History of Blickling
Before the current Blickling Hall was built, there was once a Tudor house in it's place, belonging to Boleyn family (Thomas Boleyn, later Earl of Wiltshire, and his wife Elizabeth). Although the dates of their children's births are not exactly known, it is thought that this was the birthplace of Anne Boleyn, who later married King Henry VIII. There are portraits in Blickling Hall now of both Anne Boleyn and King Henry VIII. If you're into this kind of history then visiting Blickling is a must.
The Jacobean mansion was built in the 17th century (1616) by Sir Henry Hobart. Blickling Hall was built on the same site by architect Robert Lyminge and the moat still remains from the Tudor times. Later in the same century, the estate passed down to Sir John Hobart. He built the Temple in the grounds as well as expanding Blickling's parkland by purchasing more land. Hobart's son, the 2nd Earl of Buckinghamshire, remodelled the hall between 1765 and 1785. Eventually, Blickling was passed down to the Kerr family after there was no surviving direct family.
Philip Kerr, 11th Marquess of Lothian was the last private owner of Blickling. When Kerr died in December 1940, the Blickling estate passed into the care of the National Trust as part of his bequest.
Blickling Hall at Christmas
During certain dates in December visitors are able to walk around some of Blickling Hall, when it's decorated for Christmas. We decided to wait until the house had been decorated for our visit. We wanted to see what kinds of decorations they had and what the house looked like in the festive season.
Nutcrackers
Upon entering the house, you're met with a beautiful staircase looked after by Nutcrackers, which is the theme for 2022. There are small Nutcrackers to find as you walk around the house. Erin was given an 'eye spy' sheet to do which was a nice touch.
Looking around the house
You only have access to certain parts of the house during your visit however, seeing inside this stunning stately home is definitely worth the visit. There's a real range from cosy lounges with lit fires to a dining room with a table ready for a feast. There are lots of little details to look at, including food that might be eaten, plans for Christmas Day and a timetable of how the big day might have looked for guests. We all found Blickling Hall to be really interesting to walk around and loved trying to find the 10 Nutcrackers.
Little extras include a 'cook' in the kitchen making Christmas puddings and a dance in the long gallery. Erin loved talking to the cook and asking her questions about Christmas puddings and helping to stir and make a wish. Stately homes can sometimes be boring for children, but Blickling has tried to make this one as magical as possible. It's so nice to get children involved. Erin asked to help and also brought up some great questions.
Decorating the Christmas tree
Another thing we all really appreciated was the big Christmas tree that guests are encouraged to help decorate near the end of the house visit. There is a big box of baubles that can be added and depending on where you want to put yours, you might need to climb some of the stairs to reach the top!
A walk around the beautiful gardens
As well as being able to walk around the house, you can also explore the gardens. There are 55 acres of formal garden, which are home to ancient yew hedges, a lake, a walled garden and a kitchen garden.
You can pick up a map of the estate at the visitor's reception and this will really help you to find your way around the gardens, although there are plenty of paths that you can follow. Winter might not be the best time to visit if you want to see the gardens filled with flowers however, there are lots of other things you can do. A walk up to and around the temple is lovely and walking along the crunchy leaves as they've fallen is something children will really enjoy. We tried to see what bird's nests we could see, as well as trying to spot other wildlife and fungi in and around the trees. I'm looking forward to returning in other seasons to see how the gardens change.
During our visit, the gardens were set up for the Christmas light walk so there's not quite as much freedom as normal so bare this in mind if this is when you plan to go to Blickling.
Stables café & Muddy Boots cafe
There are a number of cafes on-site at Blickling, including the Stables café and Muddy Boots cafe. Either would be a great place to take a break during your visit to the estate, to get some food and maybe a drink.
The Stables café is the perfect place to go for a quick lunch. Here, they serve light meals, a selection of light bites, and hot and cold drinks. Think jacket potatoes, one-pot meals, salads and sandwiches. The Stables café can get quite busy at certain times so there might be a short wait for a table.
At the Muddy Boots cafe you'll find a selection from bacon rolls and croissants to cream teas and cakes.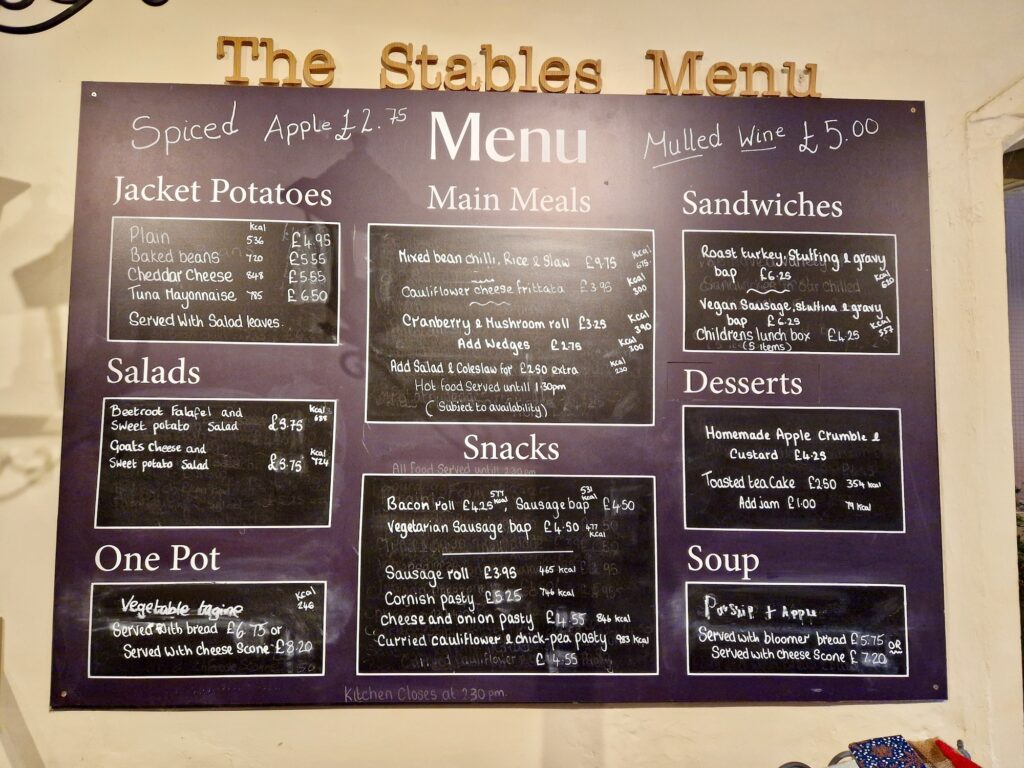 Other places to eat
There are plenty of benches and picnic tables dotted around the Blickling Estate. Here, you can enjoy a picnic that you've brought from home which is ideal if the weather is on your side. We braved a quick sandwich in the freezing cold during December but it will still nice to have somewhere to sit which wasn't in one of the cafes. This is a great idea if you're visiting with children who might not want to wait very long for food.
You'll find the Bucks Arms between the welcome centre and where you go to enter the house and gardens. This isn't part of the National Trust but is on the Blickling Estate and serves pub food and Sunday roasts.
What else is there to do?
There is so much more to the Blickling Estate than the house and gardens. On-site you can visit the RAF Oulton museum (certain days only), visit the huge second-hand bookshop and even go to the stamp shop, which is open by appointment only. This would be a great idea for any stamp collector or for someone who has an interest in this.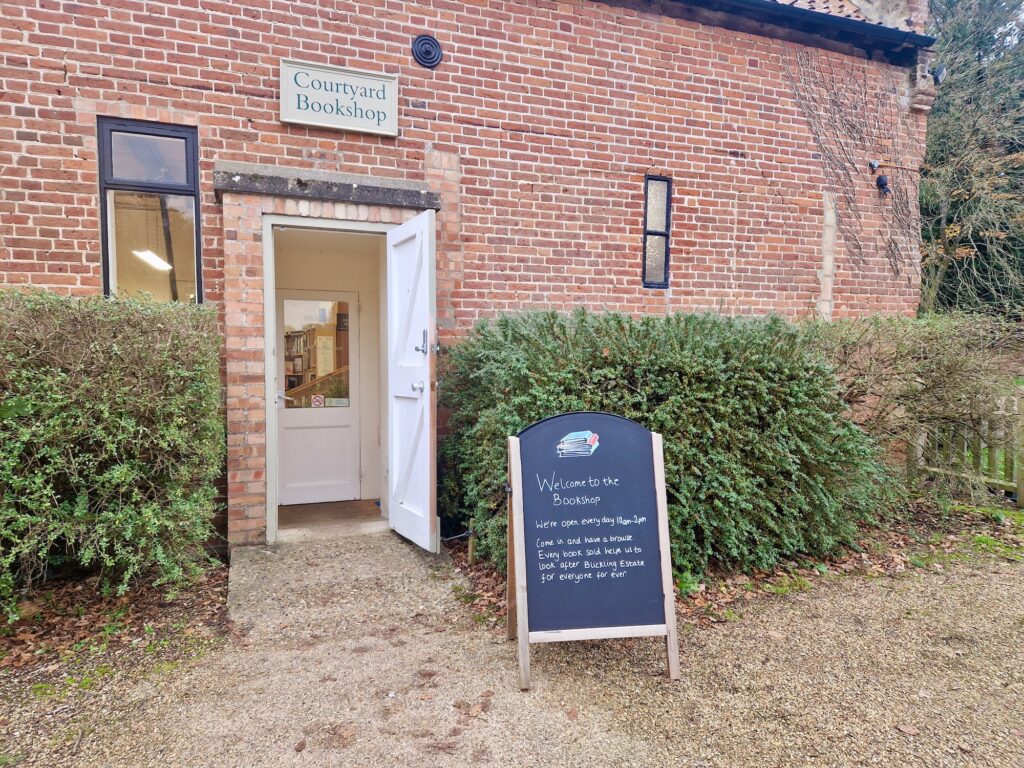 The Blickling Estate has acres of parkland to explore, which is dog friendly so perfect for a family day out. You can see the wider estate and walk through the gorgeous woodland, no matter what season it is and every visit will end up being different. I'm not sure you'll ever get around the whole thing but it could definitely be fun to try. Depending on your ability, you could do a short walk, lake walk, or maybe a longer walk around the extensive grounds instead. Don't forget to grab a map before you set off though!
Contact details
Blickling Estate, Aylsham, Norfolk, NR11 6NF