Banham Zoo, now known as Banham Zoological Gardens, is a great day out for families in Norfolk. It can be hard to know where to start at a zoo you've never been to. Read our top tips for visiting Banham Zoo!
Getting to Banham Zoo
Address: Banham Zoological Gardens, Kenninghall Road, Banham, Norwich, NR16 2HE
By car
Banham Zoological Gardens is signposted off the A11 and A140. You can follow the brown tourist signs to find the zoo. There's free car parking to use during your visit.
Rough travel times: Newmarket: 45 Mins | Bury St Edmunds: 40 Mins | Cambridge: 1 Hr 6 Mins | Norwich: 47 Mins
By train
The nearest train station to Banham Zoological Reserve is Norwich. There is no direct route from Norwich train station so you would need additional transportation from here.
By bus
As of November 2022, bus transport is limited. The only bus route to Banham Zoo being the 37A service run by Coach Services. It is a 5 minute walk to the zoo entrance from the bus station.
Opening times
Opening times are correct as of November 2022.
| | | |
| --- | --- | --- |
| Date | Opening Time | Closing Time |
| 1 November 2022 – 12 February 2023 | 9:30am | 4:00pm |
| 13 February 2023 – 30 June 2023 | 9:30am | 5:00pm |
| 1 July 2023 – 31 August 2023 | 9:30am | 5:30pm |
Admission prices
Keep an eye on Banham Zoo's social media pages as they sometimes have special offers, such as tickets for £10 on certain days.
Prices are correct as of November 2022.

Price Including Donation
Price Excluding Donation
Adult (16+)
£18.50
£16.80
Child (3 – 15 Years)
£13.60
£12.00
Infant (2 & Under)
£2.00
£1.00
Concession (Senior 65+/Student*)
£16.00
£14.40
Carer
FREE
FREE
Incredible animals to discover
Although fairly small, Banham Zoo has a good number of animals to see. It's a good idea to have a look at the map online before your visit so you can plan out anything that's a must-see or decide on animals you are okay to miss out on if you find that you don't quite have enough time. I can't mention all of the animals you can see but here are a few that we really enjoyed seeing.
Towards the front of the zoo, you will find the Farm Barn and this kind of area is always a hit with Erin. The Farm Barn was a great place to see some friendly domestic livestock, such as goats and sheep, as well as smaller animals like rabbits and rats. There is an outdoor area where the goats can roam around and it's so nice to spend some time here. The goats are pretty friendly so it's likely that you'll get to pet one if you want to. Be sure to wash your hands afterwards though.
Being John's favourite, a trip to the giraffe house was an absolute must for us. We left this until after lunch as it's situated at the back of the zoo and we wanted to be able to take our time here. You can go inside the giraffe house, as well as walk around the amazing viewing walkway outside. Sometimes animals can be in quite tricky areas but the viewing house and platform make it so you can see the giraffes no matter where you are. As a giraffe enclosure goes, Banham Zoo has one of the best.
Banham Zoo has some really impressive and beautiful big cats. The enclosures are a really good size, copying their natural world as best as possible, so it can be quite hard to see the big cats at times. Be patient though, as they do move around throughout the day. We were very lucky that the Amur tigers were wide awake and very playful when we were there. There are some younger tigers with their Mum and Dad and they were all quite playful on the day which was nice to see. Other big cats include snow leopards and cheetahs.
Something I wasn't expecting was to see the huge range of primates at Banham Zoo. It seems to be one of the specialities at this zoo! Here, you'll get to see howler monkeys, spider monkeys, tamarins, baboons and marmosets. We spent quite some time watching the primates, learning about their habits and why some of them are different colours after they've been castrated! The zoo keepers were really friendly and didn't mind us asking questions at all.
Sadly, due to bird flu, some of the animals were not available to see such as the colony of black-footed penguins. Across from Penguin Cove though, you can see the sea lions, who happily swim around throughout the day. You can also visit at a particular time and attend one of the daily feeding talks. The birds of prey displays were also unavailable during our visit but that's definitely something I'd like to see on another occasion.
Daily animal feeding talks
Throughout the day you'll find a variety of talks and feeding events for certain animals. The schedule for the day can be found on a board near the entrance to the zoo. It would be a good idea to take a picture or video of this before you start, or make a note of any talks you'd like to attend. We didn't manage to see any talks on our visit because we'd decided to have a slow stroll around instead.
Take a tour of the zoo
If your children are getting bored or tired from walking around, give them another way to see the zoo. Running at various times during the day, you can catch the free safari road train from roughly the middle of the zoo. It takes a tour around the zoo, with commentary on the different animals and their names. The train ride doesn't take long but it was nice to learn a bit more about the animals we'd seen earlier in the day.
Take some time to play
Banham Zoo has a couple of different outdoor play areas. The larger of the two play areas can be found around the corner from the restaurants while the other, smaller play area is in the woodland walk towards the back of the zoo. We found there to be a great mix of equipment for both small and older children including balancing apparatus and huge slides. It would be easy to spend quite a bit of time here. There are numerous benches and picnic tables dotted around so families can have somewhere to sit if they want to.
Food and drink
There are a few different options when it comes to food and drink at Banham Zoo. You're welcome to take your own food and eat at any of the outdoor picnic tables, of which there are plenty. This is an excellent option if you are trying to keep costs down or maybe you want a picnic in the summer.
For a sit-down meal, there are a couple of options. The Glade, which is both eat-in and takeaway, offers paninis, jacket potatoes, salads and cakes. On the opposite side of the same building, you also have Parkside Pizza and this is where we chose to eat lunch on our visit.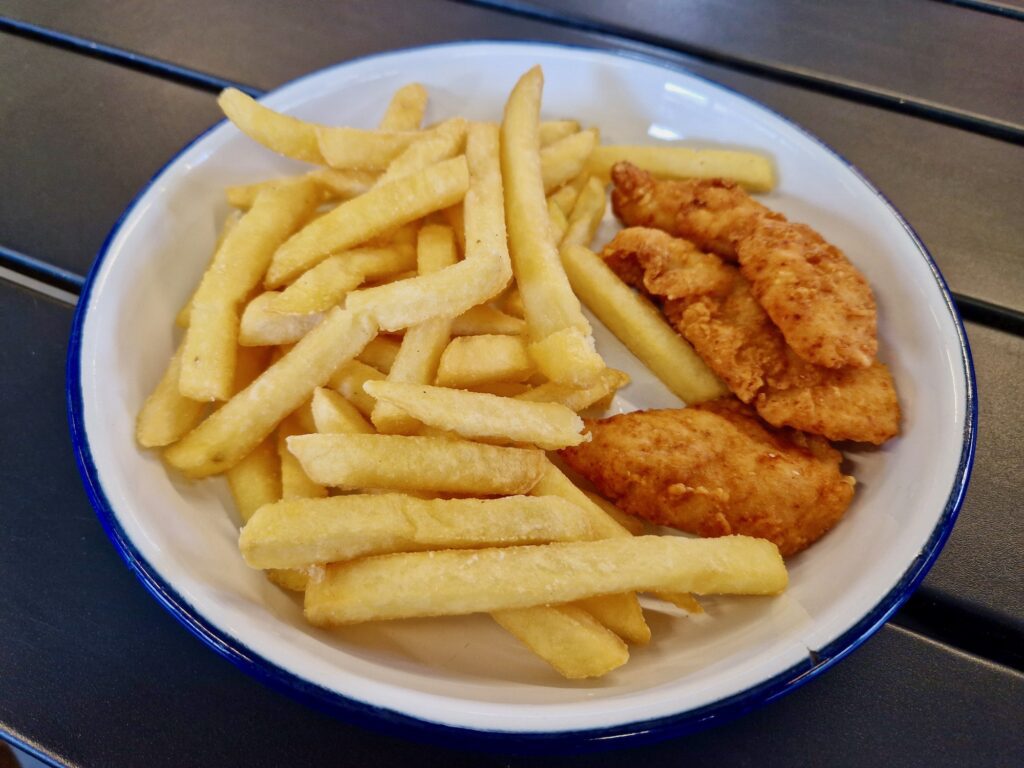 For food at a zoo, we were really surprised by just how nice everything was. The menu at Parkside Pizza includes the obvious pizzas, as well as chicken tenders, salads and sides such as garlic bread and chips. Children's meals are also available with a meal deal consisting of a main, drink and ice cream for a slightly reduced price. Originally, we had ordered chicken tenders for Erin, and the same for me and John to share with chips. However, as we saw other people's pizzas come out we decided to get one of those as well as it just looked so good.
The meals we had were so much better than we had been expecting and it was one of the best lunches we'd had out for a while. For £31.50 we ended up with a pizza, a children's meal deal, chicken tenders and 2 portions of fries. I don't think that price is bad at all, considering how good the food was.
Other options around the zoo include a couple of snack shacks which seem to be open in the summer months and there was a hot chocolate station outside of the restaurants as well.
How long does it take to get around?
With a 6 year old, we stayed from around 9:30 until 3pm. During this time we managed to see all of the animals at the zoo, have quite a leisurely lunch and spend some time at the bigger adventure playground. Although we didn't manage quite a full day at the zoo, it would definitely be possible. This all really depends on who you are visiting with and what you want to get out of the day. If you only want to see the animals, even at a slow pace, this would take a couple of hours maximum.
Other facilities at the zoo
Close to the entrance of the zoo, just near the Farm Barn, you'll also find guest lockers. What a great idea if you don't want to carry around a heavy bag filled with lunch all day. Instead, you can use one of the lockers and pop back for your things when you're ready. Although you can also go back out to the car if you want to, this is a bit of an easy and quick option.
Banham Zoo was quite well-paved and well-suited for pushchairs, mobility scooters and wheelchair users. On that note, it's worth mentioning that it was possible to hire a mobility scooter for around £10. The day of our visit was pretty quiet so there was plenty of availability but it might be worth calling in advance if this is something you might need, especially during times such as school holidays.
As a family, there are certain things we look for and one of those things is toilets. There seemed to be a lot of toilet facilities at Banham Zoo and we never had to walk too far to find some. This is so important when you're on a day out with young children who might not be able to wait very long. Not only that but it was nice to see lower sinks for children.
If you enjoy your visit to Banham Zoo, then consider going to their sister site Africa Alive, near Lowestoft.