As the capital of Belgium, Brussels is a fantastic city to base your family's adventures from. However, there are so many other cities to explore that aren't that far away. Discover some of the best day trips from Brussels by train!
Which train station to travel from?
Brussels has numerous train stations so when you're planning your days out, be sure to put in the research. Brussels-central can be found in the centre of the city but there's also Brussels-South, Brussels-North and Brussels-Midi to consider.
During our visit we were lucky that all of the trains we used departed from Brussels Central Station, meaning we only had to get to grips with one station in the city. You'll find all notices and departure boards in French or Dutch so it's important to know what you're looking for ahead of your journey.
Buying tickets
There are various options when it comes to buying your train tickets in Brussels. Using the SNCB official website is a great idea for planning out your trip and it's also somewhere you can buy tickets in advance.
Another option is to use the ticket machines at the train stations. However, we found the ticket options to be a bit confusing, especially regarding children (age 6 at the time). We didn't want to be stuck with the wrong kind of ticket or pay the wrong amount so we decided to go to a real person at the train station and use the ticket desk. This was much easier, and we saved money because we didn't actually need to pay for Erin's ticket. We didn't know this and would have bought tickets for her had we used a machine.
Top tip: You will be charged an 'on-board' fare if you don't buy a ticket in advance. This costs €7 more than other tickets and it's not something the conductor is able to bypass.
Antwerp (50 minutes)
Brussels-Central offers direct trains to Antwerp-Central with a journey time of around 50 minutes and generally runs around 3 times an hour. The great thing about visiting Antwerp with kids is that you can make it a full-day excursion and only visit one attraction if you want to.
Things to do in Antwerp in a day
Antwerp Zoo is only a minute away from Antwerp-Central, literally across the road and it's a great choice for an easy day trip. The zoo is fairly large, with a good variety of animals for children to see. There are also multiple outdoor play areas and various restaurants if you want to grab lunch while you're there. You can easily spend the whole day at the zoo if you want to.
Diamonds – Antwerp is well-known for its diamond trade and on the walk from the train station into the city centre you'll find many jewellery shops. You don't have to buy anything, and window shopping is great if you are on a budget.
Take in the cafe culture – Antwerp has streets lined with restaurants and cafes, most with outdoor seating areas. Grab some lunch and do some people-watching.
Cathedral of Our Lady – you can't visit Antwerp without seeing this stunning cathedral. You can see it from quite far away and it's not too far from the main square. This is a great spot to slow down, take in the views and make the most of Antwerp.
Brabo Fountain – you'll find the fountain in the center of Grote Markt in Antwerp, which is just a short walk from the cathedral. The square is stunning with iconic Belgian architecture to take in. The fountain is popular though so expect to wait for a photo.

Ghent (35-40 minutes)
The journey from Brussels-Central to Ghent St Pieters is short, at only around 35 to 40 minutes. Although not right in the city centre, trams serve the train station directly outside, or it's around a half hours walk to somewhere like Gravensteen (Castle of the Counts).
Things to do in Ghent in a day
Gravensteen Castle – What child wouldn't want to visit a huge castle? That's exactly what Gravensteen is and you can easily spend a few hours here. There's loads to see and do at Gravensteen from rooms used for torture, a rooftop with an amazing view, and a great audio guide that children can control themselves. It was one of Erin's highlights of our visit to Ghent.
Boat tour on the canals – The city is full of beautiful architecture, narrow streets and beautiful canals. A boat trip is an absolute must during your day in Ghent. A local guide will mostly give boat tours that are multi-lingual, covering Dutch, French and English and they're a great way to learn more about the city… while relaxing at the same time. This is ideal for children who need a bit of a break from walking around.
Take a ride on the tram – Public transportation is straightforward to use in Ghent and it's the best way, and fastest way, to get around the city. Trams are frequent and the lines are easy to follow, so you'll be getting around the city in no time at all. The tram is good for getting from A to B much quicker than walking and perfect to give little legs a rest.
Top tip: book a slot for a boat tour as you arrive, to save you from waiting around later on.
Bruges (55 minutes)
Visiting Bruges from the Belgian capital is within easy reach of Brussels. For your Bruges day trip, you can travel either from Brussels Central or Brussels Midi with multiple trains every hour. The journey is less than an hour long so you'll find yourself in the largest city in the West Flanders region.
Things to do in Bruges in a day
Learn about chocolate – you can't visit Belgium and not do something chocolate themed. Choco Story is a museum all about chocolate where you can learn about the history and origins of something now so popular.
Take a boat tour – a relaxing way to see Bruges is by boat. A tour of the canals is a great way to sit and relax, take in the view and maybe spot some places you want to see at another time. It's never a bad way to end your time in Bruges either.
Visit the market square – Bruges is well-known for its market and this is a great place to take a stroll. Take in the medieval city and discover the stunning buildings, all while trying to get a bargain on one of the stalls. It's ideal to pick up a souvenir or two.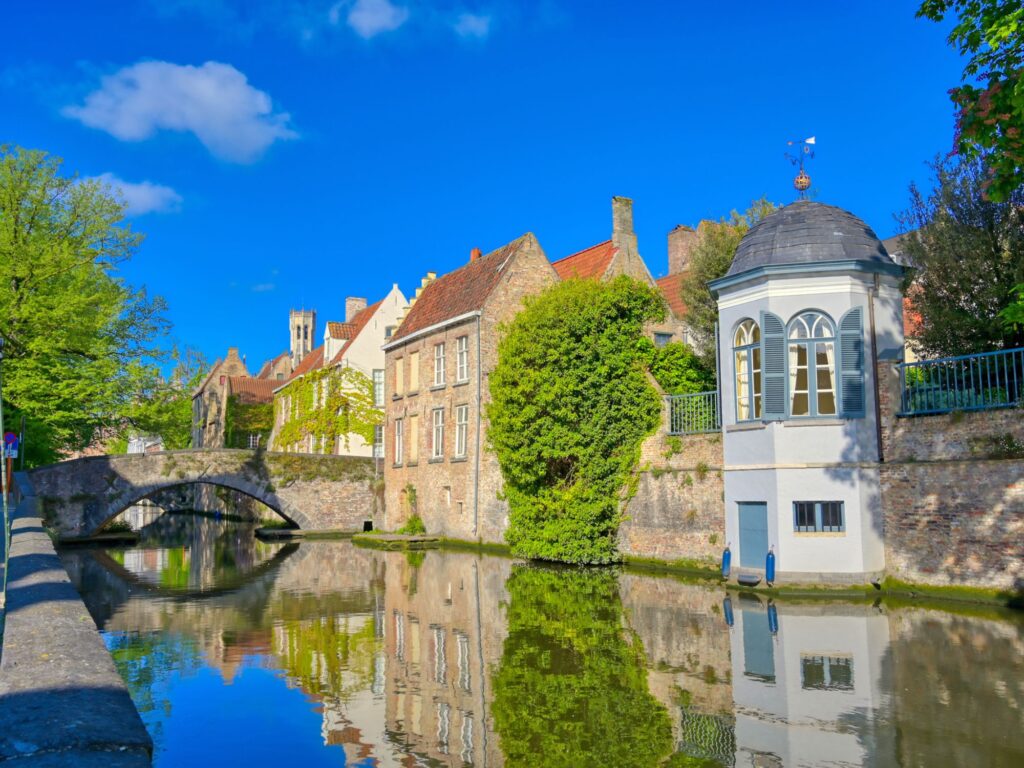 Paris (1.5 hours)
Although a more expensive option than staying in Belgium, you can head over the French border and get to Paris in less than an hour and a half travel time. Trains leave from Brussels Midi and are direct to Paris-Nord. Catch a train early enough in the day and you'll have loads of time to spend sightseeing in the French capital.
Things to do in Paris in a day
The Lourve – a very popular art gallery and it can be quite hard to see everything you want. Taking a guided tour is a good idea as you'll get around more and find out some interesting facts. This is ideal if you're short on time and only in Paris for the day.
Eiffel Tower – an obvious must-do if you've never been to Paris before. Depending on the time of year, the grounds around the Eiffel Tower are gorgeous and it's a good place for a picnic. You can head up the Eiffel Tower to different levels and see a great view of Paris.
Notre Dame Cathedral – Although not yet open to the public (due to the fire damage and restoration works), Notre Dame is somewhere nice to go for a stroll around and then you can at least say you've seen this part of Paris.
Shopping – if you want to do a bit of shopping then Paris is the perfect place for this! Spend your free time walking around the shops, window shopping and maybe picking up one or two things.
Top tip: you'll never get it all done in a day so make a plan ahead of time and do the things you want to see the most.
Cologne (2 hours)
From Brussels-Midi you'll be able to make the trip to Germany, and Cologne, in around 2 hours. This isn't the cheapest of trips, compared to those place in Belgium, but something different to do!
Things to do in Cologne in a day
Cologne Cathedral – at one point, Cologne Cathedral (otherwise known as Kölner Dom) was one of the largest structures in the world. The view of this Gothic church is absolutely stunning and something not to be missed during your time in the city.
Walk along the Rhine – Cologne with a view? You'll want to take a walk along the Rhine then. There are plenty of guided tours available or you can go solo and have your own adventure.
Try traditional food – whether it's for lunch or dinner, be sure to try some traditional German food during your visit. You might want to be really adventurous or maybe stick to something a bit more well-known like a Bratwurst.
Stroll through the Old Town – Cologne is a beautiful city full of wonderful architecture. You can find some of the best spots just by wandering slowly.
Luxembourg (3.25 hours)
Although a longer journey than others, the train fare to Luxembourg is a lot cheaper than to Paris or Cologne. Trains start early from Brussels-Midi, at around 5am, and run one an hour. Get up early and make a day of it!
Things to do in Luxembourg in a day
Walk from the station – Luxembourg City is only a small city and it's easily walkable from the train station. You'll be able to get a good feel for where you're about to spend your day!
The Viaduc Bridge – on your walk from the train station you'll come across the Viaduc Bridge. Its an ideal place to get a great view of Luxembourg.
Place Guillaume II – when you're ready to stop for a snack, coffee or lunch be sure to head to Place Guillaume II. It's a town square filled with cafes and restaurants.
Notre Dame Cathedral – churches and cathedrals are great to visit no matter where you are and Luxembourg's Notre Dame Cathedral is no exception. This Roman Catholic started being built in 1613 and has Gothic architecture mixed with Renaissance elements. It's not somewhere you can spend lots of time but great for a quick visit.
Where would you like to go to on an unforgettable day trip from Brussels?