Planning for a trip can be nearly as exciting as the time spent in your destination of choice. Brussels is right in the heart of Europe and the capital city of Belgium. Here, you'll find a mix of culture and great food, as well as plenty to do for families. In this 3-day Brussels itinerary, we'll uncover the best attractions and experiences this captivating city has to offer.
Top tip!
Before embarking on your adventure in Brussels, invest in a Brussels Card. This card allows entry into so many of the great attractions in Brussels and you can also add use of the public transportation system. This was one of the best things we got for our trip and it made exploring the capital of Belgium so easy.
Day 1: Exploring historic Brussels
Morning: Grand Place and Brussels City Hall
Brussels is full of history and some of the sights are absolutely worth making time for. Start your day at the iconic Grand Place (Grote Markt), a UNESCO World Heritage site and one of the most beautiful squares in Europe. If you want an uninterrupted view, be sure to get there really early. This place fills up fast as people want to take in the stunning architecture and the view of Brussels City Hall. To learn more, take a guided tour!
Lunch: Belgian delights
Belgium is so well-known for the food it offers so you can't miss trying some local dishes during your trip. Classics like moules-frites (mussels and fries) will be found at many cafes and restaurants, or you could pick up a delicious Belgian waffle topped with chocolate and whipped cream. Why not have one as a main and one as a dessert, finished off with a glass of Belgian beer.
Afternoon: Manneken Pis and Belgian Comic Strip Center
Stroll through the charming streets of Brussels to discover the beloved Manneken Pis, a small bronze statue of a urinating boy that has become an emblem of the city. The Manneken Pis on show is now a replica but he can sometimes be seen wearing different outfits, depending on the season. If you have time, visit the Jeanneke Pis (girl statue) and the Het Zinneke (dog statue).
Nearby, visit the Belgian Comic Strip Center, a homage to Belgium's contribution to the world of comics, including Tintin and the Smurfs. This is a great place for both adults and children, as there's something to keep both entertained. There's a great shop on the ground floor too if you fancy taking some comic books home with you.
Evening: Dinner in Sablon and chocolate tasting
Dinner will depend on who you're travelling with, as some places are more suitable for adults more than for children. If you're looking for a grown-up-only meal, head to the elegant Sablon district for dinner at a cozy restaurant. Sablon is known for its fine dining establishments and artisanal chocolate shops. After dinner, indulge your sweet tooth with a chocolate tasting session at one of the renowned chocolatiers in the area.
Day 2: Art and culture
Morning: Royal Palace and park
Start your day with a visit to the Royal Palace of Brussels (Palais Royal). If you're interested in history and architecture, this impressive neoclassical building is a must-see. The interior sections of the Royal Palace of Brussels are only open to the public during the summer months so plan accordingly. Across the road, Parc de Bruxelles is open all year round. It's a great place for kids to run around and explore, as well as grabbing something to eat or taking a picnic with you.
Lunch: Belgian fries and Stoemp
Savour a lunch of Belgian fries (frites) from a local friterie or a traditional dish like stoemp (mashed potatoes with vegetables) served with sausages. Whether you're a tourist or a local, these foods are enjoyed by all.
Afternoon: Museums
Discover Brussels' rich artistic heritage by visiting its world-class museums. The Royal Museums of Fine Arts of Belgium house a remarkable collection of paintings, including works by Flemish and Belgian masters like Bruegel and Magritte. Alternatively, explore the Magritte Museum to dive into the surreal world of René Magritte. Brussels is home to so many different kinds of museums, you're bound to find something to suit everyone!
Evening: Atomium and Mini-Europe
Head to the northern outskirts of Brussels to visit the futuristic Atomium, an iconic structure representing an iron crystal magnified 165 billion times. Explore its various spheres and enjoy panoramic views of the city. Atomium is unlike anywhere I've ever been before and exploring the inside was a bit surreal. This is definitely something you won't forget doing for a while.
Nearby, Mini-Europe offers a chance to see miniature models of famous European landmarks. Mini-Europe is quite a lot larger than you might think, and you can easily spend a few hours there if you have time. There's a great view of Atomium from anywhere in the attraction, and you'll get some great photos no matter where you stand.
Day 3: Day trips and culinary adventures
Morning: Day trip to Bruges, Ghent or Antwerp
Although there is so much to do in Brussels, it's also a great place to use as a base for exploring more of Belgium. Consider taking a day trip to one of Belgium's enchanting cities, either Bruges, Ghent or Antwerp. All three destinations are easily accessible by train from Brussels and you can spend a full day in any of them. Train tickets are easy to buy either online or at the ticket office on the day.
Bruges is known for its romantic canals and medieval charm, while Ghent offers a blend of history and vibrant street art. If you're looking for something fun to do for the whole family, Antwerp Zoo is right outside the train station and you can easily spend all day there.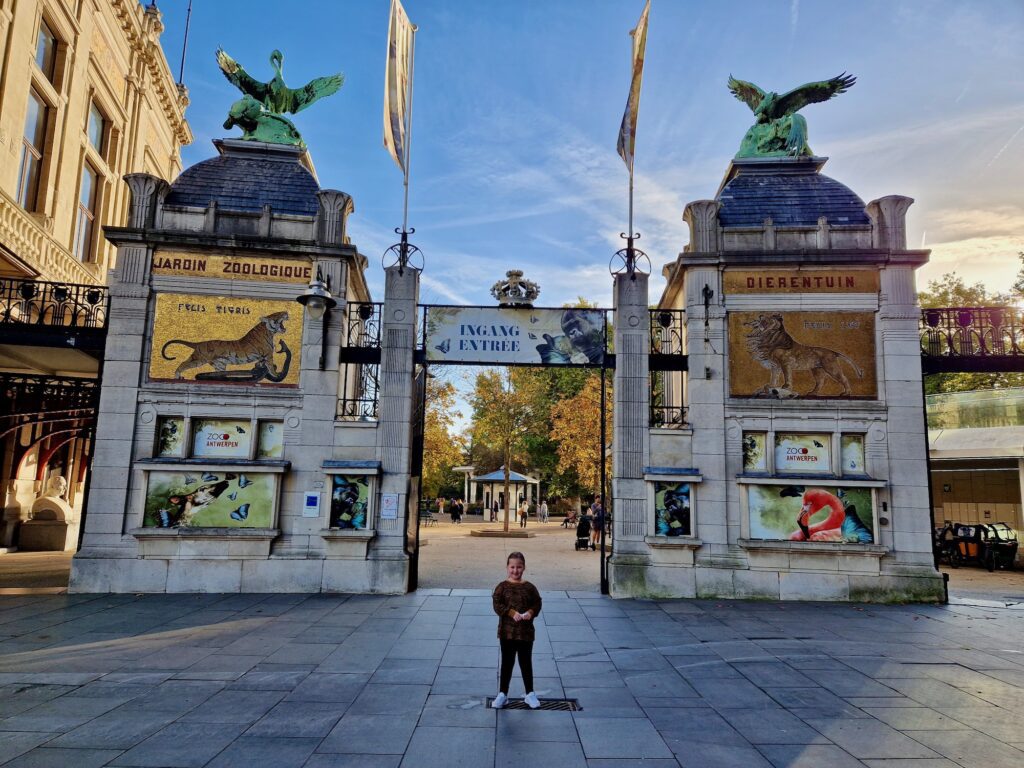 Lunch: Seafood and beer
If you choose Bruges, indulge in fresh seafood at a canal-side restaurant. In Ghent, try a local dish like Gentse Waterzooi (a creamy chicken or fish stew) at a restaurant such as Uilenspiegel. This one is family friendly with plenty of delicious dishes to choose from. Complement your meal with a Belgian beer, as this region is famous for its brews.
Afternoon: Don't forget a river cruise
In each of these day trip destinations, a river cruise should be high up on your list of things to do. Generally, there's no need for booking in advance although you might have a little wait on the day, depending on the season. Tours by boat tend to be given in both French and English and can teach you a lot about the city you're visiting.
Evening: Belgian cuisine at its best
For your final dinner in Brussels, opt for a gastronomic experience at a Michelin-starred restaurant or savor Belgian cuisine at a traditional brasserie. Be sure to try a plate of cheese and end your meal with a delectable Belgian dessert.
Bonus: Brussels by night
Before leaving, take a leisurely evening stroll through the beautifully illuminated Grand Place. The square takes on a magical ambiance after dark, making it the perfect way to conclude your unforgettable three days in Brussels.
With its rich history, artistic treasures, culinary delights, and charming ambiance, Brussels is a city that will leave you with lasting memories. This 3-day itinerary offers a taste of the city's diverse offerings, but there's always more to explore in this enchanting European capital. Enjoy your adventure in Brussels!