AD | Press tickets
Looking for some spooky fun in Norfolk over Halloween? Take a trip to Great Yarmouth's Hippodrome Circus to see their Halloween Spooktacular!
About the Hippodrome Circus
Built in 1903 by circus showman George Gilbert, the Hippodrome is one of the only purpose-built circus buildings that still stands! Over the years, the building has been host to a number of amazing events and performers such as The Royal Philharmonic Orchestra, Julian Moscow State Circus, Chinese State Circus, Circus of Horrors and even BBC Question Time
The building was purchased by Peter Jay in 1979, who went on to restore the sinking floor in 1981. The Hippodrome is still in the Jay family, with Jack Jay as ringmaster! In the summer months you can enjoy the summer spectacular, with other shows with pirate or Halloween themes and the Christmas spectacular in winter. 
Contact and address
St. Georges Road (behind the CIRCUS CIRCUS Amusement Arcade)
Great Yarmouth
Norfolk
NR30 2EU
Box Office: 01493 738877 
Email address: hippodromecircus@gmail.com
Website: https://hippodromecircus.com
Parking at the Hippodrome
The Great Yarmouth Hippodrome does not have parking facilities. However, there are plenty of public (paid) car parks, most of which are a short walk away.
Hippodrome shows
Halloween Spooktactular
Pirates!
Christmas Circus and Water Spectacular
Halloween Spooktacular!
The Halloween Spooktacular hits the stage during October half-term in Norfolk, ready for a spooky week of Halloween fun for the whole family.
Setting the scene
The show begins in a spooky setting, with favourite host Jack Jay explaining that he's just purchased Count Dracula's mansion. He wants to turn it into a magnificent hotel however, Jack accidentally walks around Dracula's grave 3 times and brings him back to life!
Jack, along with comedian Jonny Mac, embark on a fun Halloween adventure, trying to not only save themselves but to get rid of Dracula before it's too late!
World-class circus acts
If you've been to any Hippodrome show before, you'll know that they are full of a host of world class circus performers. The Halloween Spooktacular is no different. Dracula introduces the acts as his friends from the underworld so expect amazing costumes, brilliantly painted faces and spooky dance moves. 
For 2023, acts included knife throwing, aerial artists, acrobatics, hula hoopers, fire twirling, the dance troupe and of course, the hilarious comedy duo Jack Jay and Jonny Mac. You"ll be on the edge of your seat, watching flaming knives being thrown around, aerial artists dropping from heights close to the ceiling and dangerous balancing acts doing something we didn't think could be done.
Jack Jay and Johnny Mac
Jack Jay and his comedy partner Johnny Mac lead this hilarious spooky journey and provide the entertainment between circus acts. Johnny Mac has his signature catchphrase 'I'm enjoying myself' and Jack throws himself into whatever madness is happening on stage. The two are like fun best friends, having the best time while they're on stage. 
There's madness and mayhem in a fantastic fun way, which will have you laughing the whole way through.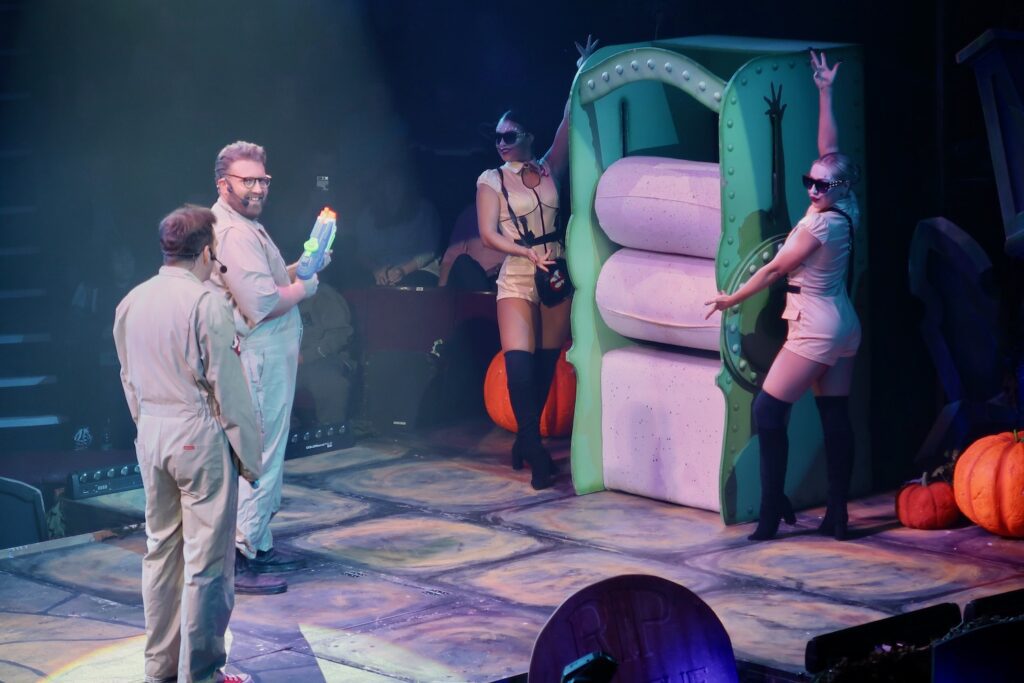 Halloween party!
The show ends with a super fun Halloween party which the audience is encouraged to join in with. The cast of the show all come out to the stage, and dance to great songs such as The Time Warp, Ghostbusters and Gangnam Style! What a fun way to end the show!
There's really something for everyone in this show and for all ages. Although a Halloween show, it's not overly scary and there's a lot of fun to be had. If you're looking for something to do in Great Yarmouth during October half term then get yourself tickets to this great show. 
FAQ
When do the doors open?
The doors open roughly 35 minutes before the Hippodrome Halloween Spooktacular starts. 
How long does the show last?
The Hippodrome Halloween Spooktacular lasts around 2 hours. 
Is there an interval?
There's an interval in the middle of the show, lasting around 15 minutes. There is an announcement a few minutes before the show is due to begin again.
Can I buy refreshments at the Hippodrome?
The Hippodrome offers a range of soft drinks, alcoholic drinks, children's drinks and snacks both before a show and during the interval. Snacks include popcorn, sweets, ice cream and nachos. 
Is it okay to dress up?
Lots of people dress up when they go and see the Halloween Spooktacular. Get into the Halloween spirit and find some fancy dress suitable for this show. Whether you go for full Halloween costumes or something slightly Halloween themed, you'll fit tight in.
Other places to visit in Great Yarmouth:
For more day out ideas, go to the Visit Great Yarmouth website.