AD | Press trip
With so many great places to go for a day out in Norfolk, where do you go next? As a family, we love anywhere with animals. Thrigby Hall Wildlife Gardens is a wonderful option to spend the day as a family.
Contact and address
Filby Road
Thrigby
Great Yarmouth
Norfolk
NR29 3DR
Email: mail@thrigbyhall.co.uk
Phone: 01493 369477
Website: https://www.thrigbyhall.com
​Parking at Thrigby Hall Wildlife Gardens
There is free parking at Thrigby Hall Wildlife Gardens. The car park is located a short walk from the main entrance and it's a large area so there is plenty of space.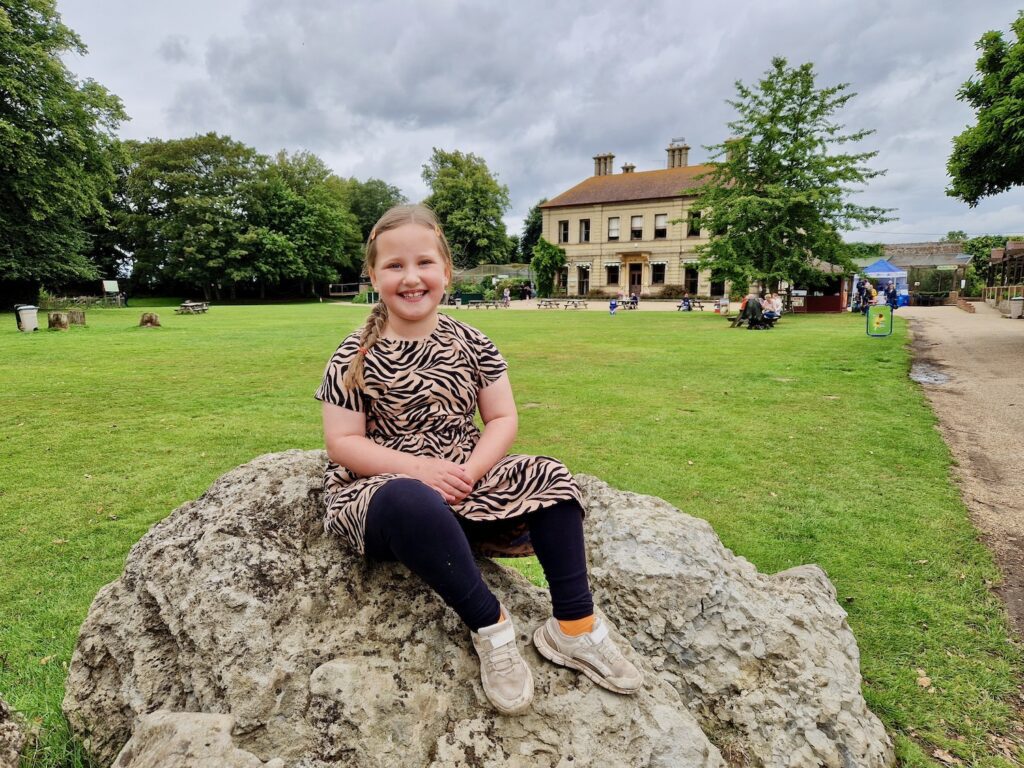 Booking tickets
Tickets can be booked online at a discounted rate, or purchased on the date at the reception kiosk.
Standard Rate / Discounted Online tickets*
*Relevant documentation (eg. proof of DLA/ carers allowance) must be shown at the entrance kiosk.
Adult
£17.95 / £16.50
Child (4-16)
£13.95 / £12.50
Free Entry for Infants aged 3 and under.
Senior Citizen (60+)
£16.95 / £15.50
Reg Disabled Adult*
£8.95 / £ 8.25
Reg Disabled Child*
£8.95 / £ 8.25
Reg Carer *
£8.95 / £8.25
Opening times
Thrigby Hall Wildlife Gardens is open from 10am until either 4pm or 5pm, depending on the time of year. Last entry is 1 hour before the park closes, and the gates are locked at 5:30pm.
What animals can you see at Thrigby Hall Wildlife Gardens?
What I like about Thrigby Hall Wildlife Gardens is that it's quite a small zoo and therefore, doesn't have a massive amount of animals. That also means it doesn't take hours to walk around as well, which is great for smaller children. Here's an idea of some of the animals you can expect to see on your day out.
Sumatran Tigers
One of the most impressive areas of Thrigby Hall Wildlife Gardens is the Tiger Tree Walk, where you can see a pair of critically endangered Sumatran Tigers. The tree walk is mostly accessible, so both wheelchair and pushchair users will be able to use it. Inside the tiger's enclosure are plenty of different areas for them to enjoy, including a great platform at the top. This is an ideal place for the tigers to sleep and if they do, you can get up really close to them!
These are quite rare tigers as the population of Sumatran tigers is estimated to only be around 1000. If you have time, there is an animal talk about the tigers. You can find out the times near the entrance
Red pandas
Thrigby Hall Wildlife Gardens is one of the few places I have been to that actually has red pandas (the other being Banham Zoo). You can find these near the leopards. As red pandas like to climb trees, you might have to be patient in order to see one. We were very lucky as we just managed to see one climbing from the bottom of a tree to the top. After this, it seemed to hide and we might not have been able to see it again!
Leopards
At Thrigby Hall Wildlife Gardens you can expect to see a few different kinds of leopard; Snow leopards, the Amur leopard and Clouded leopards. This is another area where you can make use of the viewing platforms to get a really good look at these big cats. They're such exciting animals to watch and to learn about. Be sure to make a note of the feeding time for the leopards. We caught this by accident, as we were in that area and I'm so glad we did.
Meerkats
What makes this a wonderful place for the whole family is the variety of animals. Yes, the big cats are really exciting but I like that there are some smaller animals to see as well. The Meerkats can be found near the gift shop, and close to the Pool Garden. These are fun animals to stand and watch for a while, as they're usually quite playful and the enclosure has a low, glass edge meaning small children can see the meerkats easily.
Aligators and crocodiles
Inside the Swamp House you can see a range of alligators and huge crocodiles. This is another area that is designed with a unique network of walkways and bridges, allowing you to see the animals from a range of angles. In this area you will find the American Alligator and Mugger Crocodiles and Salt Water Crocodiles. Some of them looked quite scary, especially when they had their eyes peeping out of the water!
Primates
Thrigby is home to a range of primates and you can see these via wooden walkways around the enclosures. Primates love to climb high and swing around so these treetop walkways allow you to see the animals in a much better way. We loved the noisy gibbons, who you can hear from all over the zoo.
Cockatoo Cafe and picnics
There are a few different options when it comes to food and drink for your day out. Being an outdoor attraction, there is a huge grassy area which is perfect for picnics. Alternatively, there are picnic areas with tables dotted around the park.
There is also a picnic pavilion, which provides sheltered seating. Unfortunately, this had been rented out on the day of our visit, which was quite unfortunate as it was raining quite heavily. It would be nice to have more weather cover available if you need to eat outdoors.
If you'd like to buy food during your visit then the Cockatoo Cafe opens at 10:30am each day. Here, you can buy a range of hot food and cold food, snacks, sandwiches and drinks. Food includes things like sausage rolls and jacket potatoes. Children's lunch packs are also available at a really reasonable price. However, the cafe is lacking in more substantial meal options. The menu and prices below are correct as of July 2022.
Burn off some energy at the play areas
There are a few different play areas at Thrigby, including equipment such as a 3D Adventure Maze, climbing frames, a large slide and a pyramid climbing frame. It's so nice that children have been thought about so well here and have been given such a large amount of space to play in the beautiful grounds. The play areas are suitable for children of different age groups and well spread out so if they get busy, there's still lots to play on.
How long can you expect to stay at Thrigby Hall Wildlife Gardens?
Our visit lasted around 4 hours. We arrived at 10am when Thrigby opened and we left shortly after 2pm. During this time, we managed to see all of the animals, walk around each area, have lunch (although this was in the car), visit the gift shop and have a quick play at the play areas. I think we packed quite a bit into these 4 hours but we also could have stayed longer. You might want to spend more or less time in certain areas, or maybe use the play areas more. On less rainy days, I definitely think Thrigby is somewhere you can spend more time.
Be sure to visit the gift shop
Thrigby Hall Wildlife Gardens has a really well-stocked, nice little gift shop. You'll find a really wide variety here, with a selection of gifts to suit all ages. You can find everything from baby blankets to soft toys of your favourite animal to magnets and postcards.
Overall thoughts
Set near the small village of Filby, Thrigby Hall Wildlife Gardens is a wonderful choice for a family adventure. It's a really progressive zoo in terms of how it allows guests to see the animals. There are good size enclosures all round, with a unique view for a lot of the animals. Although it wasn't a full day out for us, we thoroughly enjoyed our time and Erin has already asked when we can go back. I don't think you can ask for more than that!
Other places to visit in Great Yarmouth:
For more day out ideas, go to the Visit Great Yarmouth website.