AD | Press trip
With so much to do in Great Yarmouth, why not try something a bit different on your next visit? Merrivale Model Village is a lovely place to visit with the whole family and there's so much to see there!
Where is Merrivale Model Village?
Marine Parade,
Great Yarmouth,
Norfolk,
NR30 3JG
Phone: 01493 842097
Web: Merrivale Model Village
Prices and opening times
From April, Merrivale Model Village is generally open from 10am until 5pm, with the last admission at 4pm. Please check the website for the most up to date opening times.
*Prices correct as of August 2023
Adults – £9.99
Children 3-12 – £5.99
Children under 3 – Free
Senior citizens – £5.99
Disabled – £8.99
Carer accompanying a disabled person – £5.00
Family ticket – £34 (2 adults and up to 3 children)
Season ticket – £36 per person
(you will need 2 passport photos for a season ticket)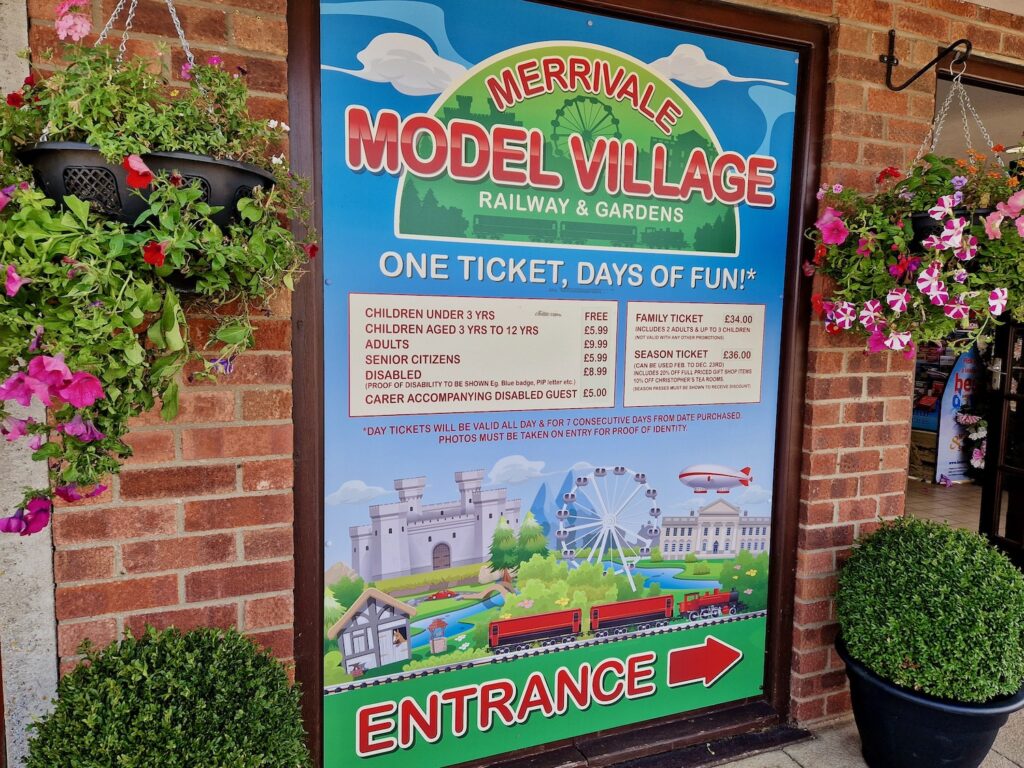 Merrivale Model Village
If you don't know what Merrivale Model Village is one of Great Yarmouth's great attractions along the sea front and close to Wellington Pier. As a first time visitor, you can discover the amazing model village built inside.
Don't miss mini golf
Just around the corner from the entrance you'll find a small crazy golf course. This is included with the admission price and you can play as much as you like while you're there. There's a storage unit with golf clubs and balls where you can help yourself.
Discover the Merrivale Model Village
As you walk around Merrivale Model Village, you will see so many amazing small models of houses, buildings and scenes. There are so many different areas to explore, such as Beside the seaside, the sports stadium, country club and holiday park.
The last place similar to this that we visited was in Brussels and it was amazing so Merrivale had a lot to live up to. This is a fantastic model village though with beautiful gardens, different types of models, the big wheel and the Merrivale railway!
Visiting as a family, we all noticed different things about the displays. For example, Erin tried to find pets in each of the houses or liked to look at what all of the people were doing. John and I noticed some of the more adult themes, such as the name of the country club or what some of the guests were getting up to in the hotel. These things totally went over Erin's head though and weren't things she really paid much attention to.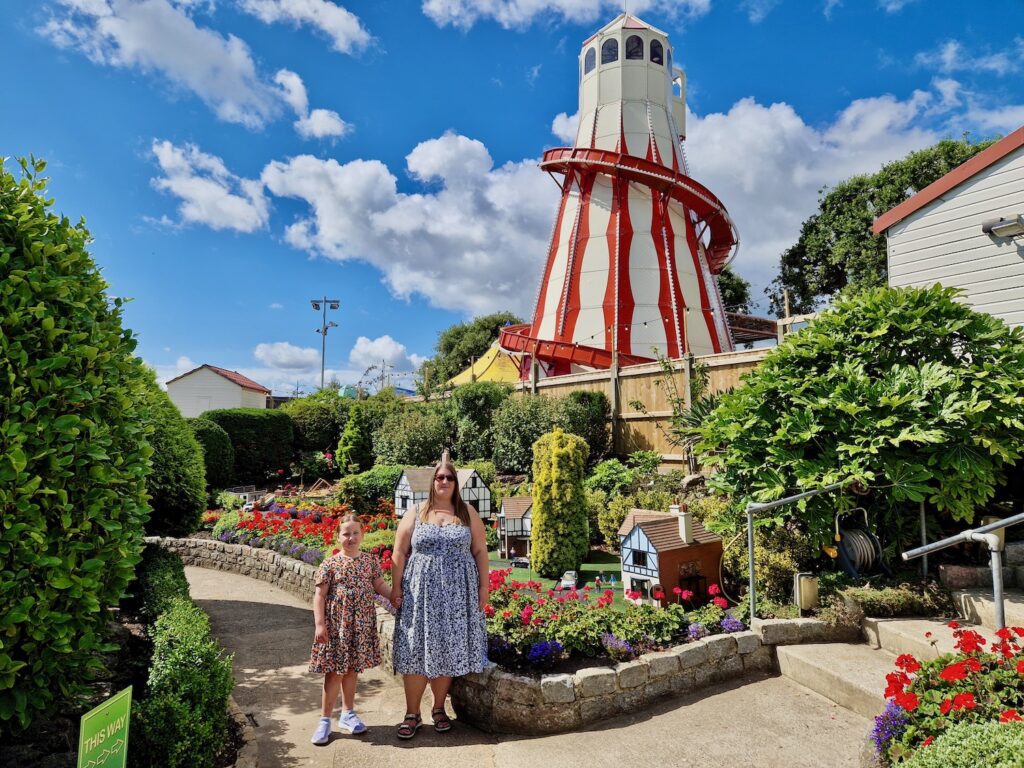 Push the buttons!
At various points around the model village you will notice buttons on the sides of some dislays. Make sure you take the time to press these and see what happens. Quite a few of the displays have animated aspects to them, which work when you press the button. Not only that, but some buttons will make the model railway work and you can stand and watch the trains going around the track. This was a definite highlight for us.
One of our favourite areas was right at the end, where you can see a smoking building (activated by the button) with a fire crew trying to put out the fire. There's actual smoke and water being put into the building and the scene is just so well set up!
Of everything, I really appreciated the detail put into each scene and the models. For example, as Great Yarmouth is a tourist area and popular seaside resort, there are scenes of a caravan park, shopping street and events such as an outdoor concert. You could see where some of the inspiration had come from and that was nice to see from a local point of view.
Feed the fish
Something we weren't expecting from Merrivale Model Village was being able to feed fish! They have some huge koi carp and little dispensers where you can buy food. These take 20p pieces so make sure you go armed with some change. Erin loved this part of our visit though and would have done it for a while if I'd had more money with me.
Is Merrivale Model Village accessible?
Merrivale Model Village is made up of a maze of paths, which are all very well-surfaced and smooth. These are wide enough for single buggies or prams as well as wheelchairs however, double buggies will struggle.
How long do you need to visit?
We spent around 3 hours at Merrivale Model Village and I would say this is about average for a visit as a family. We spent a short time playing mini golf as soon as we arrived but you can easily spend longer doing this if you want to. We took our time going around and I felt like we really took in as much as we could. During this time and saw everything we wanted to and didn't rush at all.
The length of visit, paired with the entrance fee, makes this a really good choice of attraction for the whole family. We did this in the morning before going to Great Yarmouth Pleasure Beach in the afternoon and it was a great way to spend our day.
Old Penny Arcade
At the end of your visit as you leave Merrivale Model Village you will come across Williamson's Old Penny Arcade, which is right next to the souvenir shop.
I wish we'd known about this ahead of time as you can buy tokens costing £1 for 12. This is cash only and they will not take card payments for tokens. I hardly had any cash with me so we could only get 12 tokens. Here though, you can play loads of cool old games like One Arm Bandits, Working Models, Allwins, Strength Testers and Fortune Tellers. There is also a newer amusement arcade there as well.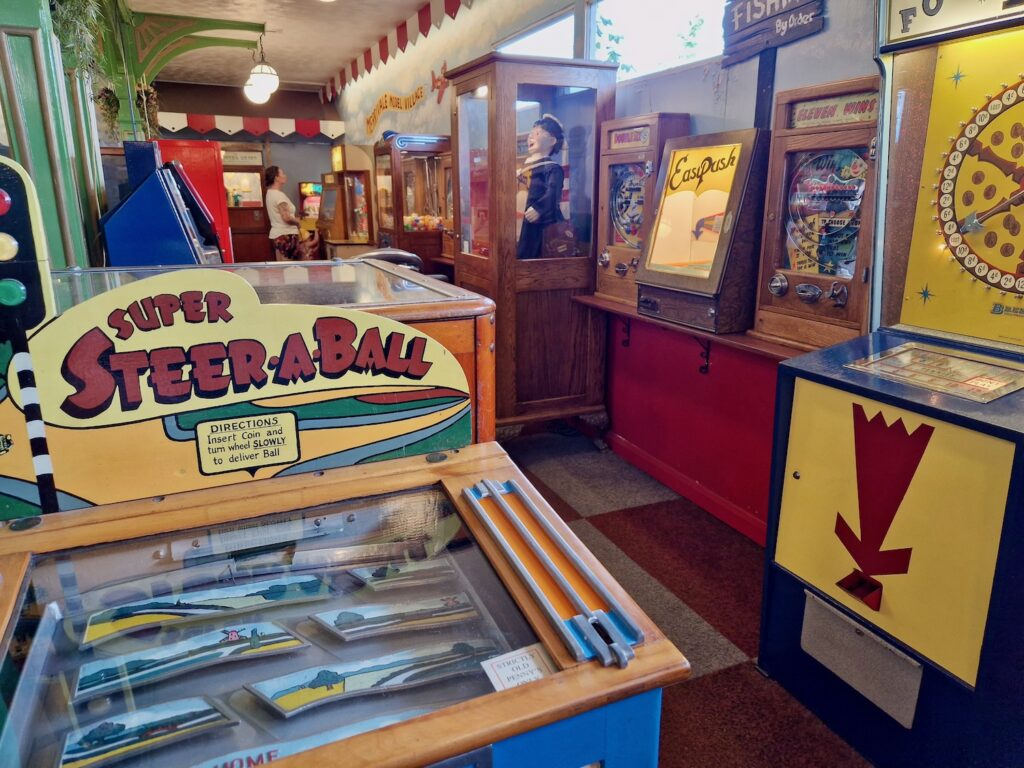 Christopher's Tea Rooms
Another addition at the end of your visit is Christopher's Tea Rooms. We had other plans for lunch on this occasion but it was a gorgeous little cafe with both indoor and outdoor seating. The menu had classics like sandwiches, all-day breakfasts and cream teas!
Other places to visit in Great Yarmouth:
For more day out ideas, go to the Visit Great Yarmouth website