AD | Press trip
Going to Great Yarmouth but want something different for lunch? Sara's Tearooms is family run with lots of delicious, homemade options on the menu.
Where is Sara's Tearooms?
Address
Sara's Tearooms
The Pleasure Beach Gardens
South Beach Parade
Great Yarmouth
Norfolk
Phone number
01493 845546
Email
sara@thetearooms.co.uk
Parking options
There are no immediate parking facilities at Sara's Tearooms. There are pay and display parking options on Marine Parade, or paid car parks all along the sea front which are a short walk away.
Is Sara's Tearooms dog friendly?
Sara's Tearooms welcomes well-behaved dogs. There are plenty of places to sit with a doggy friend including the Beach Terrace. Fresh water is available for free and dog treats are also on sale.
Delicious lunch options
We visited on a very wet day, just when a lot of other people seemed to go to take shelter from the rain. However, there was plenty of seating on the Beach Terrace as well as in the main dining room. On a better weather day, there is also the option of sitting outside in the Flower Gardens.
One of the great things about Sara's Tearooms is the menu. A double-sided A4 menu means that there are lots of delicious options, and something for everyone I think. We're a mixed bunch when it comes to food and we all found plenty of different things that we could have ordered. You'll find that the menu is really well labelled, with a clear guide for things like vegan, vegetarian and gluten-free options.
Hot lunches
As the weather was a bit miserable outside, we all opted for something hot from the menu. There are also things like sandwiches or cream tea, which we would definitely choose on another, warmer day.
John did go the classic fish and chips, which you can expect from anywhere in a seaside town like Great Yarmouth. Coming with chips, salad and peas separately, the fish looked well-battered and really fresh. John was really happy with his choice would definitely order this again on another occasion.
Mum went for a traditional full English breakfast, something you can't beat no matter what time of day. This was a lovey sized breakfast, with locally soured ingredients. Just like all of our meals, the food was piping hot when it arrived and absolutely delicious.
After much deliberation, I went for one of the homemade options, the chicken goujons meal. Usually, something like this would be frozen so I wanted to see what the quality was like being made there at Sara's Tearooms. As you can see from the picture below, it's quite a large meal, coming with chips, chicken goujons, salad, sweet chilli dipping sauce and coleslaw.
You could tell that the chicken goujons were homemade, and in the best possible way. The coating was crisp and crunchy, while the pure chicken breast on the inside was cooked to perfection.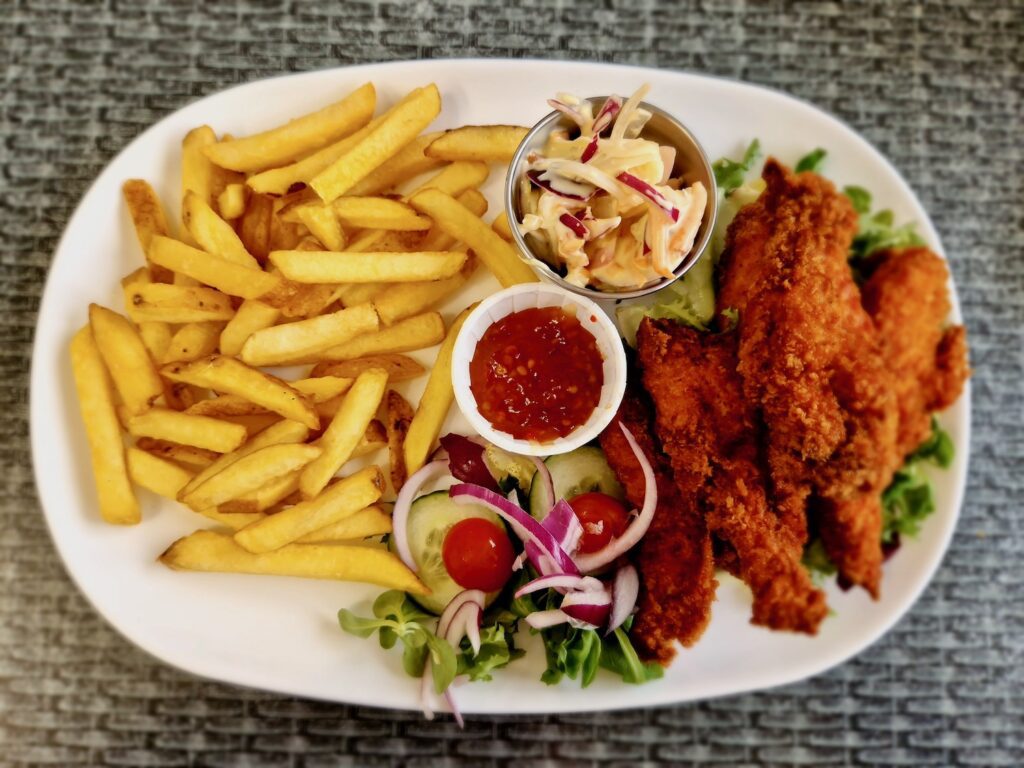 Mini meals
Technically, there are no children's meals on the menu however, there is a selection called 'mini meals'. I loved that it wasn't labelled as for children only, as some people might just have smaller appetites. With 9 options on this menu, Erin had loads to choose from and in fact, she wanted more than 1 thing.
In the end, Erin went for a classic cheeseburger and chips and it was the perfect size for her. There was nothing fussy about this meal, coming with exactly what it said it would. The beans came in a pot on the side, which was ideal because I know a lot of people who might not want them touching other food.
This was an ideal meal for Erin and the only thing she left was the beans.
What did it cost?
For 3 main meals, a mini meal and 4 drinks, the total of the bill was around £48. We were really happy with the price. Not only is a lot of it homemade food but it's great value and really tasty food.
Enjoy a homemade cake
If you still have some room left after lunch, why not treat yourself to one of the delicious homemade cakes on offer. The amazing sweet treats available can be seen at the front counter and flavours will vary depending on when you visit. The sliced of cake are pretty big so could definitely be shared as well.
Service with a smile
One of the big things we noticed at Sara's Tearooms was the service. Friendly staff made us feel really welcome and we received quick service. Even on a busy day, our food only took around 25 minutes to arrive (we were told of a small wait when we ordered). If you're looking for a lovely tea room with great service then this is the place for you!
Other places to visit in Great Yarmouth:
For more day out ideas, go to the Visit Great Yarmouth website