AD | Press trip
If you're visiting Great Yarmouth and looking for somewhere to take the kids, why not visit SEA LIFE Great Yarmouth. It's fun for the whole family and indoors, so it doesn't matter if the weather is bad!
Where is Sea Life Great Yarmouth?
SEA LIFE Great Yarmouth,
Marine Parade,
Great Yarmouth,
Norfolk,
NR30 3AH
Parking options
SEA LIFE Great Yarmouth does not have it's own parking however, there is pay and display parking available on Marine Parade and there are paid car parks along the sea front.
Opening times
Opening times vary depending on the time of year. You can expect SEA LIFE Great Yarmouth to open at either 10 or 11am and close at either 4 or 5pm. Check the website for up to date opening times.
Cashless attraction
SEA LIFE Great Yarmouth is now a cashless attraction so please bare this in mind before visiting.
Booking tickets
At the minute (July 2023), tickets must be booked online prior to your visit. If you decide last minute that you'd like to visit, there is a QR code outside the main entrance which makes it easy to book.
Currently, there are a few different options when it comes to tickets. A standard ticket allows you to visit on a named day, with a specific time slot. You can also buy a more flexible ticket which allows you to choose a date but you can then enter at any time. This ticket also allows you to reschedule within 24 hours of your planned visit.
Inside SEA LIFE Great Yarmouth
After going through the reception area you can start your adventure to discover a whole range of different sea creatures. There's an opportunity to have some pictures taken on a green screen by a member of staff, which you can purchase at a later point. There are various areas to walk through, and you can spend as much time in each as you would like.
Humboldt penguins
One of our favourite areas is to see the playful Humboldt penguins. Here, you can view from both under the water and above on the viewing platform. There are also some great photo opportunities here, and Erin always likes to sit in the round window when we visit. This area can get quite busy so you might need to wait a little while to get to your preferred area.
Under the Ray-dar!
Very close to the penguins is the Under the Ray-dar! area. You can see the rays in a large fish tank, along with some triggerfish. This area also has a really cool research submarine that you can go in to see the rays from in the water, as well as take a quiz! The rays are such fascinating creatures and I could spend hours watching them.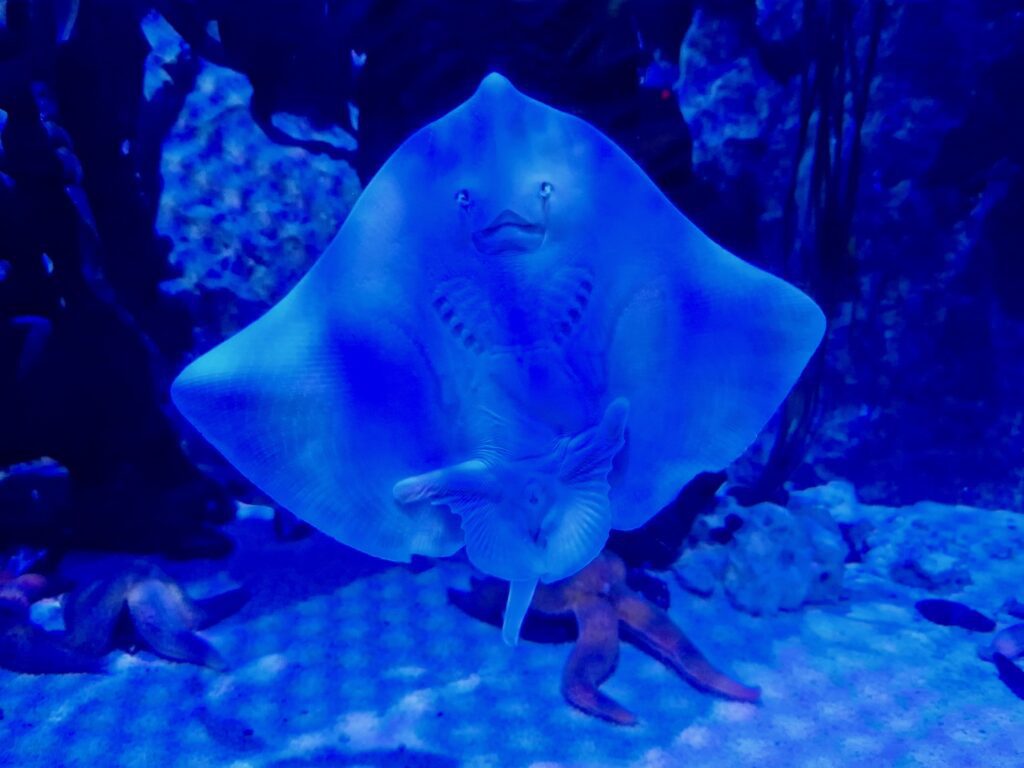 Ocean Tunnel
The Ocean Tunnel, or sometimes known as the shark tunnel, is one of the most popular attractions at SEA LIFE Great Yarmouth. It's such a great place to see some incredible creatures, such as sharks, a variety of sea creatures and a huge green sea turtle. This area is Atlantis themed and it's fun to spot different things, such as Medusa.
Rainforest Ranger Basecamp!
Something I love about SEA LIFE Great Yarmouth is the wide range of events and family-friendly exhibits. One of the newer areas for SEA LIFE Great Yarmouth is the Rainforest Ranger Basecamp! Here, you can meet a ranger and their bug friends. It might be a huge cockroach or a cool millipede. You'll get the chance to learn more about them, touch them and maybe even hold one!
Rock Pool Explorer
Another fun area is Rock Pool Explorer. This is a hands on exhibit where you can learn more about rock pools and maybe even touch a Sea Anemone or Starfish. This is such a fun way to learn more about marine life and do something different. You might even get a sticker afterwards.
What else is there to see?
The great thing about SEA LIFE Great Yarmouth is that there is so much to see as you walk around. There are fishanimal feeds on throughout the day (take a picture at reception), tropical fish, a jelly fish area and a crocodile enclosure. Nemo's Cave is a fun area to visit, especially if you have fans of Finding Nemo.
How long should you plan to be there?
On average, our visits have lasted anywhere between 1 and 2 hours. This will really depend on how many of you there are, when you visit and what you want to see. Sometimes, when there are school visits happening it can take longer to get around and you might have to wait to see certain things. The good thing is, your ticket allows you to come and go as you please so you could always go back again later in the day.
Other places to visit in Great Yarmouth:
For more day out ideas, go to the Visit Great Yarmouth website