Whether you're looking to go on a city break to Antwerp alone or visit as part of a larger trip to Belgium, there are plenty of things to do. In this post, you'll find loads of great things to do in Antwerp with kids.
Antwerp Central train station
You're likely to travel via train and arrive at Antwerp central station. The station itself is impressive and should be visited to admire the beautiful architecture. As you come up the escalators from the train platforms you'll be met with such a beautiful view. You'll definitely want to see more. There are all kinds of nooks and crannies to discover as you look around. Be sure to head outside for a view of the front of the station. It's one of the more beautiful buildings I've ever seen.
Antwerp Zoo
Antwerp Zoo is maybe one of the best things to do in Antwerp with kids! The zoo is just across the road from the train station so only a short walk away. Antwerp zoo is one of the oldest animal parks in the world, opening on 21 July 1843. Although you can spend just a few hours here if you want, it's really worth planning to spend a whole day at the zoo. This is best to make sure you get a chance to see everything. There are so many different species of animals here! There are plenty of play areas too which the children are bound to want to spend time on.
Website: https://www.zooantwerpen.be/en/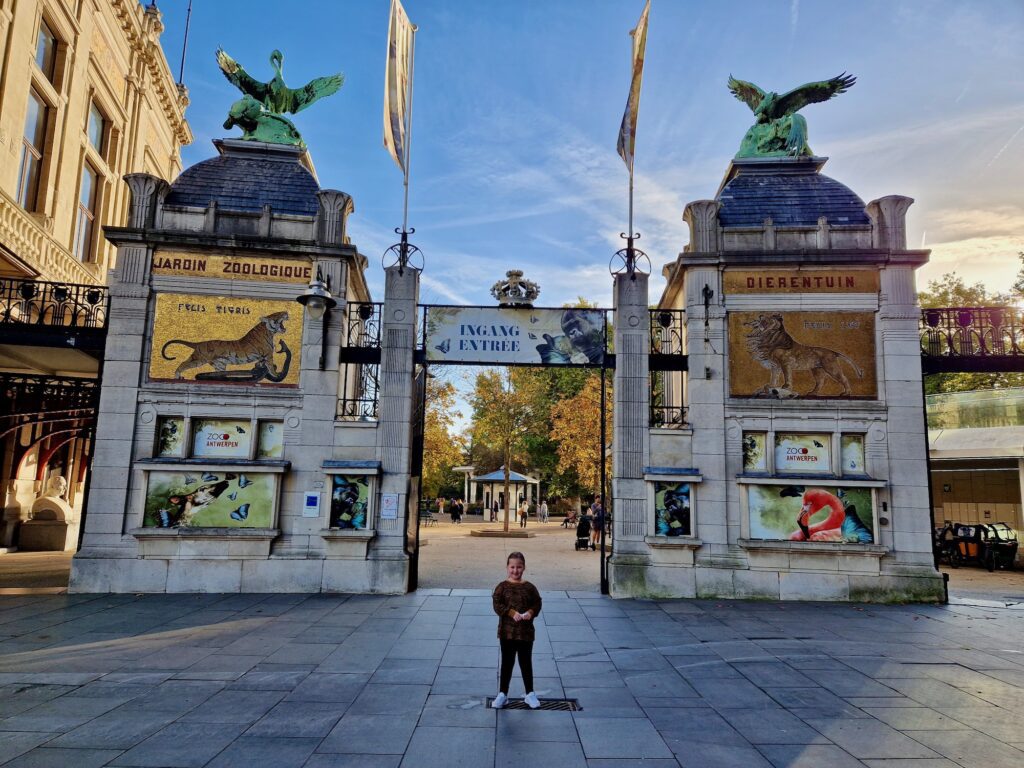 Chocolate Nation
Belgium is well-known for chocolate so why not take the kids to the world's largest Belgian chocolate museum, Chocolate Nation? Expect to spend between 60 and 90 minutes here. You can learn everything from where it all starts at the cocoa plantations near the equator to storage in Antwerp. Discover how chocolate is made and even get to taste some for yourself. I'm sure you'll be going home with souvenirs too.
Website: www.chocolatenation.be
Waffles for lunch
I don't think many people could go to Belgium, no matter where you're visiting, and not try some Belgian waffles. A walk through the city center will mean you'll come across plenty of different options. From gourmet waffles to something simple from a food truck, there's so much choice. The cheapest options are from food trucks, with a waffle only costing a couple of Euros. Why not get a variety between you and try some different toppings?
Grote Markt
Something for the whole family is a trip to see the Grote Markt, the main square of Antwerp. You'll find it in the heart of the old city quarter and surrounded by some of the most beautiful buildings including the city's Renaissance town hall. The square is also home to the Brabo Fountain. You might need to wait a little while if you want a good picture here as it does get busy. Young children might especially like the water coming out of the fountain, which is lots of fun on a hot summer day.
During the month of December, you'll find Christmas markets and an ice rink here. This area would be especially good if you're on an Antwerp day trip and want a quick tour of the city, making sure you see the best things.
Boat trips
One of the best things about Belgium is the water. There are so many places to go on a boat trip and the city of Antwerp is no exception. From river cruises to tourist tours, there's something for everyone. A boat tour of Antwerp is a great way to learn more about the city and if you're travelling with children, a good way to have a break and a sit-down. Tours are usually conducted in English, French and Dutch.
Cathedral of our Lady
We always like to mix a bit of history and culture into our trips away. Something we wanted to see was the Cathedral of our Lady in the center of Antwerp. This is one of the most popular tourist attractions in the city and it can get quite busy at times.
Construction began in the 14th century on the newer version of the church, finishing in the 16th century (although it was never actually 'finished') and is a masterpiece of Gothic architecture. Inside the cathedral, you'll find paintings by Peter Paul Rubens, as well as paintings by artists such as Otto van Veen, Jacob de Backer and Marten de Vos.
Although maybe not great for younger children, it's great for art lovers and historic buildings.
Antwerp's diamond industry
Antwerp is famous for its diamonds and you won't go far without seeing diamond dealers and shops. In fact, Antwerp is known as the diamond capital of the world. There is one area, known as the diamond district, where you can walk down a whole street lined with shops selling jewellery and diamonds. While not necessarily aimed at children, it can be fun to do some window shopping and to look at the shiny items on sale.
Go on a walking tour
One of the best ways to see a new city is to go on a walking tour. Do some research beforehand and find one either family friendly, or a tour that's not quite so long so children don't get bored. This is the best way to see the top things in Antwerp, learn about the history of Antwerp and do something all together on your family vacation.
The great thing about walking tours is that generally, they can also be quite inexpensive and you can pick something suited to your family.
Explore via public transport
Although you can walk to a lot of places in Antwerp, it's important to realise little legs might not want to do quite as much walking as you do. Antwerp has a great system with buses and trams to get you around the city centre. Tickets are cheaper if you purchase them ahead of time, in a shop or on the app.
You can also purchase the Antwerp City Card, where the use of transport is free while your card is valid. As a family, I find city passes a great idea as you can pay for them in advance and then not have to worry about tickets and additional costs while you're on your family vacation.
Whatever you end up doing in Antwerp, you'll have a great time.