Although the second largest city in Czechia, Brno often misses out to places such as Prague or nearby Vienna. However, Brno is definitely somewhere that you should consider for your next weekend, or short break. If you've only got a couple of days, this itinerary will give you ideas for how to spend 48 hours in Brno. 
Day 1
Take a walking tour
One of the best ways to get to know a new city is to take a walking tour. A first timers tour, or one detailing the legends of Brno, are both great ways to start and will last around 2 hours usually.
Having gone on a 'Legends of Brno' tour myself, I found this a really great way to find my feet, figure out where things were and also, get to know more about things like the Brno dragon and why the bells ring at a certain time at The Cathedral of Saint Peter and Paul.
Make a note of places you might want to visit later in your visit to Brno.
The Astronomical clock
In the market square (not the vegetable market) you'll find a very odd-looking astronomical clock. At 11am each day, people wait for the clock to turn and release a marble. However, the marble will come out of 1 of 4 holes and there's no way of knowing which one until it happens.
If you don't manage to get a marble on your first day, maybe try again the next day! It's worth noting that you need to get to the clock before 11am as people will wait, ready for the marble to drop.
Visit the Ossuary at the Church of St. James
Although it might not be to everyone's taste, the Ossuary in Brno is only a short walk away from the astronomical clock and is somewhere that doesn't take a long time to visit. Home to the remains of over 50,000 people, the Brno Ossuary is the second largest next to the Catacombs of Paris. 
There are three burial chambers to explore, with printed guides available from the ticket desk.
Grab a quick lunch
Although sit-down meals are nice, they can take up a lot of your time which could be a waste if you're only in Brno for a couple of days. Instead, head to Poe Poe, one of my personal favourites in the city.
Split into two halves, Poe Poe serves freshly made crepes as well as pizza by the slice. For around £5, you can get 2 slices of pizza (they don't have to be the same), a drink and a box of 20 delicious potato balls. There always seemed to be a real variety of toppings, including a margarita if you want something plain (or are travelling with kids).
The food here is available to take out or there's a decent-sized seating area upstairs. If you fancy a sweet treat for afterwards, the crepe side also sells huge doughnuts in delicious flavours.
Visit Town Hall
Brno actually has two town halls, an old and a new version. The new version has a beautiful courtyard which is a great place for some beautiful pictures. Queen Elizabeth II also made a speech from one of the balconies at the new town hall!
At the Old Town Hall, you'll be able to see the Brno dragon, the huge BRNO sign and also climb up the clock tower. There are 174 steps (63 meters) to climb until you reach the most stunning viewport, giving you 360-degree views of the city. Although the climb isn't the easiest, it's definitely worth it and there are places to stop on the way up. 
Try traditional Czech food for dinner
There are so many great restaurants in Brno, with a huge range of cuisines available. However, if you're looking to try some traditional Czech food, you might want to find restaurants serving the following:
Vepřo knedlo zelo (roasted pork)
Sekaná pečeně (baked mincemeat)
Česnečka (garlic soup)
Guláš (goulash)
For vegans, be sure to go to Forkys, a vegan fast-food restaurant with loads of different options. 
Cocktails at Super Panda Circus
Being a student city there are plenty of bars in Brno to choose from but some are more well-known than others. Super Panda Circus is a bar with personality and it's a bit like going to a secret club; first, you need to be able to find the door! We spent quite a bit of time walking back and forth only to realise we'd gone past the door numerous times.
I won't spoil what happens once you're inside but you have various options for how to order your drinks and you'll definitely be surprised by the flavours. Large groups are generally not allowed in because it's a small bar so you're much better to go in smaller numbers.
Day 2
Visit the Vegetable Market
The Vegetable Market starts early most days of the week so it's a great place to visit if you're ready to explore early on. Vendors surround the fountain in the middle of the square, selling all sorts from fruit and vegetables to freshly picked fungi, depending on the season.
There are a couple of cafes nearby, on the corners of the square, which are perfect for sitting outside and taking in the view. Cosmopolis Cafe does delicious crepes and omelettes.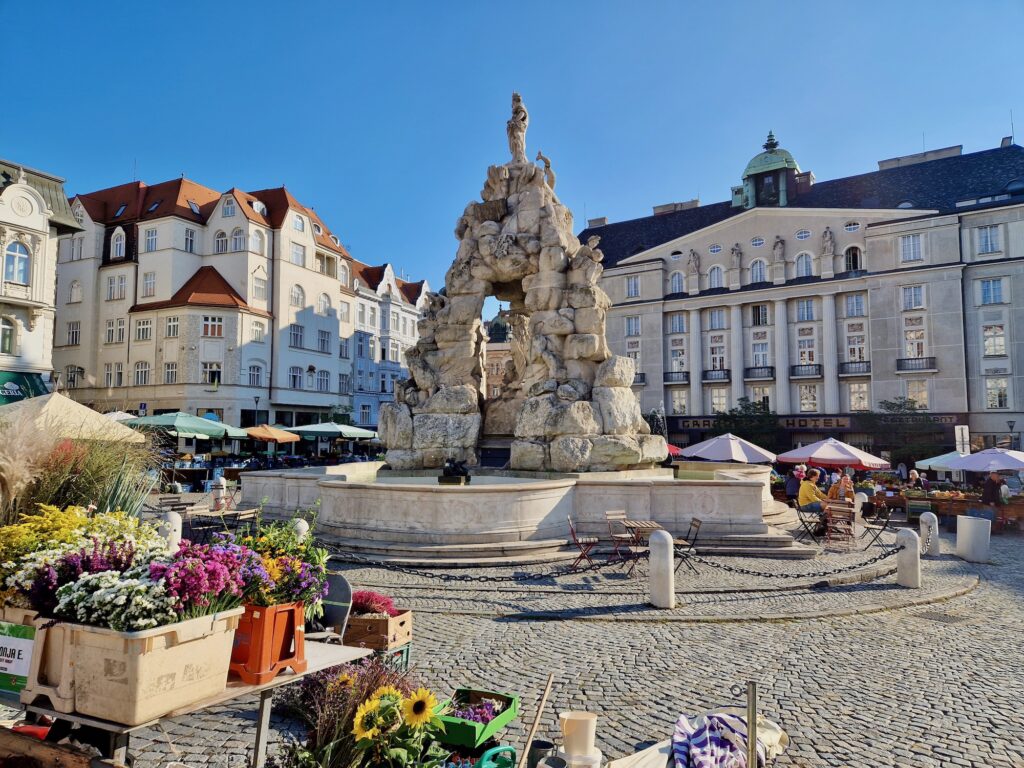 Labyrinth under the Vegetable Market
Located just on the edge of the Vegetable Market, Brno's labyrinth is a great place to take a tour and learn more about the city's underground tunnels. Tours run every hour (or every 30 minutes on weekends during the summer) so you'll never have to wait too long for one to start.
Tour guides are really knowledgeable and will be able to tell you why the labyrinth was created, what it was used for and how it changed over time. There are quite a few steps, as to be expected, so it's not somewhere particularly accessible.
Tickets can be purchased online or you can ask when the next available tour is on the day.
Cake and coffee at Yummy Lammy
Around a 15-minute walk from Brno's centre, a short way from the back of the train station is Yummy Lammy. Here, you'll find the most adorable Llama-themed cafe, serving a range of drinks and cakes. From kronuts to doughnuts and hot drinks served in llama mugs, you'll find it hard to choose what to have.  
Yummy Lammy was a particular favourite of mine and I was so glad I made the time to go there.
Špilberk Castle
Špilberk Castle is somewhere that cannot be missed while visiting Brno. It's a short walk from the city centre but be warned, there is a bit of a hill to climb. It's all paved though and the views as you go up are spectacular. 
Špilberk Castle, established in the 13th century by Přemysl Otakar II, has also been used as a military fortress and prison. There are various different permanent exhibitions to see, a tower to climb and a lookout tower (in good weather) so it can easily take up an afternoon of your time.
Sono Music Club
If you have enough time on your second evening you might want to consider a trip to the Sono Music Club. It's a little way out of the city centre but an Uber will cost less than £10. With space for 1200 standing and 700 seats, the Sono Music Club hosts all sorts from tribute bands to singers. You might want to check the listing before you arrive in Brno and purchase tickets in advance if there's something you'd like to see.
Other notable attractions in Brno
If you have time, there are so many more things to do in Brno. Find some examples below:
Cathedral of St. Peter and St. Paul
Villa Tugendhat
Villa Stiassni
VIDA! Science Centre
10-Z bunker
Brno Observatory and Planetarium