Brno may not be on your radar when it comes to family city breaks… but it should be! Its such a wonderful city with plenty of history and things to do. Read on to find out 10 fun things to do in Brno for families.
More about Brno
When it comes to visiting the Czech Republic, or Czechia, Prague is usually the first city that comes to mind. Brno is the Czech Republic's second-largest city though and a great alternative to a city that is much more popular.
London Stansted offers direct flights to Brno, with a travel time of around 2 hours. This is ideal for families as there's not much downtime and you can make the most of your city break. Transfers from the airport take around 20 minutes and can be easily done either by bus, taxi or Uber. The city centre is quite compact so children won't get too tired doing lots of walking and many points of interest are fairly close together.
Brno is also a wine region in South Moravia. Although you might be visiting with children, you might want to make time to taste a couple of local wines.
10 fun things to do in Brno!
Not sure how to spend a family-friendly break in Brno? These 10 fun things to do with kids will get you started!
1. Stroll around the Cabbage Market
The Cabbage Market, otherwise known as the Vegetable Market runs most days and is a great central location in Brno. The market starts setting up really early in the morning, with stalls surrounding the Parnas Fountain. Market stalls offer fresh and local produce, which can change depending on the time of year. I visited in September, which is a well-known time for wine and fungi in the region. The colours of the market are fantastic and there are plenty of cafes around the square. During the warmer months, grab a seat outside and enjoy a drink or some cake and take in the view.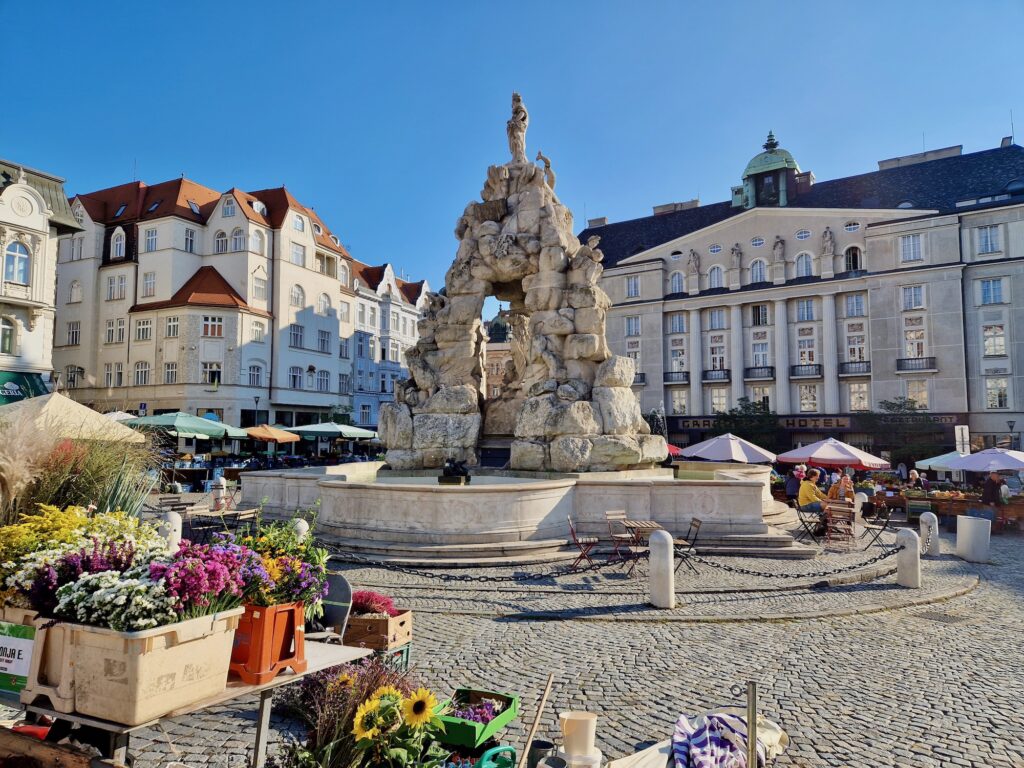 2. Climb the tower at Old Town Hall
Brno is pretty special because it has two town halls. Old Town Hall is home to the BRNO sign (lit up at night time) as well as the BRNO dragon (actually a crocodile). This town hall has an amazing clock tower which you are able to climb, all the way to a viewing platform.
The Old Town Hall tower has 174 steps (63 meters) to climb until you reach the most stunning viewport, giving you 360-degree views of the city. Old Town Hall is worth visiting for this view alone and it's one of the best places to get a spectacular view of the city. The climb isn't the easiest, however, there are stopping points on the way up where you can take a breather if you need to.
3. Discover the underground labyrinth
Did you know there was a labyrinth underneath the Vegetable Market? Taking you right back to the Middle Ages, you can venture down into the maze underneath the city and discover the cellars and passages that were once used.
Tours are fantastic and you can find you lots of history and information about what the rooms were used for, and how that changed over time. From cellars, to prisons and pubs, these passageways have been used for many different things over the years and there aren't many cities where you get to walk underneath!
Find out more: https://podzemibrno.cz/en/places/labyrinth-under-the-vegetable-market/
4. Try and beat the Astronomical Clock
As a family, I always look for fun but free things to do no matter where we go. In Brno, you can visit the market square (not to be confused with the cabbage market) and you will find a really cool astronomical clock. At 11am each day, the clock will turn and release a marble. It's not as easy as catching the marble though as there are 4 holes that it could come out of. You have no way of knowing which it will be until it happens so this means choosing and hoping for the best. Get there before 11am though as plenty of people will want to do this and of course, there are only limited chances on the day.
5. Brno Ossuary
For something really different to do, visit the Ossuary at the Church of St. James. This one won't be suitable for everyone, and maybe not great for younger children depending on how well they do with strange/ creepy things. The Ossuary in Brno is only a short walk away from the astronomical clock and is somewhere you can spend an hour so it won't take up too much of your time. Next to the Catacombs of Paris, the Ossuary at the Church of St. James is home to the remains of over 50,000 people. There are three burial chambers to explore, with printed guides available from the ticket desk.
Find out more: https://www.gotobrno.cz/en/place/ossuary-at-the-church-of-st-james-kostnice-u-sv-jakuba/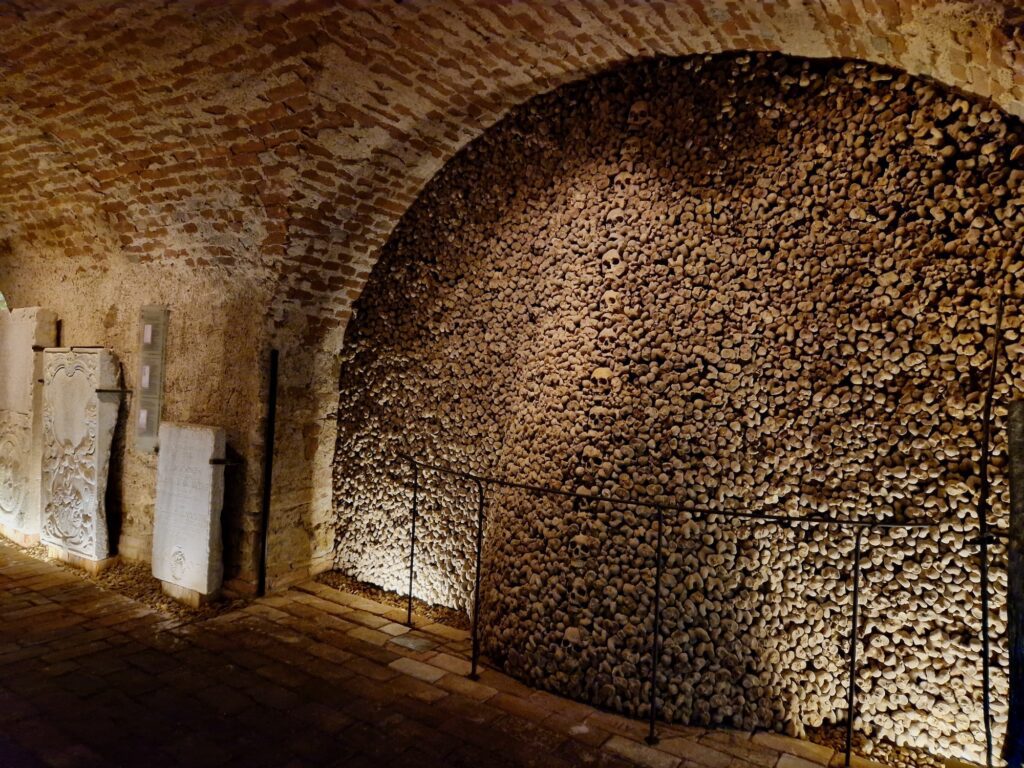 6. Visit Špilberk Castle
You cannot visit Brno without a trip to Spilberk Castle, which is also home to the Brno City Museum. Construction of the castle began in the first half of the 13th century and was used for a number of reasons, including a prison! Nowadays, you can visit the castle along with both permanent exhibitions and temporary exhibitions, as well as the lookout tower and the Royal Chapel. The lookout tower is only open during good weather so the summer months are a good time to visit. You can pay to see different areas of the castle which is great if you only want to do one or two things here.
Spilberk Castle is at the top of a hill, which does mean the walk up there is quite steep. However, it's a great place to look out over Brno and to get panoramic views of the city of Brno.
Find out more: https://www.spilberk.cz/en/spilberk/information-for-visitors/
7. Go on a tram
Brno has a fantastic public transport system consisting of trams, buses and trolley buses. The trams are really easy to use and you'll see them as you're wandering around the city. There are quite a few different lines though, all going to different places so be sure to do a bit of research before your trip, or pop into one of the Tourist Information Centres who will be able to help you. Trams are a great way to see the city while saving your energy and a fun thing to do in a new city.
8. Try new foods
Brno really is a foodie city and no matter what you're in to, you'll find food you'll love! Here are a few ideas of places to eat and foods to try:
Traditional Czech food
One of the great things about going somewhere new is trying to local cuisine. Brno, and the Czech Republic is quite well-known for being fairly 'meaty' when it comes to food and restaurants. If you want to try something local, here are a few dishes to look out for on the menus:
Vepřo knedlo zelo (roasted pork)
Sekaná pečeně (baked mincemeat)
Česnečka (garlic soup)
Guláš (goulash)
Vegan options
Although known for being a 'meaty' city, there are plenty of options for vegans. Here are just a couple to choose from.
Forkys – one of the most popular options, offering a really wide range of dishes and fast food. Although this is fast food, there are healthy options and the restaurant is plastic-free!
Fryends – served from a small window in the wall, here you'll find a range of vegan burgers and sandwiches. There is no seating at Fryends but there are plenty of benches or places to sit outside close by.
For more vegan food ideas in Brno, Footsteps on the Globe has plenty of recommendations.
Fast food
Brno is a really cheap city to visit if you want to cut down costs on food and eating out. Although restaurants are quite cheap in general, fast food is an even better option. Along the main street in Brno you'll find all kinds of options from pizza to kebabs to sandwiches.
One of my personal favourites was Poe-Poe. This fast food restaurant is split into two halves, with one serving freshly made crepes and the other serving pizza by the slice (or a whole pizza if you want). For around only £5 you can get 2 slices of pizza (multiple options available), a drink and a box of 20 deep fried potato balls. Pizza options seemed to include a meet variety, a vegetable variety and always a plain cheese pizza whenever I went in. This is great if you're travelling as a family as there's something for everyone.
You can take your food away here, or sit upstairs where there is plenty of tables.
9. Take a walking tour
One of my top things to do in a new city is to go on a walking tour. There are various options in Brno, from learning the history of the city, to a tour of the coffee shops and cafes. If you want to be restricted to time though, maybe do some research beforehand and go on a self-guided tour, where you can write a list of things to see as you go. You'll see plenty of beautiful buildings, historic buildings and unique things as you walk around Brno. Be sure to look into some of the myths and legends of the city and see how many you can find.
10. See the butterflies at Papilonia
It might not be something Brno is well-known for, but I stumbled across Papilonia by accident. Younger children will love going into the butterfly house, where they can get really close to hundreds of butterflies. You might be lucky and have one or two land on you. If you want to increase your chances, wear either red or yellow, as well as a fruity perfume. Papilonia is a lovely place to visit that will only take up an hour or so of your time. Tickets can be purchased for a cheaper rate online.
Find out more: https://papilonia.cz/en
Other things to do in Brno:
10-z Bunker
Cathedral of St. Peter
A guided tour of Villa Tugendhat
A day trip to Prague (depending on how long you're staying for)
Visit the Brno Observatory and Planetarium