Looking for something fun to do as a family in Norfolk? The Bure Valley Railway offers a fun way to get between Aylsham and Wroxham, on a steam train!
What is the Bure Valley Railway?
The Bure Valley Railway is Norfolk's longest narrow gauge steam railway and was created on the original disused full-gauge bed of a defunct passenger service to incorporate a new, adjacent pedestrian footpath. The Bure Valley Railway uses both steam and diesel locomotives, and runs between the main stations of the old market town of Aylsham and the bustling broads town of Wroxham. There are intermediate halts at Brampton, Buxton and Coltishall too however, these are not in use at the minute.
The main season runs from the beginning of April until the end of October, with special events happening at different times throughout the year and trains running on some weekends.
Booking tickets
Tickets for the Bure Valley Railway can be purchased either online or at both Aylsham and Wroxham stations. There is limited capacity on the trains so it is advisable to book online.
Online booking means that you will be given a reference number which can be used to pick up your tickets your starting station. Tickets will include departure time and your seat information.
Prices
*Correct as of March 2023
| | | |
| --- | --- | --- |
| Aylsham/Wroxham | Single – Train | Return – Train |
| Adult (16+) | £12.00 | £19.00 |
| Child (5-15)* | £8.00 | £10.00 |
| Family (2 adults + 2 children) | – | £50.00 |
| Dog | £3.00 | £4.00 |
| Cycle** | £3.50 | – |
Contact
Call: 01263 733858
Addresses
Aylsham Station
Bure Valley Railway,
Aylsham Station,
Norwich Road,
Aylsham
Norfolk
NR11 6BW
Wroxham Station
Bure Valley Railway,
Wroxham Station,
Belaugh Road,
Hoveton,
Norwich
NR12 8UU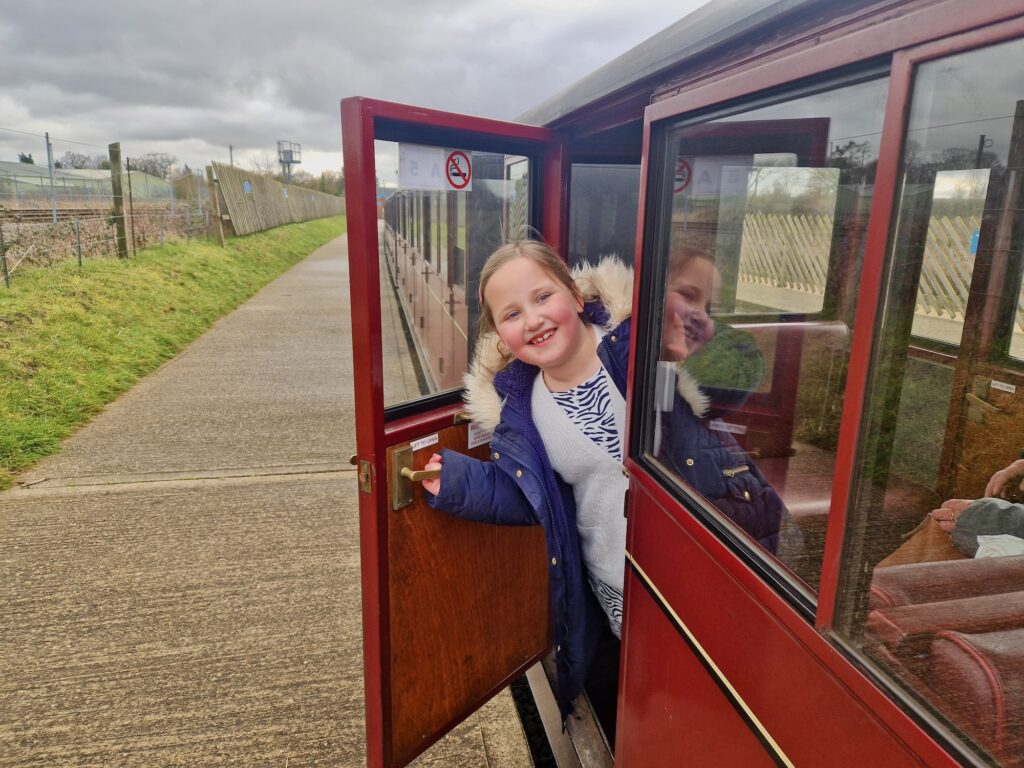 How to get there
On foot:
Walk from Aylsham Town Centre via Red Lion Street and Norwich Road, its just an 8 minute walk from Aylsham town centre; we are opposite Tesco supermarket.
Wroxham station is easily accessible from Hoveton and Wroxham centre. Walking up Station Road, it's around a 5-10 minute walk.
By car:
Aylsham: NR11 6BW
Wroxham: NR12 8UU
Both train stations have fairly large car parks, with space for both cars and coaches. There is free parking at both stations.
By bus:
Sanders Coaches offer a service from Norwich, Aylsham and Cromer service 44, X44 or 44A. Be sure to check public transport timetables for more information.
By train:
Greater Anglia trains run between Norwich and Sheringham, with a stop at Hoveton & Wroxham. The Bure Valley Railway Station at Wroxham can be found just behind the main train station. This makes the Bure Valley Railway within easy reach of Norwich.
The journey
We started our day off at Aylsham Station. As we booked our tickets online, we had to go into the gift shop to pick them up. It was lovely to get an actual ticket which included the times of our journeys each way and which cabin we would be seated in. When I booked, I didn't realise that seating would be allocated but I liked this idea. It meant that when we headed onto the platform, we could all look for the right number and know exactly where we were supposed to be. The cabins are really quite spacious and seated 4 of us comfortably. Ours had the seats facing each other so only we sat together, but the larger area of the compartment had other families in.
The journey between Aylsham and Wroxham takes around 45 minutes, taking you on a lovely ride through the picturesque Bure Valley countryside, starting with the Aylsham bypass tunnel which is bound to be exciting for children. Depending on when you visit will depend on what you get to see along the way. A wintery Saturday wasn't the best for a view on the train however, we made the most of it by trying to see if we could see any animals (which we did). This wasn't a part of Norfolk we'd really seen before so it was nice to do so and on some cool transport at the same time.
When you reach the station, it's fun to stick around a little bit if you can and watch the train being turned around. We were all really surprised at how it happened and it was worth waiting around for. You're also welcome to walk around the station as much as you like, get up close to the front of the train and say hi to the driver if you want to.
Aylsham Station
Aylsham is the bigger of the two trains stations, with quite a bit more to offer. As you enter the station, there are toilet facilities close by and a fantastic gift shop to your right-hand side. This gift shop is huge and sells all sorts. You will find things from Harry Potter merchandise, model train sets, Bure Valley Railway merchandise and children's toys. We were particularly impressed with how much there was in this gift shop and it's worth arriving early or making sure you have time at the end of your day to look around. As souvenir shops go, this one is great!
Aylsham Station is also home to the Whistlestop Café, a lovely 80-seater café. The cafe serves hot and cold drinks, which is great if you want a cup of tea before your train departs. You can also get breakfast, sandwiches, cakes and children's lunchboxes.
We chose to do the journey from Aylsham to Wroxham, mainly because we don't know what there is to do in Aylsham. Across the road from the train station is a small-ish Tesco supermarket and Aylsham town centre is around a 10 min walk away. Here, you'll be able to have a look around the shops and maybe grab some lunch.
Wroxham station
Wroxham Station is somewhat smaller than Aylsham, with less facilities. Instead of a cafe, Wroxham is home to Bufferstop Books, a great second-hand book shop. The shop is huge and has something for everyone, from books to puzzles to DVDs and vinyl records. I was glad that we made some time before our return journey to have a look in! Bufferstop Books is run by friends of the Bure Valley Railway.
Along with the book shop, Wroxham station also has toilet facilities and a small shop. The shop does offer hot drinks but they come from a machine and there is no seating apart from some outside benches. Cold drinks and snacks such as chocolate bars can also be purchased. The shop has a small selection of souvenirs so if you can pick something up here too.
Was it worth it?
I'll be honest, I thought at full price the experience was a bit on the expensive side. We bought our tickets on a special offer, meaning we got 50% off and they cost £33.50 for 3 adults and 1 child. At full price they would have been £67. While we enjoyed our day, and are glad that we had the experience, I don't think the Bure Valley Railway is something we would do more than once.
Keep an eye out on the website and social media channels for offers and discounts, which do pop up throughout the year. Offers usually mean a discount or children go free with a full fare-paying adult.