I'm sure a lot of us remember learning about the Great Fire of London while we were at school. It's one of those aspects of history that's so well-known. If you're in the city of London you can visit the Monument to the Great Fire of London, and go all the way up to the viewing platform. Read on for more information and some top tips for visiting.
Where is the Monument to the Great Fire of London?
You'll find the Monument at the junction of Monument Street and Fish Street Hill, which is only 61 meters from where the Great Fire of London started on 2nd September 1666.
Address:
Fish St. Hill
London
EC3R 8AH
Website: https://www.themonument.org.uk
How to get there
By bus use numbers 17, 21, 35, 40, 47, 48, 133, 141, 149, 344, 521 (all routes through London Bridge).
By train use London Bridge, Cannon Street, Fenchurch Street or Tower Gateway DLR stations
By tube use Monument station on the District and Circle lines or London Bridge on the Northern and Jubilee lines.
By car the nearest car park is NCP Thames Exchange (Vintry), located on Bell Wharf Lane off Upper Thames Street, EC4R 3TB
Opening times
*Correct as of March 2023
The Monument to the Great Fire of London is open daily from 09:30-13:00 and 14:00-18:00*. Last entry is at 12:30 and 17:30. The Monument is closed between 24th and 26th December.
Prices and buying tickets
*Correct as of March 2023
Tickets can be purchased at the Monument on the day of your visit and cannot be booked in advance. Numbers are limited so there may be a short wait before you can go in.
Adult (aged 16+): £5.80
Child (aged 5 to 15): £2.90
Under 5s: Free
Student with valid ID: £4.40
Senior with valid ID: £4.40
Disabled Adult: £4.40
Disabled Child: £2.20
Companion (one per disabled visitor): Free
N.B.Children aged 15 years or under must be accompanied by an adult. Companion tickets are available for those accompanying people with disabilities.
A short history of The Great Fire of London
The Great Fire of London started on Sunday, 2 September 1666 in a baker's shop on Pudding Lane belonging to Thomas Farynor (Farriner). Although Farynor claimed to have extinguished the fire, his house was completely on fire a few hours later at 1am. Due to what houses were made of at the time, fires were quite common and not many people were very concerned. The fire spread quickly down Pudding Lane and Fish Hill, carrying on towards the river. Thanks to an easterly wind, it reached the Thames and hit warehouses stocked with combustible products such as oil. Although the fire spread quite far, it didn't go to the south side of the river thanks to a section of London Bridge that was already destroyed.
As a result of the fire, 13,200 houses, 87 parish churches, The Royal Exchange, Guildhall and St. Paul's Cathedral were totally destroyed. The destruction of the city meant that people had to live in temporary housing, including tents, that were ill-equipped and disease also spread. Many people died from the aftereffects of the Great Fire of London, not the fire itself.
The Monument to the Great Fire of London
Now a permanent reminder of the Great Fire of London in 1666, the Monument commemorates one of the most significant events in London's history. The 202ft column was designed by Dr Robert Hooke in consultation with Sir Christopher Wren, with work starting only a few years later in 1671.
The Monument took 6 years to finish, which was partly due to the difficulty of obtaining enough Portland stone of the required dimensions, and partly due to the safety of the transport as we were at war with the Dutch again between 1672-4.
The Monument was built with a second purpose: to also be the site for scientific experiments. Hidden beneath The Monument is a tiny laboratory from where the column was once used as a giant zenith telescope. This plan was soon abandoned as the surrounding area was too busy.
Work was finally completed and opened in 1677. It's now a popular visitor attraction in London and sees hundreds of thousands of people climb the spiral steps each year.
FAQs
When is the best time to visit?
We visited at the opening time during a school holiday (December) and it was fairly quiet. At the time, I think we maybe saw about 10 other people going up and down within the space of an hour. Some spent longer at the top than others and some were quicker up and down the stairs.
A lot of places in London don't open until 10am so this is a good thing to do before that time.
How many steps are there?
The Monument to the Great Fire of London has a whopping 311 steps before you get to the viewing platform. The steps are on a narrow winding staircase.
Is there a lift?
Unfortunately, the Monument does not have a lift and is not accessible to people with mobility issues or those with prams and pushchairs. The steps are the only way up and down.
Can you stop on the way up?
The spiral staircase is very narrow and there's less space the further up you go. There are no official stopping points however, there are sort of 'window' areas which are more towards the lower part of the Monument. You can sit or stand in these if you need a rest, or help people pass. Speaking of letting people pass, you will probably have to squash yourself in a bit as there is only one way up and down. You will definitely have to pass other people on the steps. The 'stopping points' are a good place to do this if you can.
What can you see from the top?
Once you reach the top of the Monument you'll be rewarded with the view. The viewing platform is 160 feet high so you get some spectacular views of London from up there. Some notable things to see include The Shard, the building where the Sky Garden is, Tower Bridge and over the River Thames.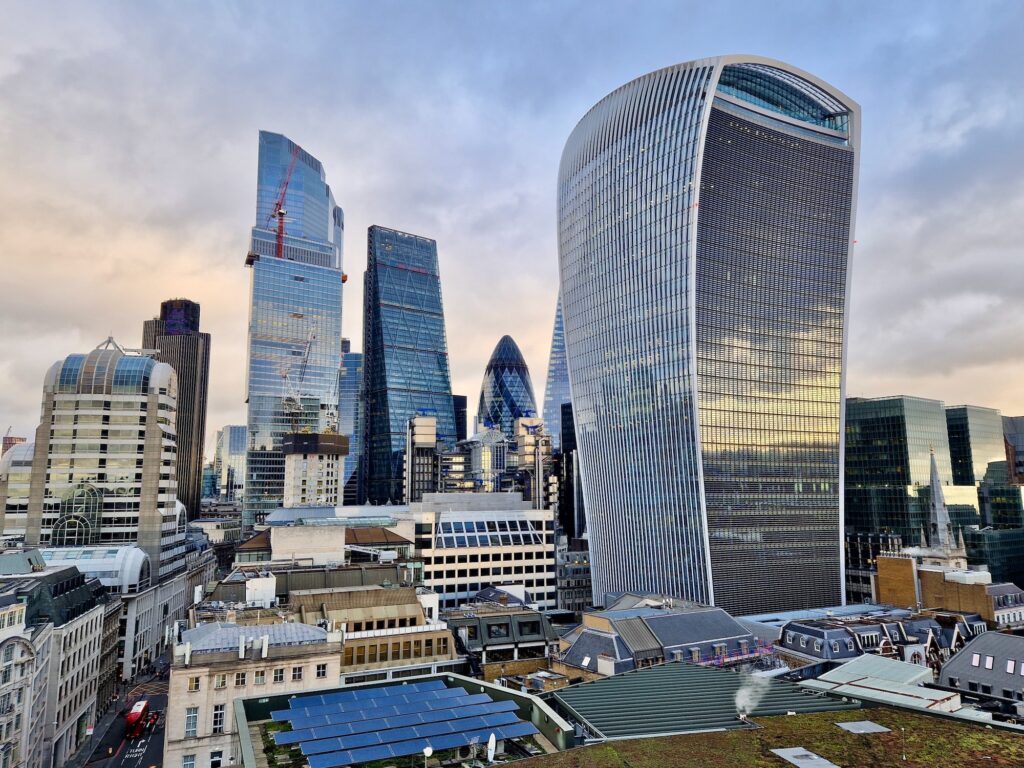 How long does it take to get to the top?
This will obviously depend on how fit you are, how fast you can do the stairs and who you are with. I wasn't sure if I would be able to do all of the steps so I was quite slow going up. I also took quite a lot of breaks when I was feeling out of breath. John and Erin went up a lot faster than I did. Even being slow, it took me maybe 10 to 15 minutes.
Once you've reached the viewing platform you can stay there as long as you want. There isn't masses to see though, once you've picked out the different buildings etc. I don't think we spent more than an hour in total at the Monument.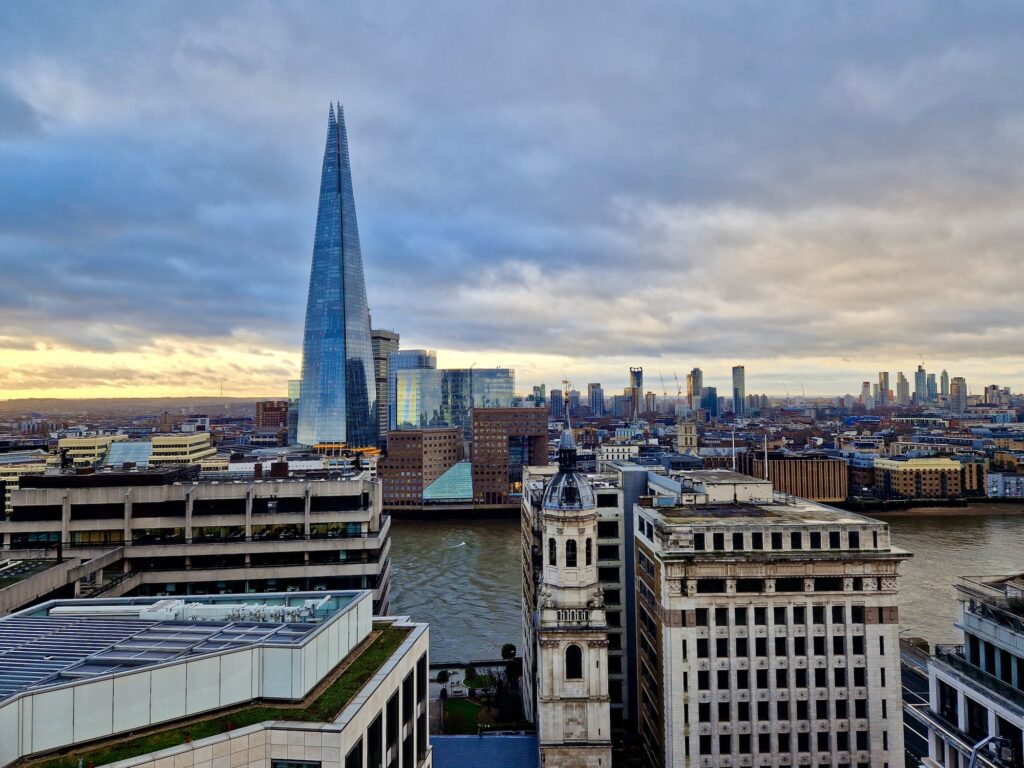 Is it okay for children?
If your children are in school, it's likely that they will learn about the Great Fire of London in around year 2. If you're looking to add to their learning, a trip to London and a visit to the Monument to the Great Fire of London is ideal. As mentioned before, the steps are the only way up and down and there are quite a lot of them. Children need to be able to walk up and down themselves and smaller children will need to be carried as there is no space or facilities for pushchairs and prams.
Something to note is that there are no toilets at the Monument.
What do you get at the end?
Everyone who manages to go up the Monument gets a certificate when they get back down to the bottom! It's a real tough climb up those stairs sometimes and some people might really struggle… like I did. Getting that certificate when you reach the bottom feels like you've really achieved something amazing. After all, climbing that spiral staircase and 311 is no easy task! Children will especially like getting something to show for their efforts.
Is there a gift shop?
Although not a gift shop as such, you can buy a few souvenirs at the base of the monument, where the ticket office is. Items include things like postcards and magnets.
If you do visit the Monument to the Great Fire of London, have a great time and take your time!
Looking for other things to do in London? Here are some ideas: