Did you know there are farms in the city of London? There are close to 15 in London and most of them are free to visit. Take a look at what you can expect from Spitalfields City Farm.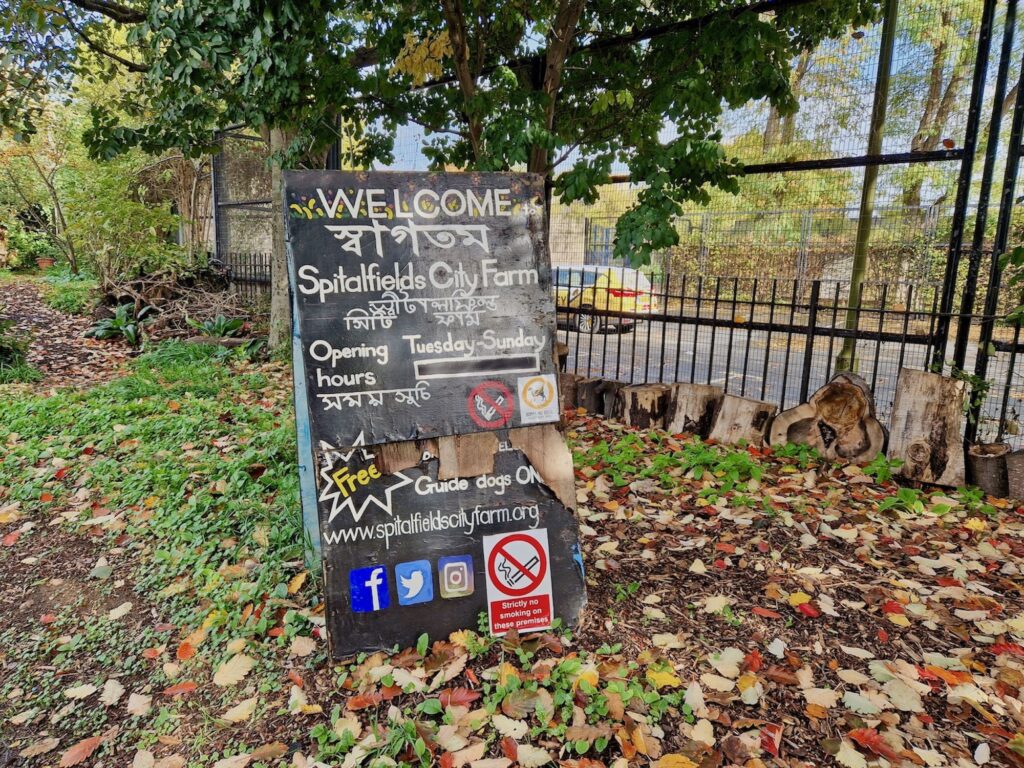 Plan your visit
Opening hours
Tuesday to Sunday between 10am and 4.30pm, (last entry at 4pm).
Entrance costs
Spitalfields City Farm has no entrance fee, therefore, general admission is free. There is no restriction on how long you can stay, so you could make a real day of it if you wanted to.
Address
Spitalfields City Farm, Buxton Street, London E1 5AR
Nearest tube stations
Although there are no tube stations on the doorstep of Spitalfields City Farm, there are plenty of choices within a short walking distance.
Shoreditch High Street – 8-minute walk
Bethnal Green (Mainline) – 8-minute walk
Whitechapel – 10-minute walk
Aldgate East – 15-minute walk
Bethnal Green (Tube) – 15-minute walk
Liverpool Street Station – 20-minute walk
By bus
Bus D3 stops on Vallance Road which is a 2-minute walk to the farm.
How long will a visit last?
Depending on the age of your child, I would say around an hour is a good length of time to spend at Spitalfields City Farm. As expected from a farm in the middle of a big city, it's not massive.Consider combining your visit with a trip to the park, which is pretty much next door to the farm. 
The animals
We really enjoyed the variety of adorable animals at Spitalfields City Farm. You'll be able to see some of the following:
Donkeys
Pigs
Goats
Rabbits
Ducks
Chickens
Guinea Pigs
You are asked not to feed the animals as you go around, to ensure they don't get ill from eating something they shouldn't. There are quite a few signs saying this so it's quite clear what you can and cannot do.
We found many of the animals to be really friendly. When Erin went up to the fences or the enclosures, some animals would come right up and want to say hi… even the chickens! A particular favourite was June, the farm cat, who Erin made friends with easily. Having a slow walk around the farm meant that we had a really good time during our visit, and that we weren't rushed to see everything. It was fairly quiet though and this meant that there were no queues in front of any of the animal enclosures.
Play areas
Spitalfields City Farm has a small play area, which is aimed at smaller children. There are a number of ride-on toys such as scooters and trikes, as well as a tree house you can climb! The play area isn't huge however, it's not to be expected on any urban farm, which is what makes this a really great place for families to visit. For local residents, this would be a fun place to come for an hour or so if there was only a little bit of time to spare but the children wanted to play for a little while.
What else does the farm do?
During our visit, a birthday party happened in one of the huts in the main courtyard. What a lovely idea this is for younger children and I imagine, somewhat different for a venue close to central London. I would have loved a birthday party somewhere like this, with farmyard animals in a fantastic place for the local community. The farm also offers school visits, guided tours and workshops. You can sign up to volunteer in a few different ways on the farm's website.
Other city farms to visit
Vauxhall
Mudchute
Surrey Docks
Deen
Stepney
Newham
Freightliners
Brooks
Kentish
Forty Hall
Crystal Palace