Nottingham is a great city to visit as a family; there's so much to see and do. In this post, you'll find some really fun things to do in Nottingham with kids, and an idea of what you can do over 3 days.
Day 1
Discover the Old Market Square
Nottingham's Old Market Square is a must and there's always something going on. In summer you can sometimes find a fair, beach and stalls while in winter there's a Christmas market. The market square is surrounded by shops and restaurants, tram stops and city hall. When there isn't an event on, the square is a huge open space where children can run around and have fun.
Forest Recreation Ground
Depending on the time of year, Forest Recreation Ground is a great park to go to with kids. We all know children get bored if they're stuck inside for too long so this is the perfect place to let them have a run around, find the play areas and maybe have a picnic for lunch. There's something to do for the whole family, including an outdoor gym and football pitches if this is what you like doing. If you happen to be in Nottingham during the first week of October, the famous Goose Fair is held here and it's a must visit!
Nottingham Contemporary Art Gallery
Visiting Nottingham Contemporary has free entry and it's somewhere you don't need to spend a long time. The exhibitions change so be sure to check the website to see what's on during your visit. If you're in Nottingham during the school holidays then keep an eye out for family days where there are children's activities at Nottingham Contemporary. They get booked up quickly though! This is a really fun art gallery to visit and it's always handy to have something indoors to do just in case it rains.
Kitty Cafe
The Kitty Cafe was a highlight of our own trip to Nottingham. You have to book a slot online as it can get quite busy, especially during weekends and school holidays. There's a small charge for entry to go towards the welfare of the cats, as they're all rescues and you can also buy food and drinks while you're there. There is a time limit on your visit but it's plenty of time to have a drink, and have some time with some really adorable cats and kittens. The cats roam around freely and there are loads of toys for them to play with, which you are welcome to use as well. The Kitty Cafe is something a little bit different but it's bound to be a hit with children who love animals.
Catch a show at Nottingham Theatre Royal
The Nottingham Theatre Royal and Royal Concert Hall is right in the heart of the city of Nottingham, and just across the road from a tram stop. The theatre hosts a whole range of shows throughout the year and many of them are family-friendly.
Day 2
Nottingham's City of Caves
You might not know, but Nottingham is quite famous for the caves that run underneath the city. There's a whole hidden world underneath the hustle and bustle of the city and it's so interesting to find out what the caves were once used for. Tour guides are really knowledgeable and make it fun for everyone which is so important when you're visiting with children.
Families can join guided tours in the caves and they run every 20 minutes. As the tour takes place in the caves, it's not somewhere very accessible. Unfortunately, this means that pushchairs and prams aren't suitable for the tour and children will either have to walk or be carried. Under 5s go free and there are family tickets available. You can pair your ticket to the City of Caves with a trip to the National Justice Museum for a discount.
Nottingham Castle (closed from November '22)
Nottingham Castle was a fantastic place for a family day out. Located only 5 minutes away from Nottingham city centre, the castle had a wonderful adventure play area, museum and huge grounds. Nottingham Castle sadly closed in November 2022 and it's unsure whether or not it will reopen. 
I still wanted to add Nottingham Castle to the post, just in case it does ever reopen.
Visit the statue of Robin Hood
Even if Nottingham Castle remains closed, there's still a great reason to head over that way. Outside of the castle, left of the ramp that leads to the gates, is a statue of Robin Hood. It would be a real shame to spend some time in Nottingham and not visit this famous statue. Nottingham is so well-known for Robin Hood and Sherwood Forest and it's a great place to take some cool photos with the kids.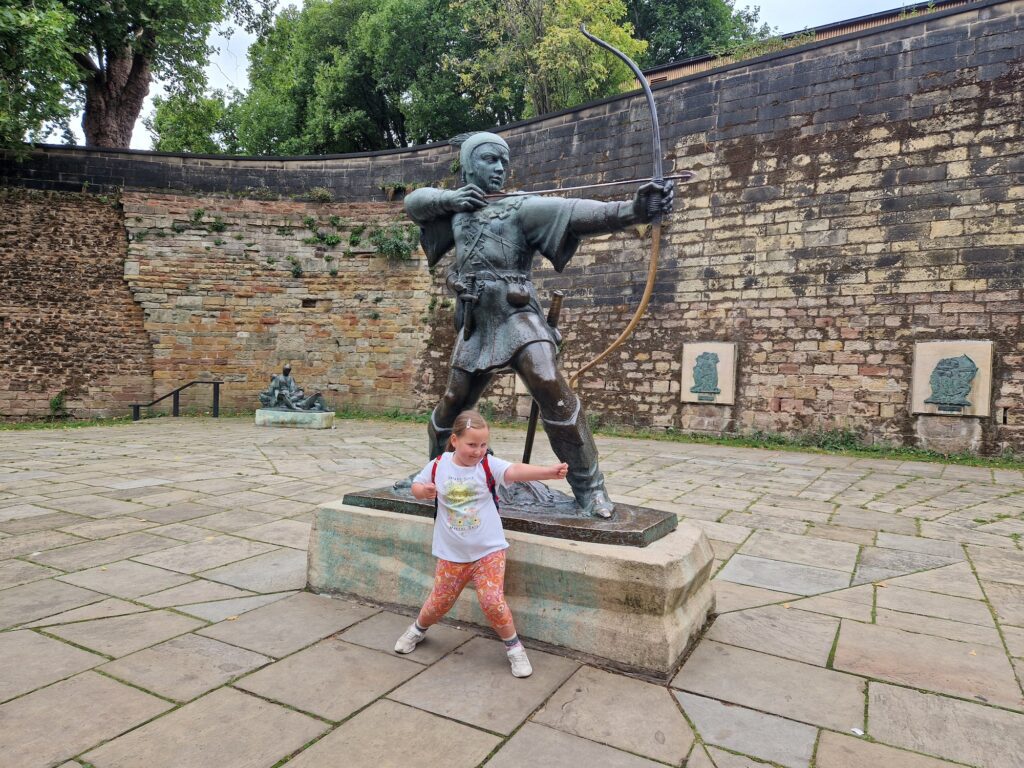 Give ice skating a go
Did you know that Olympians Torvill and Dean are from Nottingham? If you want to give it a go yourself, head to the National Ice Centre for a session. This is the ideal place for young children to give ice skating a go for the first time as there's a dedicated tot's section on some sessions. Skate hire is included in the price and it's definitely going to be something you remember about your trip to Nottingham.
Spend the evening at The Cornerhouse
The Cornerhouse can be found a short walk away from the Victoria Centre and is the perfect place for an evening of food and entertainment. Here, you'll find family favourite restaurants such as Bella Italia, Nando's and Subway. There's something for everyone and you'll be bound to find the perfect place to eat.
For entertainment, there are loads to choose from. Personal favourites include Lost City Adventure Golf, where you can choose from two different courses of mini golf. The Cornerhouse is also home to Cineworld. Watching a film can be a great way to end the day, and for little legs to have a rest from all of the fun they've had earlier in the day.
Day 3
Wollaton Hall & Deer Park
Wollaton Hall is an Elizabethan country house and absolutely stunning to look at.It's a fun place to visit if you're looking for more of a fuller great day out. Wollaton Hall is an impressive stately home, which is also home to the Nottingham Natural History Museum. Here, you can see over 750,000 objects! You can also find the Nottingham Industrial Museum at Wollaton Hall.
Then there's there 500 areas of parklands, which is perfect for an outdoor adventure. With grassland, wetland and woodland, you will find all kinds of nature and a whole host of small animals on your visit. There are family trails to follow, a lake to explore, an outdoor play area to discover and don't miss the various gardens.
If you have any spare time left, other ideas for places to visit include:
Stonebridge City Farm
Grounds of the University of Nottingham
Rushcliffe Country Park
Sherwood Forest
Highfields park
Green's windmill
If you're looking for more ideas, be sure to go to the visitor centre, where they can advise on things to do, which tourist attraction might suit you or even just give directions if needed.