As spring approaches, more places in Norfolk are opening up. Open for the season at the beginning of spring is Hoveton Hall Gardens, where we spent a somewhat gloomy Sunday.
About the estate
Hoveton Hall Estate covers 620 acres of parkland, gardens and woodland and is owned by the Buxton family. The Regency Hall was built between 1809 and 1912, and passed down through generations of the Buxton family since 1946. Passed down from Andrew and Barbara Buxton, the current owners Harry and Rachel Buxton live there with their family.
Contact
Address: Hoveton Hall, Hall Estate, Hoveton, Norwich NR12 8RJ
Phone: 01603 784297
Email: office@hovetonhallestate.co.uk
Website: https://www.hovetonhallestate.co.uk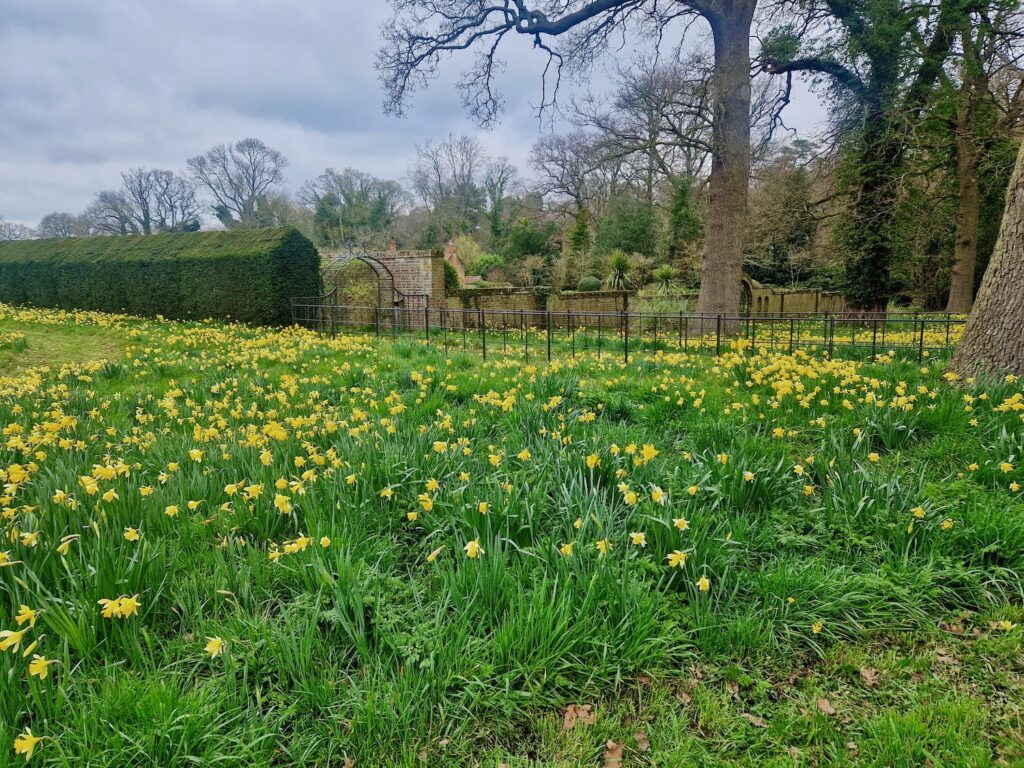 The Spider Garden
The Spider Garden, named so because of the Spider's Web gate made from wrought iron by Eric Stevenson of Wroxham in 1936. This was the first garden we came across and couldn't wait to take a better look at the gate. There is another entrance to the side but who wouldn't want to go through this amazing gate? In the centre of The Spider Garden, you'll find a really cool circular flint spider web.
One aspect of this particular garden that I loved was the stunning house in the corner. It's one of those houses that I end up drawing when I picture a house. The cream windows and green shutters are fantastic and there's something growing up the front of the house. As we visited in early spring it wasn't very clear but I can't wait to go back in summer to see what it is.
The Kitchen Garden
Following on from The Spider Garden you'll find The Kitchen Garden. This was once a former Victorian Kitchen Garden and is one acre in size. It now produces fruit for Hoveton Hall, and has the addition of lawns and herbaceous borders. Although not completely in bloom in March, you can smell some of the herbs as you walk around.
Extensive work has been done to this walled kitchen garden and it is kept in excellent condition. As an old kitchen garden, this one now works for the needs of the hall today.
Be sure to pick up a map at the start of your visit, or look it up online, as there are a lot of pathways suitable for wheelchair users. Some paths are uneven also but the map clearly shows this.
Nooks and crannies to discover
The gardens surround plenty of other areas to discover and explore. During our visit, there had been quite a lot of rain so it was fairly muddy but that didn't really stop us. We loved walking around the water gardens and the Oak Circle, which was a bit of a maze. We were able to go in and out of areas covered by trees, find cool bridges and walkways and see if we could see some wildlife. A real treat was finding an adorable mouse hiding in the base of a tree. We waited and watched until it scurried off somewhere else.
Pictured below is the stone bridge, which we all had fun walking over. To the sides, there are more areas to explore, although not the most accessible.
Woodland walks
Surrounding the Hoveton Hall Estate you can find a woodland walk in Ashmanhaugh Wood. The map shows which walks are suitable for wheelchair users and which have more uneven terrain. I think this is lovely to make sure most people are able to enjoy the walk and the scenery. The map also shows points of interest, where you can sit down and where information boards are.
We didn't get time to explore this area at the time of our visit but it's something you can easily fit into a full day at the Hoveton Hall Estate.
The Glasshouse
Built in the early 19th century, The Glasshouse is one of only a handful of these buildings made with iron still remaining in the UK. The plants in and surrounding the glasshouse are those that would have been used at the time of construction, keeping it as traditional as possible. You can go inside the glasshouse and take a seat on a cool bench, or around where you can see some typical tools and the water tower.
Garden Kitchen Cafe
The Hoveton Hall Estate is also home to the Garden Kitchen Cafe, a courtyard cafe at the entrance of the estate. Opening times vary depending on the time of year so make sure to look at the website for more details. The menu consists of lunch, brunch, small plates and desserts.
Website: https://www.thegardenkitchencafe.co.uk
Would we go back?
I think Hoveton Hall gardens is a really hidden gem and somewhere I wish I'd been able to visit before now. Each garden has it's own unique characteristics, somewhere fun to explore and so much we didn't get to see. I can only imagine the beautiful gardens on a sunny day and I hope to go back in summer when everything is in full bloom.
Set on the edge of the Norfolk Broads, and only a short distance from the centre of Wroxham, it's somewhere easy to get to and somewhere you don't have to spend all day at if you don't want to.