If you're looking for something a little bit different to do on your next visit to Nottingham then consider a trip to the Kitty Cafe!
About Kitty Cafe Nottingham
Address
31-37 Friar Lane
Nottingham
NG1 6DD
Show on map
Opening hours
Monday : 10am – 6pm
Tuesday: 10am – 6pm
Wednesday: 10am – 6pm
Thursday: 10am – 6pm
Friday: 10am – 6pm
Saturday: 10am – 8pm
Sunday: 10am – 6pm
Contact
Phone: 0115 924 2214
Email: nottingham@kittycafe.co.uk
Website: https://www.kittycafe.co.uk/locations/nottingham
Booking and entrance fee
It is advisable to book a take if you want to visit Kitty Cafe as there may not be space on the day if you decide to chance it. Booking a table at Kitty Cafe costs £7 for adults and £5* for children. This helps the cafe to look after the cats. This fee was payable on arrival.
*Price from a visit in August 2022
Bookings are for 1 hour. However, I didn't realise this when we booked (it does say on the website) but no-one made us leave. This might be dependent on how busy the cafe is and if they have space for you to stay.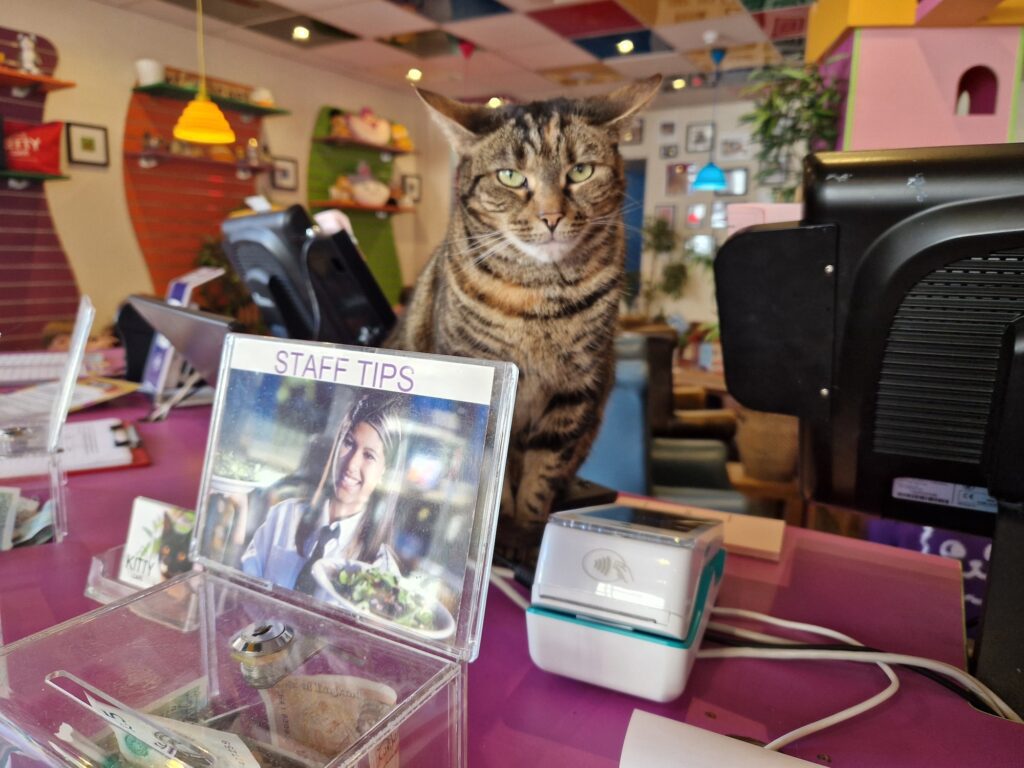 Food and drink
Kitty Cafe is a real cafe so you can order a range of drinks and food during your visit. As we arrived, we were shown to our own table/ seating area and given menus. Someone comes to take your order when you're ready and will also provide a cover for any food or drinks. This is to ensure the cats don't help themselves!
During our visit, I knew Erin would be more interested in the cats than eating so we didn't have anything to eat. We did have a couple of drinks that we left at our table while we were walking around and they were fine being left there.
The menu consists of a range of hot and cold foods including jacket potatoes, wraps and pizza. There's also quite a selection of cakes, sides and cocktails to choose from as well.
Although we didn't eat here, I would say if the 1-hour booking is kept to, this would be a bit of a rush. I don't think there would be a lot of time to spend with the cats and eat a full meal.
Meow!
Of course, the main reason for coming to the Kitty Cafe is to see the cats. We have two cats of our own at home, Jinx and Kirin, so I wasn't worried about how Erin would act around them. If your children aren't used to being around cats, then Kitty Cafe has some rules for them to follow (as well as rules for adults).
Some of the rules include:
I will not pick up the cats, push or pull them back or pull their tails.
I will stroke the kitties gently without hurting them. I will not poke them in their eyes or mouths.
I will not shout or scream near the kitties. I will be calm and respectful.
I will eat my food and not share it with the cats.
I will listen to grown ups and staff and do as I'm asked.
You can read all of the rules here or you can get printed sheets at the cafe.
Meet the cats
As I'm sure you can imagine, Erin was very excited once she started to walk around the cafe and see all of the different cats. Kitty Cafe is a home for rescued cats and they do look to re-home them. We loved that there was a cork board with Polaroid pictures of the cat with their names so we can identify who was who. They had just had a lot of kittens come in so not everyone was on the board at this point.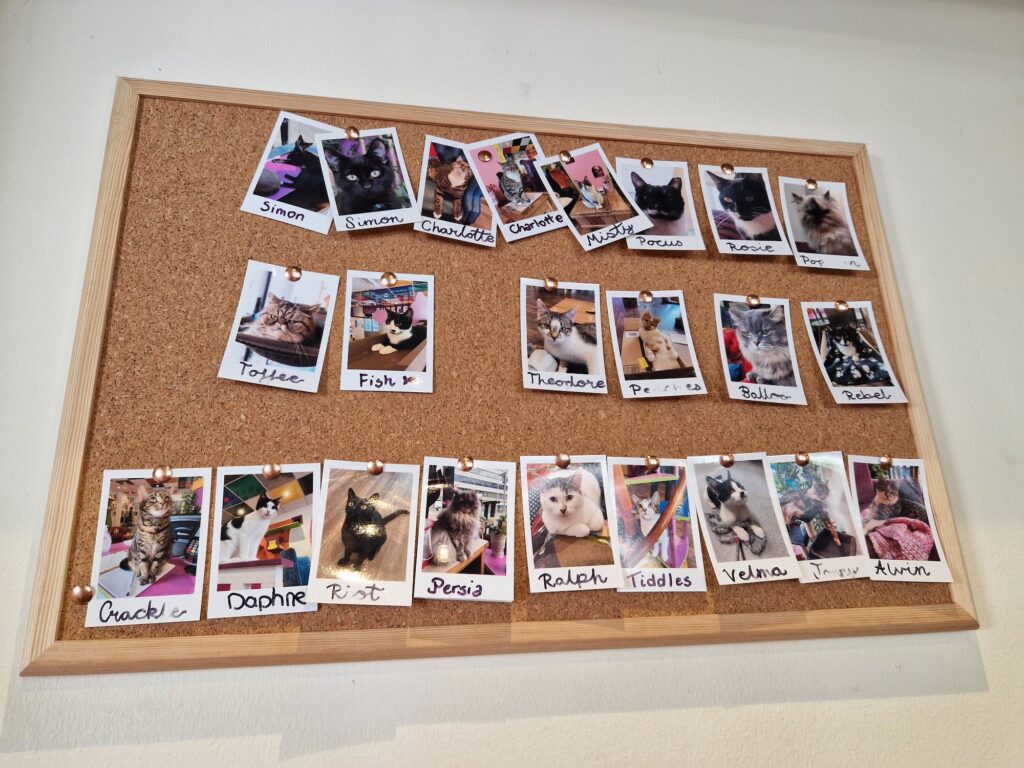 A lot of the older cats wanted to do their own thing, and some of them just wanted to sleep and be left alone. It was nice to see that no one was really bugging these cats, apart from maybe just going up to look at them. It's so important to give the cats their space!
Kitty Cafe Nottingham is really well thought out and designed with the cats in mind. There are loads of places for them to hide and play, such as tunnels and walkways near the ceiling. There is also a way for them to get into the back part of the cafe where humans aren't near them.
Erin really enjoyed playing with the kittens, as I'm sure a lot of children will. There are toys all over the place and Kitty Cafe Nottingham really provides a lot for people to do with the cats. There's a huge toy box in one part of the cafe where you can just help yourself or there are larger toys dotted around too.
Something we loved doing was seeing the different personalities that the cats had. Persia (pictured above) was a pretty grumpy cat and stayed well out of the way while Crackle refused to move from the reception desk. Crackle did not care that they were sat on a laptop either!
Our visit at Kitty Cafe Nottingham lasted for around 2 hours and was well worth visiting. Erin still thinks it was one of the best things we did in Nottingham and she's asking if there are others we can visit.
Thinking about visiting Nottingham? Check out this 3 day itinerary for families.