Belgium is a great place for visiting multiple cities in a short space of time. If you have time, be sure to visit Antwerp, especially with children. A must-visit place is Antwerp Zoo! Get ready for a fun-filled day, seeing some great animals!
Where is Antwerp Zoo?
One of the great things about Antwerp Zoo is its location. Situated just a minute's walk from Antwerp Central Station, it's really easy to get to whether you're staying in the city, or you're travelling by train for a day trip.
Address
Koningin Astridplein 20-26
2018 Antwerpen
Website: https://www.zooantwerpen.be/en/
Opening times
The zoo in Antwerp is open 365 days of the year with varying opening times. Generally, the zoo opens at 10am each day with a closing time of 4pm, 5pm and 6pm, depending on the season and time of year. Check the website for more information and to get up to date times for your visit.
Prices
Prices are correct as of January 2023. Find out more on the zoo's website here.
Children under 3 years: FREE
Children 3 to 11 years: € 26,50
Children 12 to 17 years: € 30,50
Students 18 to 25 years (on presentation of a student ID): € 30,50
Adults 18 years and over: € 32,50
60+: € 30,50
Disabled: € 29,50
Necessary companion for disabled visitors € 29,50
How long can you spend at the zoo?
As first time visitors to the zoo, I did what most people would do and looked up some reviews. I came across a real mix. One of the things that was mentioned a few times was the lack of range of animals and that the zoo just wasn't very big. However, this could not be further from the truth.
Before we got to the zoo, I had been prepared to spend a couple of hours here… maximum. I'd actually made other plans for the afternoon because I didn't think we'd be there for very long. In reality, Antwerp Zoo is huge and there is so much to see and do. It's such a great place for a full family day out and there's loads more to do there than you might think.
Top tip: plan to be at the zoo all day. If you finish earlier there is loads to do close by.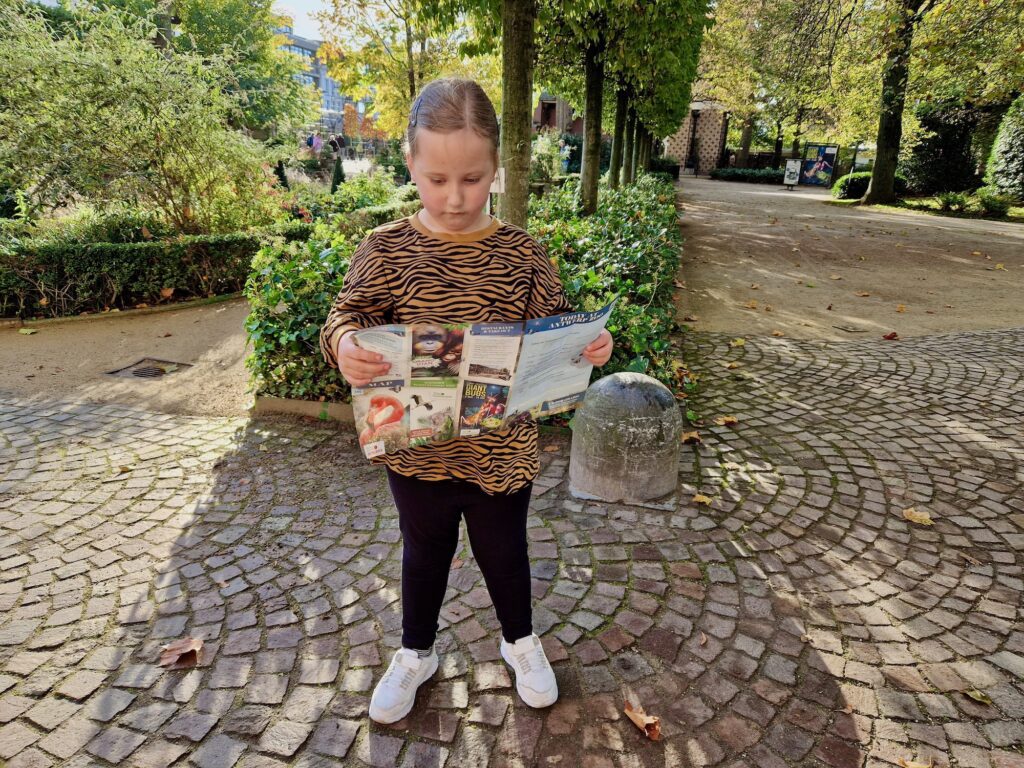 Antwerp zoo's animal collections
As one of the oldest zoos in the world, opening on 21 July 1843, you're in for a real treat here. They take part in the European Endangered Species Programme and have been part of breeding programmes for animals such as including the okapi, the Przewalski horse, the Congo peafowl, the bonobo, the golden-headed lion tamarin, the European otter, and the Knysna seahorse. It's great to know that Antwerp Zoo really has animal welfare and nature conservation in mind.
We visited on a fairly warm day at the end of October and during our time at the zoo, most of the animals were out and about with lots to see. It's worth remembering that animals might hide during certain weather or certain times of the day so sightings are never guaranteed. We experienced this with the koalas, something we had never seen in another zoo. Sadly, they didn't want to show their faces on that occasion but we moved on and found other amazing animals to look at instead.
I think the zoo in Antwerp has a great variety of animals and collections to suit everyone. John, for example, loves the giraffes while I could spend ages in the reptile house. The Egyptian Temple is home to elephants while you'll find fish in the aquarium and buffalo and zebra in the Savannah area. If big cats are more your kind of thing, the lions are sure to be a hit!
Top tip: download the zoo map before your visit and make a plan of what you want to see the most.
Play areas
Something Erin particularly enjoyed during our visit to Antwerp Zoo was the play areas. There are 3 play areas in total, one near the Savanne Restaurant, one near the lions and one near the Skywalk. Each play area was slightly different, and various sizes so there was lots to do and lots of space even if it's a busy day. Of course, spending time playing really helps you to be able to spend the whole day here and to get the best experience possible for you and your children.
Top tip: give your children a time limit for each play area. Don't miss out on the great animals because the kids are too busy playing!
Where to eat and drink
The zoo in Antwerp has multiple places to eat and drink during your visit. The Savanne Restaurant is open from 10am each day, with the buffet finishing one hour before the zoo closes. Other restaurants may be open but these usually depend on how busy the zoo is.
Close to the great apes building you can also find the Chimp Waffle stand. This is open from 11am on weekends and on school holidays. You can buy hot waffles, hot dogs and a range of drinks here.
You are welcome to take your own food and drink to the zoo and there are quite a lot of benches dotted around. You are also welcome to eat at the Latteria at certain times, if you purchase a drink while you're there.
Top tip: if you're going to be at the zoo all day, maybe have a snack mid-morning and something more substantial in the afternoon to keep everyone's energy levels up.