As your holiday gets closer, you'll want to start thinking about activities at Haven, no matter which location you've picked. If you have booked a holiday that includes a Play Pass, you'll be able to book activities ahead of your break. You'll find out more about how to book and what there is to do in this post!
Safety and clothing requirements
​One very important thing to talk about is safety during these activities. The app/ website clearly states when an adult needs to be there supervising a child and if there are any requirements for clothes. Some, for example, might mean that children will get either wet or dirty during the activity. Some activities require children to wear trainers or full shoes for safety reasons, and things like sandals wouldn't be allowed. Be sure to look at this information before booking your activities.
Booking swimming sessions
One of the biggest differences at Haven now compared to pre-Covid breaks is that you need to book sessions for swimming. 4 weeks before your break you'll be able to book up to 14 swimming slots, each lasting for 60 minutes. Each swimming slot is per person so you'll need to distribute these between the people in your party.
When booking for swimming slots open, it does not include the first day of your holiday (this is bookable 7 days before your break) and slots go fast! It's worth setting a reminder on your phone to ensure you get slots you want and at decent times. A couple of days after our bookings opened, there weren't many slots left at all and not much choice for times. Some Haven sites, such as Haven Seashore have amazing indoor swimming pools with fun splash pads. Swimming slots for these pools are extremely popular.
You can also book a swimming slot for the last day of your break as you're allowed to stay on site up to 4pm on this day. Due to this, the earlier swimming slots get booked up very fast, with people wanting one last swim before they have to go home.
Bookable activities
Activities for your Haven holiday are available to book from 12 weeks before your arrival date. You'll get an email advising you of this ahead of time and on the day. It's a good idea to have a look at some of the activities ahead of time and have a rough plan of what you might want to do. Bear in mind that activities differ between Haven holiday parks and some activities might not be available everywhere. Check what's available at your Haven location on the Haven website.
The Haven app is a great place to look at the different activities available during your break, and they're broken down by date. Some activities will be available over multiple sessions while others will only be once or twice over the duration of your stay. It's also worth noting that not all activities are suitable for everyone. A lot are based on age so you'll find a lot for, say, under 6-year-olds and then others for older children. The Haven app details all of this on the information pages for each activity.
Once you're at the Haven park don't have to use the app to book activities if you don't want to. Guest services can help you to book swimming and other activities during your stay, and can also advise on what is available and at what times. This can be easier sometimes than trawling through a list of activities on the app when you're only interested in one thing.
Free activities
Haven offers plenty of ways for you and the entire family to have fun during your break and one way of keeping costs down is to look for some free activities. There used to be a lot more to do for free on a Haven break but these have been cut down in recent years. Of course, these activities can be extremely popular and often end up sold out well before your arrival date. Here are some examples of free activities available at Haven Seashore:
Mini archery
Mini fencing
Mad Muffins
Nature Trail
Wild Music Tots
Soft Play
Bug Hunts
Football Kickabout
RNLI Water Safety
Football Rounders
Sand Sculptures
Treasure Trail
Activities you need to pay for
Along with the free activities at Haven, there is quite a big list of others that you need to pay for. These activities range from around £2 per person but can go right up to around the £20 mark, depending on what you choose. Here's an example of activities available at Haven Seashore and their prices (correct as of May 2023):
Playground Games – £2
Crazy Golf – £3
Balance Bike Hire Half Day – £6
Bungee Trampoline – £6
Plant Pot Art – £6
Sand Bottle Creations – £8
The Jump – £10
Target Shooting – £12
Pic n Bobble Pottery – £12
Climbing Wall (30 minutes) – £12
Family Kart Hire (per kart, 60 minutes) – £16
Make a Bear – £20
Daytime and evening entertainment
Haven offers a great range of both daytime and evening entertainment for the whole family. In the entertainment venues, you'll find a range of shows for younger children, older children and in the evening, shows and live music acts. For both the daytime entertainment and nighttime entertainment, you'll need to show your Play Passes before you can enter the venues. This was checked every single time on our last break to Haven Seashore, as a holiday with Play passes costs more than other breaks.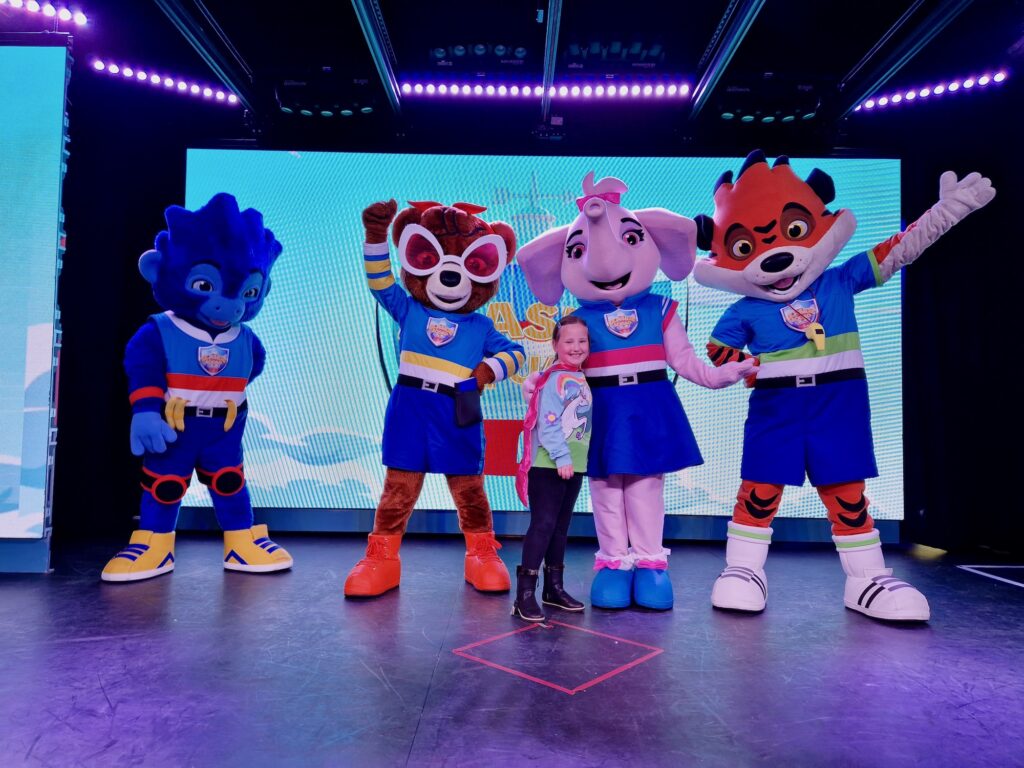 Booking tables in the restaurants
Although not really an activity, I wanted to touch quickly on the restaurants at Haven. Some Haven sites have The Coast House restaurant, while others have The Mash and Barrel. Again, these will vary by Haven site. You can book tables at the restaurants ahead of your break, just like you can with the activities. You'll be able to see a list of available times to choose from on the app. Something we found recently is that certain times go quickly because of the evening entertainment. Cash bingo sales opened at 5pm and children's shows started at around 6pm. This meant that if you wanted to eat in the restaurant it would ideally need to be around 3:30-4pm, or after the shows finished.
We sometimes found that there wasn't a table available to book at the time we wanted but we were able to walk in and ask for one anyway. We were always able to get a table at the time we wanted but I would definitely recommend booking where possible.
The best way to get the most out of the activities on a Haven break is to try to plan in advance where possible and do a bit of research before you go!