When I was at school, the Grimsby Fishing Heritage Centre was somewhere we went on trips. I couldn't wait to go back as a family and show Erin somewhere from my childhood. Learn more about the Grimsby Fishing Heritage Centre in this post!
What is the Grimsby Fishing Heritage Centre?
The Grimsby Fishing Heritage Centre is a heritage attraction at Alexandra Dock, Grimsby, which first opened in 1991. The attraction looks at the history of the fishing industry in Grimsby and is home to the Ross Tiger Trawler.
Where is the Grimsby Fishing Heritage Centre?
Alexandra Dock
Grimsby
DN31 1UZ
Email: gfhc@nelincs.gov.uk
Telephone: +44 (0)1472 323345
Parking options
There are two pay and display car parks at the front and at the side of the Grimsby Fishing Heritage Centre. There are spaces for both cars and coaches. Visit the North East Lincolnshire Council website for more details.
Opening times
Summer opening hours:
Tuesday to Sunday 10am to 5pm. Bank Holiday Mondays open 10am to 5pm.
Winter opening times (1 November to 31 March)
Open 10am to 4pm.
Admission prices
Adult: £8.50 + £3 for Ross Tiger tour
Concessions (students, over 60s, disabled): £6 + £2 for Ross Tiger tour
Children: £4 + £1 for Ross Tiger tour
Family ticket (up to 2 adults and up to 5 children): £18 excluding Ross Tiger tour OR £25 including Ross Tiger tour.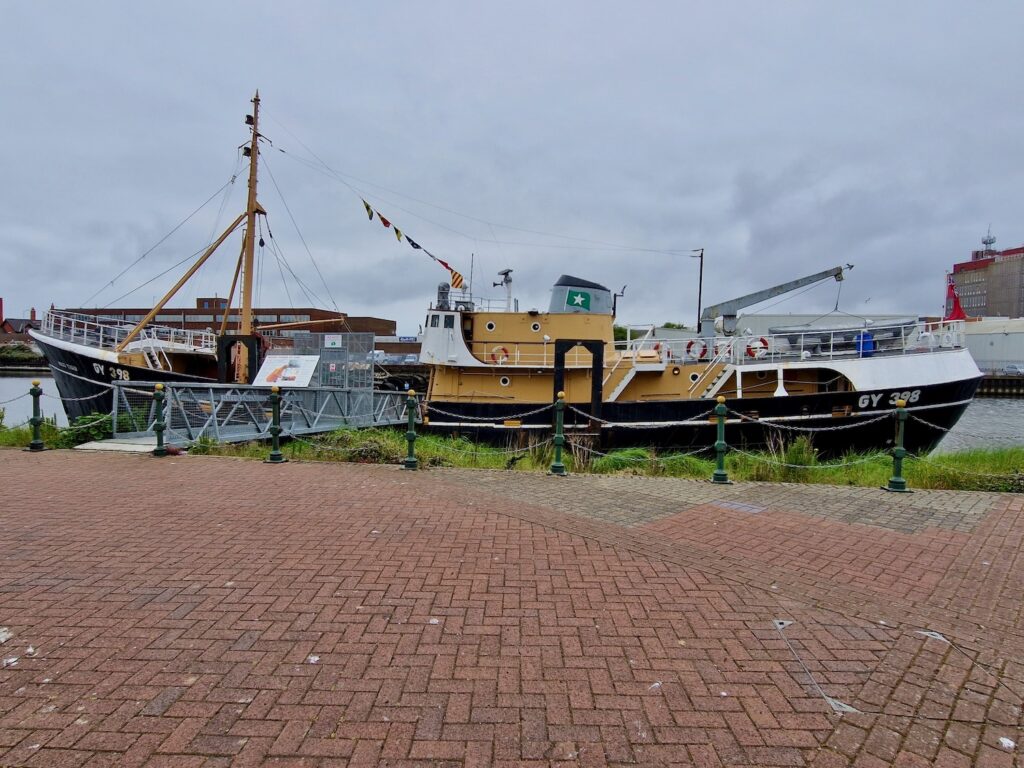 Touring the Ross Tiger
Tours of the Ross Tiger can be booked when you pay for your entrance to the Grimsby Fishing Heritage Centre. Tours area available at 11am, 12pm and 2pm and are subject to availability and booked on a first come first served basis. I would say the best time to do this is on the first tour at 11am if possible. We then didn't feel rushed going around the museum.
As a child I remember going on the Ross Tiger tour as part of school trips however, as a child I wasn't really that interested. Now though, as an adult, I'm really glad we took the time to go on this tour. It doesn't cost much more and it only takes around 45 minutes to an hour.
On the tour, you can learn all about fishing trawlers and how they were used from Grimsby. Our tour guide was a past crew member on the Ross Tiger some years ago so he was full of really get knowledge and facts. You can walk around the Ross Tiger, learning about what each room was used for and what the fishermen would do during their time at sea.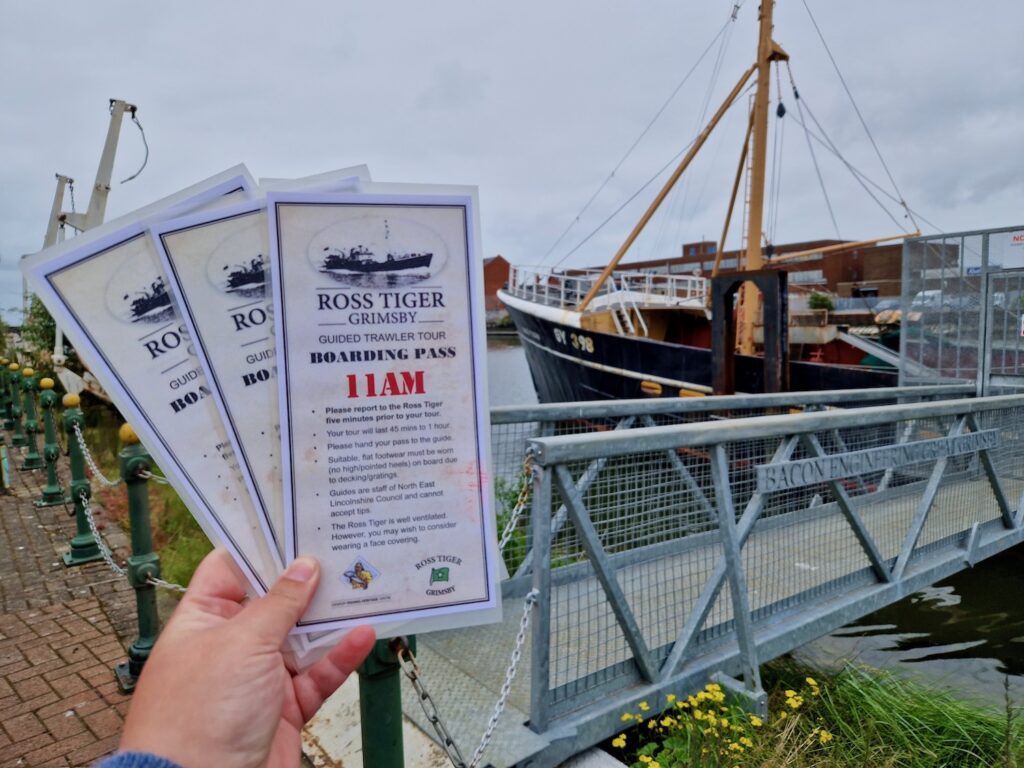 Our tour guide was great at involving the children in the tour as well. Erin helped with some demonstrations as well as being asked questions throughout. This helped to keep her interested in what we were seeing and what was being said.
A tour of the Ross Tiger does involve some uneven ground, decking on the ship, as well as climbing some ladders. You must wear flat footwear on a tour for safety reasons.
Inside the Grimsby Fishing Heritage Centre
When the early railways connected Great Grimsby to London, the town began making a name for itself in the fishing industry. By the 1950s, Grimsby was in its heyday. However, working on a fishing trawler was known as one of the most dangerous occupations, due to the awful weather conditions the crew would be subjected to. At the Grimsby Fishing Heritage Centre, you can go back in time and discover Great Grimsby during this time and discover what the fishing industry was really like.
Pick a job
As you start your journey, you're able to pick a 'job' for everyone from a selection of cards. These jobs include things like a skipper, cook, chief engineer or even the ship's cat! It's a really fun way to start your journey around the museum. The cards are stamped and you can sign them. Later in the museum, you can turn the card over to see how well paid your job might have been. I always remember this part from visiting as a child and I was so glad to see it still being done now.
You won't forget the smell
Once inside the museum, you can visit a typical street in Grimsby where people lived close to the fish docks. Find out how fishing nets were mended and who did this job, who lived there and what the houses would have looked like during 1950's Grimsby. From this point, you'll notice there is a very distinctive smell inside the museum. The museum is designed to really immerse you in the time, and know what the conditions would have been like. Erin wasn't so happy about the smell but for me, it brought back memories from those school trips.
Discover how fishermen lived while at sea
Our favourite aspect of the museum was getting to see what different things were like on the fishing trawlers. This is a unique opportunity to see trawler interiors, find out what the crew ate on a typical day, see where they slept and had rest time as well as steer a ship and learn Morse code. There are plenty of interactive displays which is great if you're visiting with children. You can dress up in a few different places and this will definitely be fun for the children and provide some great photos to look back on.
Walk around historic Grimsby
Towards the end of your visit, you can visit a historic replica of the Freeman's Arms, a public house known to be used by fishermen when they were home. You can also find out what fish and chips would have cost back in those days, and take a peek into some of the shops that would have been around. Whether you're local or expanding your fishing heritage education, there's so much to see and learn at the Grimsby Fishing Heritage Centre.
We thoroughly enjoyed our day at the Grimsby Fishing Heritage Centre. I was a bit worried about how much Erin would like it but in fact, she had a great time. It was nice to see her so interested in the museum and being hands on with some of the interactive displays.