If you're looking to book a holiday soon to Orlando, Florida you might need some inspiration for family-friendly accommodation. Discover Lake Buena Vista Resort Village and Spa, a great location for families.
Where is Lake Buena Vista Resort Village and Spa?
8113 Resort Village Drive
Orlando
FLORIDA
32821-5616
Ubers from Orlando International Airport
Our holiday was booked with Virgin and as we didn't have a hire car, we had to make our way from Orlando International Airport to Lake Buena Vista Resort Village and Spa ourselves.
Uber and Lyft are widely used in Orlando and are a great way to get around if you don't have the use of a car. The airport is really well signposted and we found the area for rideshares easily. It was around 11pm when we ordered our Uber and it cost £55.78, with the journey lasting around 25-30 minutes. If you're arriving with a lot of luggage, it would be wise to order an Uber XL to ensure you have enough space.
Checking in
Even though we arrived at past midnight, we were welcomed with a smile at the reception desk. Everything we needed was waiting for us when we arrived, including a little package with information, room cards and a map of the resort. A nice touch was the staff playing a game with Erin and giving her a huge bag of chocolate and snacks! This absolutely made a very tired girl very happy!
We were all tired and honestly, a bit grumpy when we arrived but we left reception with a smile on our faces and looking forward to our holiday.
Lake Buena Vista Resort Village and Spa
Admittedly, staying at the Lake Buena Vista Resort Village and Spa was not our first choice for accommodation while in Orlando. We had actually booked to stay at The Enclave Suites near International Drive. Unfortunately, the reviews hadn't been favourable recently so Virgin offered to move us here instead. We didn't mind the change as really, the only thing we wanted was a 2 bedroom apartment. Lake Buena Vista Resort Village and Spa offers 1, 2 and 3 bedroom apartments in a number of different buildings.
A 2 bedroom apartment in building 3
We were given a 2-bedroom apartment in building 3, which was a short walk from the main building where reception can be found. You can access the building during the day just by going through automated doors however, at certain hours we needed a key card to enter. Inside the lobby of this building was 4 lifts and we never had to wait for one to arrive. Also, the building has a car park both at the front and at the back.
Living room and dining area
Upon opening the door to our apartment for the first time, we were all a bit taken aback by just how big it was. As soon as you enter the room there is a large glass dining table with plenty of chairs. Beyond that, there is a living area with a sofa and armchair, a television on a cupboard and a coffee table.
Something we hate about regular hotel rooms is being right on top of each other all of the time. Here, we had space to spread out, have some personal space and also have another room to go to if someone else was in bed etc.
Each morning we were able to have a drink and breakfast if we wanted around the table. I was also able to do some work on a couple of evenings and there was plenty of space for me and my laptop.
Kitchen
At the back of the dining table, there is a fully equipped kitchen with granite counters. We had the use of a full-size appliances such as fridge/ freezer, oven and hob, toaster, kettle (to use on the hob) and dishwasher. There was a fair amount of cupboard space however, most of this was taken up by kitchen utensils, crockery and pans etc. We had a bit of a move around just to make the space work better for us.
We found that we had everything we could have needed in the kitchen including a starter set for the dishwasher and some washing up liquid.
Laundry facilities
Something that made our life a lot easier while on holiday in Orlando was having an in-room washer and dryer. We took washing sheets and dryer sheets from home so we didn't have to buy huge packs from Walmart. We did have to Google how to use each of the machines, as they're stacked on top of one another unlike ours at home. However, they were easy enough to use and we ended up going back home with hardly any dirty clothes at all. Having these kinds of facilities means taking less clothes and being able to take back more souvenirs.
Master bedroom
To the right of the living area was the master suite. This room was a mix of a bedroom and a bathroom all rolled into one. The bedroom area had a huge king-size bed, as well as a chair and chest of drawers. There was also a walk-in wardrobe with so much hanging space and shelves above. In here, we found an ironing board and hoover, as well as a small safe. I had this room to myself and it was absolutely perfect for me. The bed was incredibly comfortable and there was plenty of space for me to unpack and spread about a bit. I had more than enough space for my clothes and there would have been enough space for a second person's things as well.
One thing to mention about the rooms overall is that they are a bit dated. This was for all rooms in our apartment. The carpet could have done with a good clean to freshen it up and the furniture is quite dark and a bit battered in places such as the corners or edges. For instance, the chest of drawers in the main bedroom was quite worn around the edges and there were clear marks in some places.
As this was a big open plan room, the bathroom was open next to the bedroom. Here, there was a massive whirlpool bath which was incredibly deep but there was also a separate shower along with two sinks and large mirror. For any bathroom items, there was storage underneath the sinks. This room also had a toilet, which was separated by a door so really, in its own little room.
Second bedroom
Next door to the kitchen was the second bedroom. John and Erin shared this one as it had two Queen beds. It was nice for us all to be able to spread out after long days in the parks. Just like the master suite, it had plenty of storage for clothes with a chest of drawers and a built-in wardrobe. Something I really appreciated in both rooms actually was that there were blinds as well as really heavy curtains. This was great for the few days that Erin wanted to sleep in.
Additional bathroom
The second bedroom didn't have a bathroom of it's own but there was one just next door. This bathroom was much smaller compared to the one in the master suite. However, there was still space for a sink area, toilet and bath with an overhead shower. This bathroom had an additional shelving unit which we used for towels, swimwear and storing clothes that needed washing.
Balcony
Our 2-bedroom apartment had its own private balcony. We were on the 14th floor which meant our balcony was a bit bigger than those of smaller apartments on the lower floors. We had a couple of sun loungers and a table and chairs on the balcony however, we found we didn't really have the time to make the most of these.
Outdoor areas and pools
Lake Buena Vista Resort Village and Spa has two pools and a small play area for children, all available for the use of the guests.
Main pool
The main pool (the pirate's plunge resort pool) is located close to building 3. It has a pirate ship water slide, complete with water cannons. The pool has walk-in areas as well as deeper parts where you would need to use the ladders. The pool is not massively deep and John was able to stand up in the deepest part. We visited in the middle of August when it was very hot so the water was a great temperature. We were able to cool down a little bit after a hot day which was lovely and refreshing.
​If swimming isn't your thing, this area has plenty of sunloungers and a couple of hot tubs. As you enter the pool area there's a little cart where you can pick up some towels. You don't need to take your own if you don't want to. It was nice to see the pool area had toilets, a water fountain and a separate smoking area well away from the pool.
One thing that was a bit unfortunate though was not being able to take your own food and drink. There is a poolside bar available but we didn't use it. We only stayed at the pool for a short time and headed back to our room when it was time for food etc.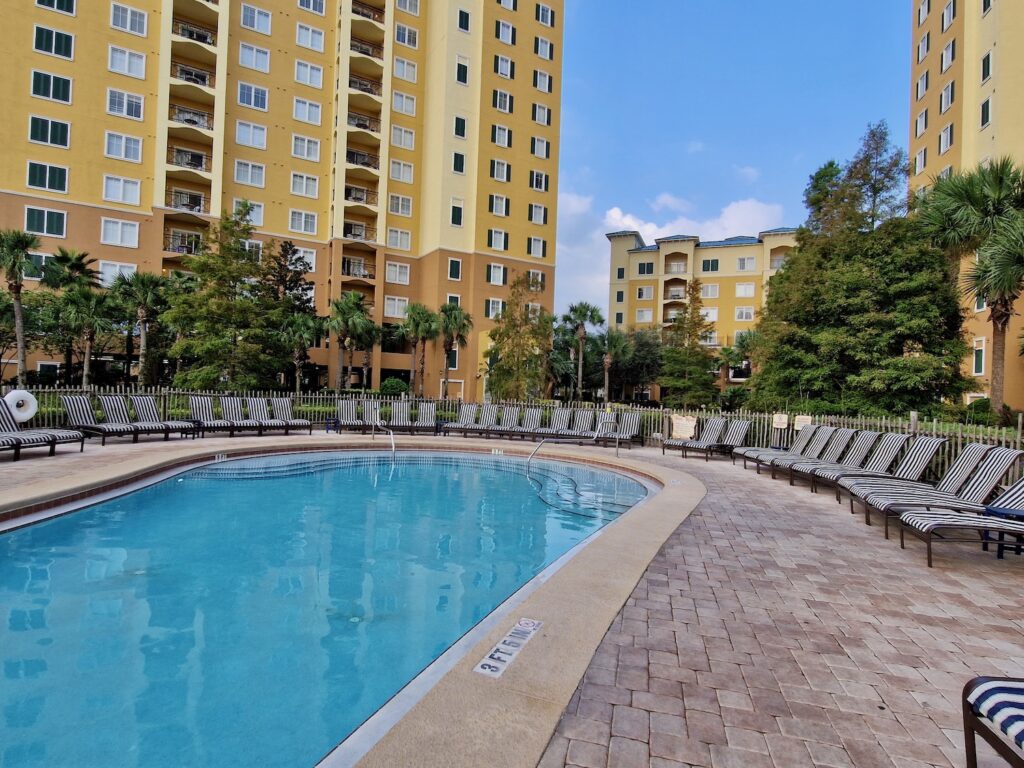 Play area
Close to the main pool there is a small children's play area. Although we didn't use this, we could see that it had a slide and some play equipment.
Relaxation pool
If you want something a bit more chilled, there is a relaxation pool across the road from building 3. This pool is quite small and definitely not one for rowdy children. We didn't use this pool so I cannot comment on what it was like.
On-site shops
Staying in an apartment means that it's a self-catering holiday. Luckily, there are a few different options for food and drink while you're staying at the Lake Buena Vista Resort Village and Spa.
Convenience store and Pizza Hut
Opposite building 3 you'll find a strip of buildings connected to the Lake Buena Vista Resort Village and Spa. One of these is a convenience store which has a Pizza Hut Express inside. You'll be able to get anything you need for breakfasts, ready meals, snacks and drinks and the prices aren't horrific.
We used the Pizza Hut Express a couple of times and while they don't offer the largest of menus, there was enough for us. We ended up with a deal where you could get an individual pizza, bread sticks and a drink and this was plenty of food.
Frankie Farrell's Irish pub
At the other end of the road is Frankie Farrell's Irish pub, offering a place to go as a pub but also as somewhere to eat. We didn't have time to try this during our visit but they do serve breakfast, lunch and dinner. We did want to go for breakfast however, we found that they only opened at 9am which was too late for us.
Lake Buena Vista Resort Village and Spa shuttle buses
As part of our package, we were able to use the shuttle bus service for free. In order to do this, we had to book between 48 and 24 hours before we wanted to use the service. Shuttles were fairly limited and only went between the property and Universal Studios, Epcot, Magic Kingdom and Sea World.
Sometimes the shuttle times didn't work for us such as on the day we needed to get to our breakfast at 'Ohana, but when they did, it saved us from having to get an Uber, at least one way on that day. It was nice that shuttle services were offered and that we could use them if we wanted to.
Would we stay there again?
We had a great time staying at the Lake Buena Vista Resort Village and Spa. For us, the room types suited us well and the size of the rooms gave us that much needed space. It's in a good area for getting to all of the theme parks, especially as a Walt Disney World Good Neighbor. Although the rooms are a little bit dated, we don't mind that too much and look to the other things that were great. The full kitchens and dining room meant we could have food at the apartment when we wanted to and the pirates plunge pool was a great place to cool down at the end of the day. As we didn't drive, we did spend quite a lot on Ubers over 2 weeks at around £500. However, we didn't really mind and I had already budgeted for this beforehand.
So, all in all, yes, we would stay here again but it would be easier with a car.
FAQ
Are the rooms cleaned?
Rooms are not cleaned for the duration of your stay and considering we were there for 14 nights, I don't think this was okay. However, if you desperately do want a clean you can book various options. A full clean for a 2-bedroom apartment would have cost us $50.
Housekeeping services like one one includes sheet change, full cleaning, towel refresh, trash removal and replacement of toiletry products, full dish wash, full vacuum, and full clean of all surfaces. We found that our room had enough towels and we could wash them ourselves and we kept everywhere clean and tidy. This stopped us from having additional charges.
Is there a spa?
Lake Buena Vista Resort Village and Spa is home to the Reflections Spa & Salon. This is a full-service spa offering things like manicures, pedicures and massages. Spa services cost extra and prices can be found on the website.
What was the adverage cost of Ubers?
We spent 2 weeks going all over the place via Uber. Prices vary depending on the time of day you are travelling and what is happening. Prices will be highly inflated at times such as straight after the fireworks at a Disney park. Here's an idea of some of the prices we paid:
to Caribbean Beach Resort – £12.70
to Animal Kingdom – £12.74
from SeaWorld – £14.25
to Discovery Cove – £11.81
from Florida Mall – £28.63
from Animal Kingdom – £18.28
Magic Kingdom to Lake Buena Vista Factory Stores – £18.18
What else is close by?
At the back of the resort and within walking distance is the Lake Buena Vista Factory Stores. You'll find a range of shops here like Skechers and a Disney outlet, as well as a food court. You can easily walk to the Lake Buena Vista Factory Stores and it will only take around 5-10 minutes.
​A 5 minute drive away will take you to Race Track, Walmart, Walgreens and a variety of restaurants. You can walk to these areas however, they're not always on pavements so it would be better to drive or get an Uber where possible.
Read more about our Orlando holiday: