If you're looking for a special way to start your day while at Walt Disney World in Florida then consider booking a character breakfast. Held at Disney's Polynesian Village Resort, breakfast at 'Ohana is a great choice for the whole family. Read on for a detailed 'Ohana breakfast review.
Booking breakfast at 'Ohana
One of the trickiest aspects of booking breakfast at Ohana is actually being able to book a table. Guests staying at a Disney resort are able to make dining reservations 60 days before their visit, for the majority of their stay. Guests staying off-site can book 60 days in advance, 1 day at a time. Any character meals are popular and they can get booked up quickly. It's a good idea to do some research before your dining reservations window opens and know where you want to book and when for.
You can book a table via the My Disney Experience app, or via the Disney website. If you're struggling to get a booking, using a service like Mouse Dining can help. This service can alert you to when certain times are available.
Disney's Polynesian Village Resort and 'Ohana
Breakfast at 'Ohana is held at Disney's Polynesian Village Resort. After arriving at the resort, head into the main building where the lobby is. You'll be able to take a lift, or stairs, up to the restaurant. Once at the restaurant, head to the check-in desk where a cast member will check you in and let you know when your table is ready. We arrived around 10 minutes early and our table was ready within a few minutes. You do need a dining reservation to be able to eat here. If you turn up without one, you will most likely be turned away.
The restaurant is fairly large, with different areas to sit in within the dining room. One side has large windows, meaning you get a great view of the resort if you're sitting here. This is a popular location for a character dining experience and breakfast is always likely to be busy. Although the tables were placed fairly close together, we had plenty of space and weren't too close to the next people.
If you have any time spare either before or after breakfast, be sure to check out the rest of the resort and the gift shop. The gift shops at each Disney resort are themed and sometimes have elusive items such as mugs. As I'm sure you can imagine, the gift shop at Disney's Polynesian Village Resort is largely Hawaiian-themed.
What food is included?
We booked breakfast at 'Ohana as we thought the food menu suited us best as a family. Breakfast is served family style, which means everything is placed on the table together, rather than on a plate for each person. This breakfast consists of the following items:
Fresh fruit
Our fresh fruit was the first thing to be brought out and this included pineapple, melons, grapes and strawberries. The bowl was quite small however, there was enough for all of us to start with and you can always ask for more if you want it.
Pineapple-coconut breakfast bread
Next up was the amazing pineapple-coconut breakfast bread, which was by far my favourite thing here. The bread is quite sweet and sticky, with the pineapple flavour being the stand-out. Inside the bread, you'll find chunks of sweet pineapple, adding to the theme of Polynesian flavours for this breakfast.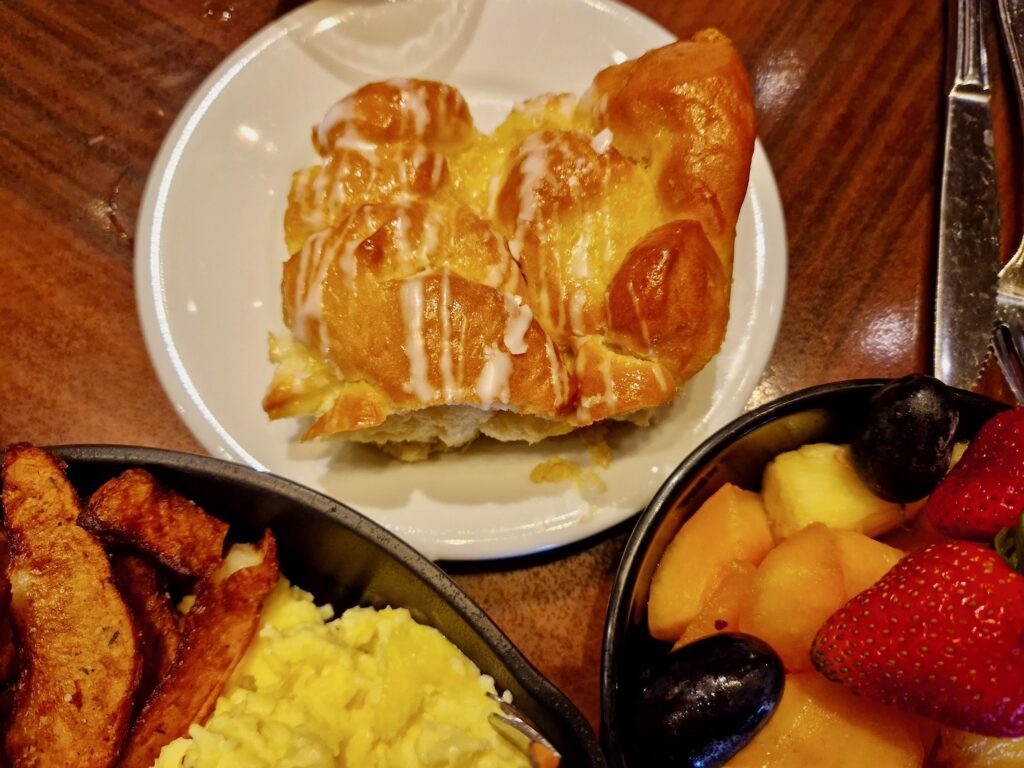 'Ohana breakfast skillet
The main part of the meal is the 'Ohana breakfast skillet. Inside the skillet, you'll find Scrambled Eggs, Pork Breakfast Sausage Links, Hawaiian-style Ham topped with Pineapple Compote, Fried Island-style Potatoes, Mickey-shaped Waffles, Stitch-shaped waffles and Biscuits. There's a lot of food here and we couldn't wait to get stuck in. Everything looked and smelled delicious.
With a couple of fussy eaters in our family, I was a little bit worried about how much of the food we would all like. However, this ended up being one of the best meals of our entire holiday in Orlando. The food was absolutely delicious and there was also a lot of food. The 'Ohana character breakfast is all you care to enjoy, which means you can ask for more of anything of the menu items. Some of us preferred one thing over another, so this meant we could have more of our favourites. However, as there was so much food we found we didn't really need to.
Are drinks included?
The great news is that some drinks are included with your character breakfast at 'Ohana. You'll be served pog juice on arrival and honestly, I would go back just for this. Pog juice is made up of passion fruit juice, orange juice and guava juice and is absolutely delicious. You can also get coffee, which will be refilled during your meal.
Additional drinks are available to purchase, such as a Moana smoothie, Lilo smoothie or Stitch smoothie which are great for children. Alcoholic drinks are also available, which include the Wasabi Bloody Mary, Polynesian Red Eye and Lapu Lapu. These specialty drinks are a great way to add something extra to your breakfast.
What characters will you get to meet?
One of the biggest selling points for this particular character breakfast is the Disney characters you get to meet. On our visit, we met Sitch, Lilo, Mickey and Pluto. The characters are dressed up in themed clothing like Mickey Mouse in a Hawaiian shirt or Hawaiian leis round the other character's necks.
Characters will come around while you're eating breakfast, stopping at each table only once. You'll get to spend a few minutes with your favourite characters, taking pictures and videos if you want to. Interactions are not limited to children either as all three of us were able to take photos both separately and as a family. Although you only get a few minutes, none of the interactions felt rushed and we were never stopped when we were talking to characters.
Don't forget your autograph books!
When we arrived at 'Ohana, we had a cute little card on our table which had a picture of the characters and their autographs on. What I didn't realise at the time was that you can also ask the characters to sign your autograph books. Luckily, we had a fantastic server and he took our book off to get all of the signatures for us, so we didn't miss out.
How much does breakfast at 'Ohana cost?
In 2023 'Ohana's character breakfast costs $45 per adult and $29 per child (age 3-). This does not include tax or gratuities. From January 2024, if you have a Disney dining plan, you might be able to use that at 'Ohana.
Would we book to go back?
Our character breakfast at 'Ohana was our first time doing anything like this and we were really so impressed with everything. The food was so much better than I was expecting it to be and is a great option for families. The character interactions were so special and I think we all really enjoyed that aspect, not just Erin. Breakfast at 'Ohana was such a great experience and it's one we'll remember for such a long time to come. 'Ohana is one of the most popular restaurants and Disney character meals and it's easy to see why now.
In conclusion, if you're looking for a truly special way to kick off your day at Walt Disney World in Florida, booking a character breakfast at 'Ohana is a fantastic choice for the entire family. As we've shared in this detailed 'Ohana breakfast review, securing a reservation can be a bit tricky due to its popularity, so plan ahead and use helpful tools like the My Disney Experience app or services like Mouse Dining to increase your chances.
Read more about our Orlando holiday: