Stratford-upon-Avon is a town full of history and so many interesting places to visit. Go back in time during a visit to Tudor World.
What is Tudor World?
Tudor World is a living history museum in the center of Stratford-upon-Avon. The museum is housed in a grade II listed, 16th century building.
Where is Tudor World?
Sheep Street
Stratford-upon-Avon
CV37 6EE
01789 298070
thetudorworld1599@gmail.com
Admission prices
*Correct as of September 2023
Adult: £7 (18+)
Concessions: £6
Children aged 5-16 (5-16): £4
Children under 5 – Free
Family ticket: 2A + 2C £18.50
Opening times
The museum is open daily from 10.30am until 5.30pm, with the exception of Christmas Day.
Inside the museum
A trip to the Tudor World Museum was something I was really looking forward to on our trip to Stratford-upon-Avon. Both me and Erin have an interest in the Tudor period, known to be the time of William Shakespeare, Francis Drake, Henry VIII and Elizabeth I. You start your visit by walking down a cobbled stoned courtyard, which leads to the museum in what is quite an old building.
Ground floor
The museum focuses on showing different aspects of Tudor life. This includes a mix of everyday people and royalty. You can look at what period furniture would have looked like, what people would have eaten and what people believed in during this time. As you move around the museum, you will learn about so many interesting things.
Something I really loved about this museum was that there was lots of interactive elements. You're able to lie on a four poster bed, smell different herbs and cooking ingredients, getting really hands on in certain places. If you're visiting with children this is ideal because it's a great way to get them involved and interested as you go round the museum.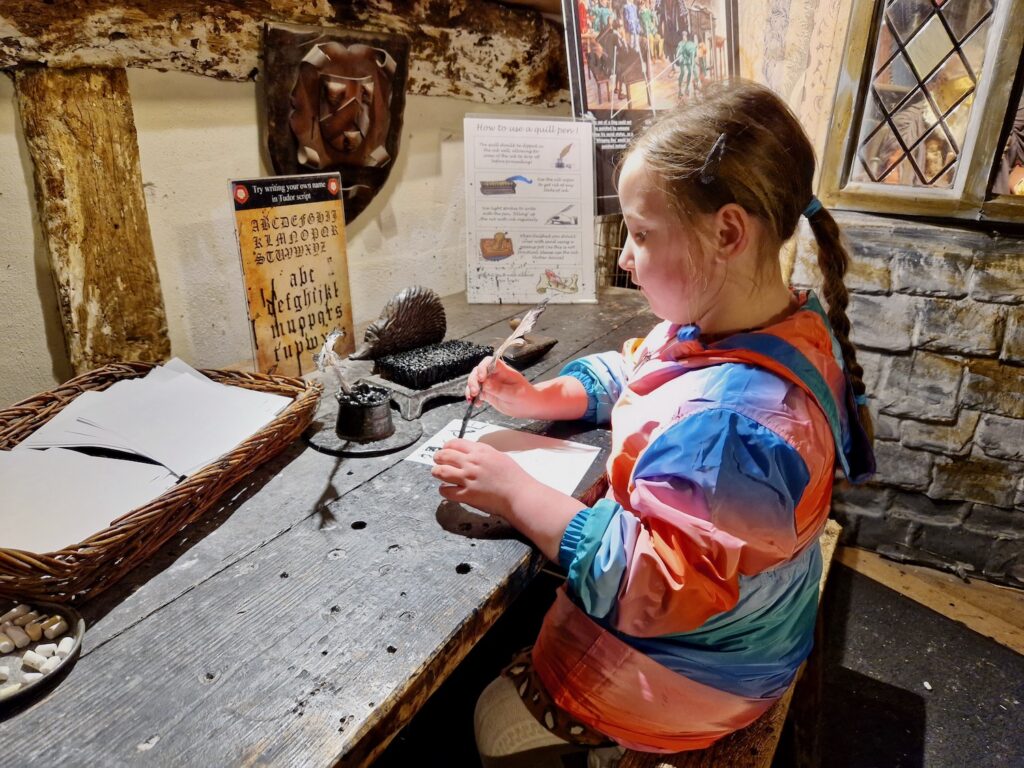 First floor
Tudor World isn't huge so in some areas you're only getting slice of different areas of Tudor life. After heading up the narrow set of stairs to the first floor, the museum gets a whole lot more interesting and it was definitely my favourite part of the visit. Upstairs you can learn all about witches, take part in a written witch trial and figure out if you'd have been called a witch or not. I think me and Erin ended up as witches just for being female!
We all had great fun here, learning about things like medicine, travel and even getting to try our hand at writing with a quill. This was really new and different for Erin and she was surprised at how hard it was… and how much she was covered in ink at the end!
At the time, Erin was learning about the Great Fire of London and the plague at school so this is partially why we visited. This area of the museum is really well done, with explanations about what happened, videos to watch and exhibits to look at. What I will say though is that this area could be quite scary for some younger children. It's quite a dark area, with uneven floors, but it's done in such a great atmospheric way. It's definitely not something we'll forget about!
Tudor World is such a great museum for a really wide age group. Not only do you get to look around a very old building but also learn about the secret lives of the Tudors. For me, this is a must if you're visiting Stratford-upon-Avon.
How long should I spend there?
Tudor World is quite an unusual small independent museum. While it is definitely worth visiting while you're in Stratford-upon-Avon, it won't take up too much of your time. Plan to spend 1-2 hours at the museum and you'll be able to walk around leisurely without being rushed.
What age is Tudor World suitable for?
We took Erin to Tudor World when she was 7; this is a great age. For us, it helped that Erin already had an interest in some Tudor history thanks to school and wanted to go. The museum is quite dark inside, and some areas are a little scary, so bear that in mind when visiting with younger children.
Ghost and Shakespeare tours
Ghost tours
The Tudor Museum offers ghost tours once the main museum is closed. Ghost tours are not suitable for children under 14 and even then, should be accompanied by an adult. The museum is known as one of the most haunted buildings in England and the tour will take you round by lantern light, talking about sightings in each room and stories of the building. You won't get to look around the museum and the exhibits during this tour, as the lights will be turned down so make sure you back at another time for this. Also, as the museum is very old, there are uneven floors and low beams so is not appropriate for those with mobility issues.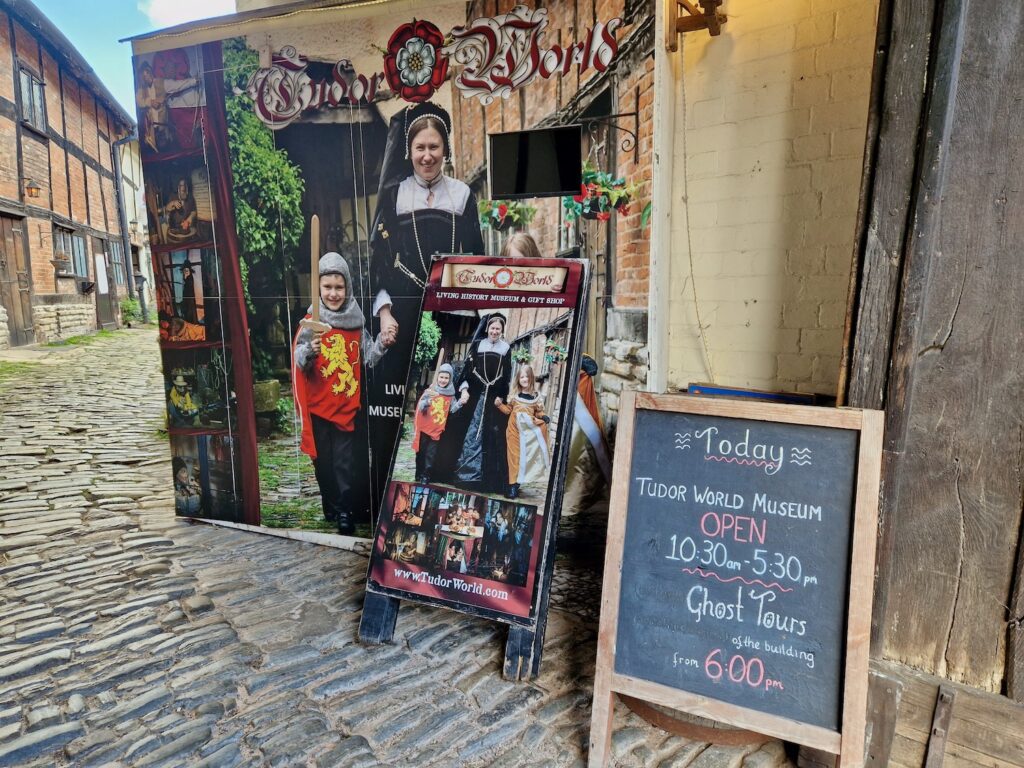 Shakespeare tours
Shakespeare tours take place every Saturday at 2pm, and last roughly 90 minutes. They're led by a dedicated team of part-time actors, usually Master Shakespeare or sometimes Mrs Shakespeare or Anne Hathaway. The tour goes around the town of Stratford-upon-Avon, telling tales of the rich history of the town, mentioning Shakespeare plays and what life was like during the time. The tour includes the Birthplace, Halls Croft, the Grammar School, the Royal Shakespeare Company, the Guild Chapel and finally Holy Trinity Church.
Be sure to add the Tudor Museum to your itinerary while you are in Stratford-upon-Avon!
Other things to do in Stratford-upon-Avon