AD | Press tickets
If you're planning a trip to Stratford-upon-Avon you'll probably want to do something Shakespeare related. Visiting Shakespeare's family homes is a great way to spend some time and there's loads to learn.
About Shakespeare's family homes
The Shakespeare Birthplace Trust looks after a collection of five properties, making up Shakespeare's family homes. Three of these properties are open to the public; Shakespeare's Birthplace, Anne Hathaway's Cottage and Shakespeare's New Place.
Other properties include Mary Arden's Farm and Hall's Croft, which are currently closed to the public. (correct as of October 2023).
Shakespeare's Birthplace
Address
The Shakespeare Centre
Henley Street
Stratford-upon-Avon,
Warwickshire,
CV37 6QW
Out of all three of Shakespeare's family homes, Shakespeare's Birthplace is the one that is probably the most popular and there will be a queue to get in at opening time. Unlike the other properties, you can book a time slot for entry here, which is advisable.
This house belonged to William Shakespeare's father, John Shakespeare, who later became Mayor of Stratford. John married Mary Arden in roughly 1557 and the pair had eight children. William was born in 1564 and was the third of the eight children.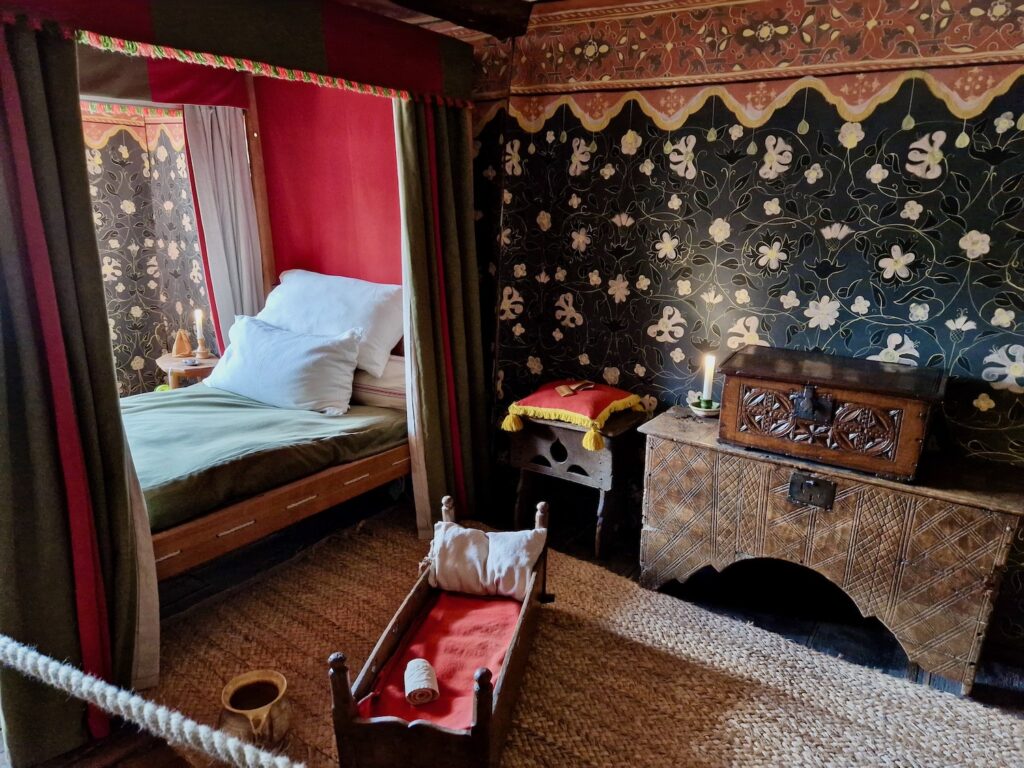 Shakespeare's Birthplace was by far my favourite of the three properties. It's amazing to think that a building as old as this one is still standing and in such good condition. The guides dotted around the property are full of knowledge and are more than happy to answer any questions you might have. It was nice to listen to someone talking about the history of Shakespeare's house, instead of having to read lots of information.
I particularly enjoyed looking around each room, and discovering what they would have been used for. One, for example, was John Shakespeare's 'office' and where he would conduct business. This room had a huge four poster bed in it, so he could show off his wealth to clients. The house has a really interesting history and it you can really get a glimpse of what Shakespeare's childhood would have been like.
Outside of the house you'll also find a small garden area with some benches to sit on. Although not huge, it's a lovely area to explore, especially if the weather is nice. After being in quite small rooms in the house, it's also a great place to get some fresh air.
Shakespeare's Birthplace does not have parking as it's located in Stratford-upon-Avon town centre however, there are good transport links. The site has a gift shop and toilets.
Ticket options
Adult: £20
Child: £10
Family (2a + 3c): £49.50
Concession: £16
Timed entry is bookable for this location.
Anne Hathaway's Cottage
Address
22 Cottage Lane
Shottery
Stratford-upon-Avon,
Warwickshire,
CV37 9HH
Anne Hathaway's Cottage was originally a farmhouse and was built in 1463. Originally, it only had three rooms and two of these still survive. This was a family home, with the first Hathaway to live there being John Hathaway who was Anne Hathaway's grandfather. Anne was born in the cottage in 1556 and later became William Shakespeare's wife.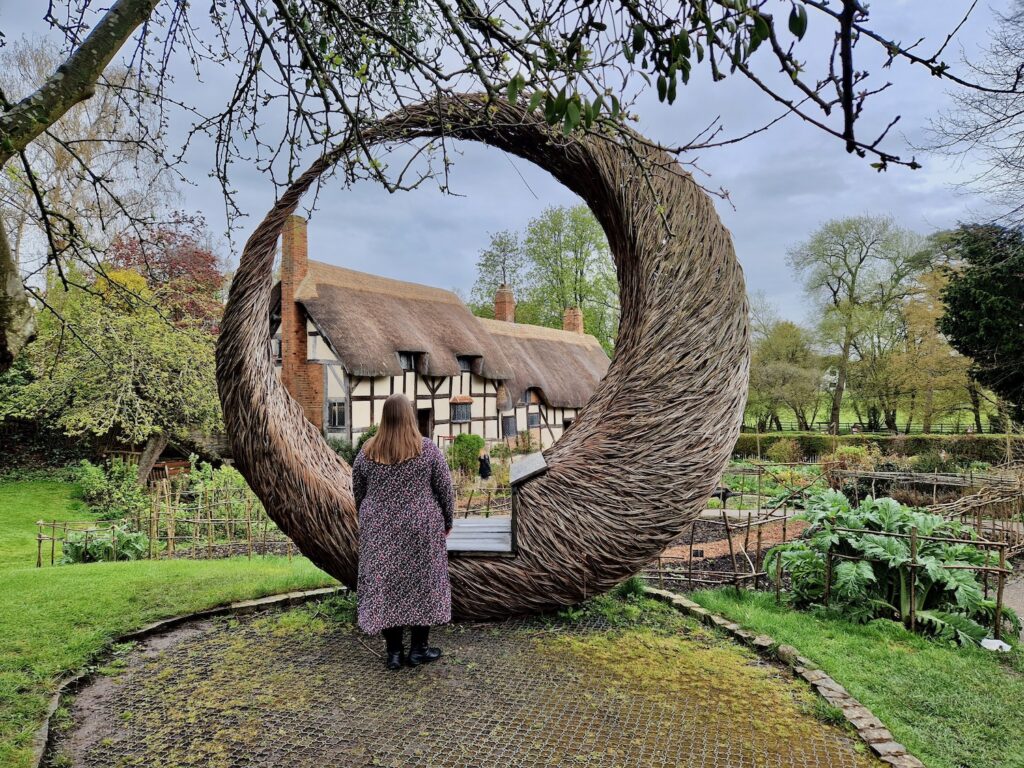 Although you won't learn so much about William Shakespeare at this particular property, it's still a really good one to visit. Guides are on hand in the cottage to talk about the history of the property and the Hathaway family. This location has some beautiful gardens to explore as well as a really interesting sculpture trail, which is based on Shakespeare's plays.
The extensive gardens are a great way to spend some time, especially if the weather is nice. Although it won't take you a whole day, you can spend at least a few hours at Anne Hathaway's Cottage.
You'll find paid parking nearby and there are toilets, a gift shop and a kiosk selling drinks and snacks on site.
Ticket options
Adult: £14.50
Child: £7.25
Family (2a + 3c): £38
Concession: £12
Shakespeare's New Place
Address
22 Chapel Street
Stratford-upon-Avon,
Warwickshire,
CV37 6EP
Shakespeare's New Place is a bit different to the other two properties. This site was Shakespeare's family home from roughly 1597 until he died in 1616, so only for 19 years. Unfortunately, the house was demolished in 1759. In it's place you can see where the house would have been by markers on the ground and there are beautiful walled gardens to explore.
At the start of your visit to Shakespeare's New Place, you can wait to hear a talk from one of the fascinating guides. You'll learn what happened to the house after Shakespeare died and why the site of his family home was demolished, instead of being left alone. As there isn't really much to see, the guides use visual aids to explain changes to the house and land.
The gardens here, which are beautiful to walk around, clearly have Shakespeare's influence. The garden is deigned using things that Shakespeare himself would have known as well as art and statues of characters from his plays.
At the time of our visit, there was an exhibition about Shakespeare's folios and how some of his works were put together in books. Erin was able to leave her mark, by writing in a special copy of one of Shakespeare's plays, along with anyone else who visited. Normally, I would not encourage writing in any book but on this occasion, it was definitely okay!
Ticket options
Adult: £14.50
Child: £7.25
Family (2a + 3c): £38
Concession: £12
Shakespeare's Story Tickets
The best way to see all three of Shakespeare's family homes is to buy a Shakespeare's Story ticket. This gives you access to all three properties. The ticket is valid for 12 months meaning you can go back as many times as you like. Find out more on the official website.
Adult: £25
Child: £12.50
Family (2a + 3c): £62.50
Concession: £20
Top tips for visiting with children
Visiting any historic site with children can be a bit overwhelming, especially here if they don't have much of an understanding of Shakespeare. If you want to visit with children, here are some tips to keep them interested and having fun:
Get them involved – make sure children can hear the guides talking and encourage them to ask questions
Take photos in the gardens – the gardens are beautiful and children might enjoy taking their own pictures of flowers
Learn a little about Shakespeare beforehand – children's versions of the plays are available as books
Spread out the visits – while you can visit all three sites in a day, children might be get bored. Try to spread the visits out over 2 days instead.
Other things to do in Stratford-upon-Avon