When booking a trip to Paris, not only do you want to be in a decent location but you also want your hotel to be nice. As we travelled with Erin, I was a little pickier about where I booked. Chains are always a good choice generally when it comes to family travel so I went with the ibis Styles Paris Montmartre Nord.
Where is ibis Styles Paris Montmartre Nord?
Based in the 18th arrondissement, Paris's famous Montmartre district, and is in the more northern area of the city. While I did think originally this might be further out than I wanted, the price was what sealed the deal. At £488 for 3 nights, this was in our price range and it included breakfast. Other hotels closer to attractions such as the Eiffel Tower were at least £100 more and did not include breakfast.
Checking-in
Check-in time starts at 2 p.m. at ibis Styles Paris Montmartre Nord. If you arrive early, you are welcome to go to the hotel and ask for luggage storage. There is a secure room where your luggage can be stored until you go back to check-in later. The staff at the front desk are really helpful and nothing seemed to be too much trouble.
3 nights in a family room
As there were 3 of us staying we needed to book a family room. Family rooms include a double bed and a separate single bed, which is converted from a chair. As we entered the room for the first time we were pleasantly surprised. Welcoming us was a hallway which led on to a bathroom and separate toilet and then the bedroom to the left. As a family, the separate spaces were appreciated as it meant we weren't always on top of one another.
The bedroom, although quite small was just enough for us. The beds were incredibly comfortable and we all said how well we'd slept for the duration of our stay. This is quite something for me as I generally toss and turn a lot in hotels.
Along with the beds, there is a very small space for clothes. Sadly, this aspect of the room didn't work for us as we just couldn't unpack properly. Rooms also have the use of a hair dryer, flat-screen TVs and free Wi-Fi access.
Something we did like though was the big Parisian windows, which opened up wide to an area that looked like a balcony. Unfortunately, even though these are modern rooms, they are not air-conditioned rooms. This is centrally controlled and you're unable to change the temperature in your room. The window was great for letting some air in at night, as the room could get quite warm. The only downside is that the street outside can get quite noisy. However, this didn't actually stop us from being able to sleep.
Breakfast
Breakfast was included with the cost of our stay and being completely honest, I wasn't expecting too much. Here, breakfast is served roughly from 6 a.m. to 10 a.m. in the breakfast room, which can be found on the ground floor. It's a light and spacious room, with plenty of tables and chairs. The whole area is well laid out and organised.
I was pleasantly surprised though and we thoroughly enjoyed breakfast each morning. Although the options did not change at all, there was plenty on offer, including:
Freshly baked baguettes
Toast
A selection of spreads
Cake
Pain au Chocolates
Croissants
Cheeses
Meats such as ham and chicken ham
Boiled eggs
Yoghurt
Fresh fruit juice
Tea
Coffee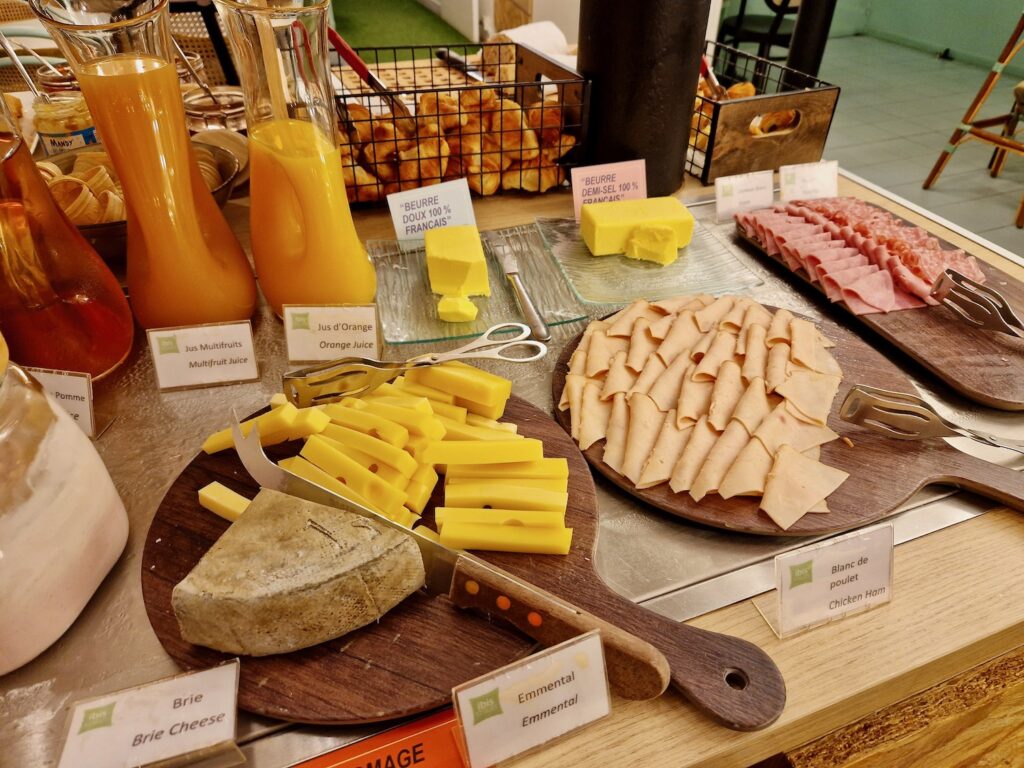 The buffet breakfast helped to set us up, ready for a day full of adventures in Paris. Having breakfast at the hotel each morning not only saved us money but also time, as we didn't have to find somewhere else to eat.
Using the Paris metro system
Getting to the hotel is really easy if you plan on using public transportation, especially the metro system. ibis Styles Paris Montmartre Nord is only a few stops away from both Gare de L'est and Gare du Nord metro stations.
This hotel is ideal for use as a base as it's close to a couple of different metro stations. Jules Joffrin metro station (12) and Clignancourt metro station (4) are both a 6-minute walk from the hotel. We found it extremely easy to get around quite stress-free. This hotel really gives you easy access to the rest of Paris and you can be in the centre of Paris within 30 minutes.
What is there to do close by?
Montmartre is a great area of Paris to use as a base for families. The area is full of fantastic cafes, restaurants and shops, with Lidl, McDonald's and KFC a 6-minute walk away if you need something familiar.
An absolute must is a visit to the Sacré-Cœur Basilica, which is a 25-minute walk away. Other options in Montmartre are the Museum of Montmartre, see the famous Moulin Rouge, find the filming locations from Amelie or visit the cemetery!
Would we stay there again?
For us, this ibis hotel was the perfect place to call home while we in Paris. Not only did we have extremely comfortable beds and contemporary rooms but we were able to get to the heart of Paris in less than 30 minutes. The ibis Styles Paris Montmartre Nord was ideal for us, and great value for money. I wouldn't hesitate to stay again should we decide to visit Paris in the future. 
Read more about our holiday to Paris: