Nestled on the picturesque Suffolk coast, Africa Alive in Lowestoft is a wildlife sanctuary that takes you on an extraordinary journey through the heart of Africa without ever leaving the UK. Join us on a thrilling family visit to Africa Alive, where the wonders of the animal kingdom come alive right before your eyes.
Address
Africa Alive Zoological Reserve,
Whites Lane,
Kessingland,
Lowestoft,
NR33 7TF
Parking and public transport
Africa Alive offers free car parking. There are blue badge parking spaces close to the entrance of the reserve however, these can be used on a first come, first served basis.
Travelling by train
The nearest train stations to Africa Alive are Beccles and Lowestoft. You will need to organise onward travel by either a taxi or bus from the train station.
Travelling by bus
There are several options for bus travel to Africa Alive. Each bus route has a walk of 5-10 minutes from the bus stop/ bus station to the reserve. Please check with local companies for timetables and are details.
First Eastern Counties 99
Anglian Bus' 7, 61 and 61A
Border Bus' 146
Opening times
| | | |
| --- | --- | --- |
| Date | Opening Time | Closing Time |
| 1st November – 3rd March | 9:30am | 4:00pm |
| 4th March – 30th June | 9:30am | 5:00pm |
| 1st July – 31st August | 9:30am | 5:30pm |
| 1st September – 31st October | 9:30am | 5:00pm |
*Times correct as of October 2023
Admission prices
| | | |
| --- | --- | --- |
| Adult (16+) | £23.00 | £21.00 |
| Child (3 – 15 Years) | £17.00 | £15.00 |
| Infant (2 & Under) | £2.00 | £1.00 |
| Concession (Senior 65+/Student*) | £20.00 | £18.00 |
| Carer | FREE | FREE |
*Prices correct as of October 2023. First column is with gift aid, second column is without gift aid.
Annual passes
Annual passes are available to purchase, which give the holder free entry to visit both Africa Alive and Banham Zoo as many times as they like for a year. Annual passes also include a range of additional benefits, which can be found on the official website. Prices in 2023 are as follows:
| | |
| --- | --- |
| Adult: £95.00 (16+) | £95.00 |
| Child: £60.00 (3-15) | £60.00 |
| Concession: £65.00 (Senior 65+/Student) | £65.00 |
| Carer: £0.00 (Any) | £0.00 |
What animals can you expect to see?
Although not a huge zoo, Africa Alive has a really good range of incredible animals to see.
Plains of Africa
At the Plains of Africa, you'll find a few different species of African savannah animals. These include the graceful giraffe, zebras and heavyweight rhinos. The three seem to live quite pleasantly together, as they would have done anyway on the African continent. This is where you can hear one of the daily feeding talks and see the giraffes being fed. 
Lemur encounters
One of our favourite sections was the Lemur encounters area. This is a walkthrough habitat where you can get really close to the ring-tailed lemurs, as well as some sheep. Lemurs are amazing primates and so interesting to watch. They can move around the enclosure freely, interact with the great outdoor adventure play area that's provided for them, or maybe just chill with other lemurs. While you can touch the sheep here, you cannot touch the lemurs.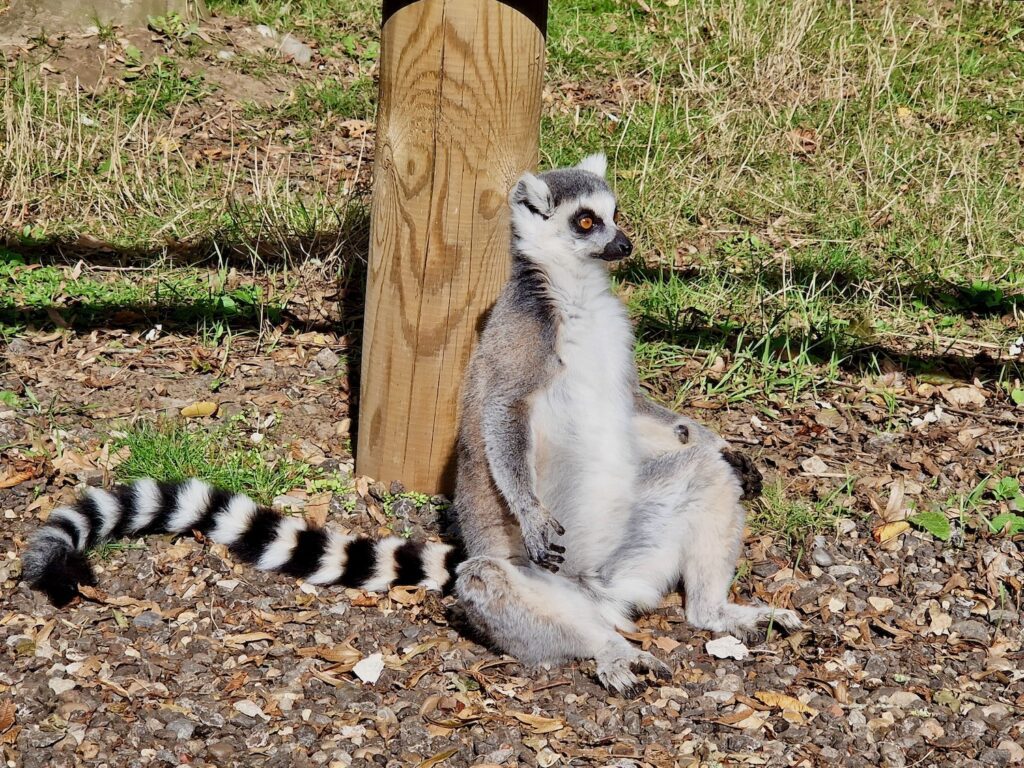 Lions
Africa Alive is home to two magnificent African lions, a male and a female who are brother and sister. Their enclosure is quite large, to ensure they have plenty of space to roam around however, there is a great viewing point where you can look out at these magnificent creatures.
Top tip: You can go on a free journey on the Africa Alive land train, which stops just outside of the lion enclosure. You'll learn loads of interesting facts from the driver. 
Smaller residents
You'll find a whole host of smaller animals who live at Africa Alive. These include a meerkat mob, cockroaches at the Discovery Centre, black-cheeked lovebirds, snakes and a range of owls on the woodland walk. There's a small area for noctutnal animals at one end of the zoo, which was really enjoyable. You can also read amazing facts about each of the animals just outside of their enclosures.
Animal talks
During the day there are various animal talks going on throughout the zoo. You can find a list of talks available that day, and the times they will be on, at the map at the front of the zoo. It's a good idea to take a picture of this so you remember what is on and when.
We managed to catch the meerkat talk and the giraffe talk during our visit and they were so good. Talks only last around 10 minutes but the staff are so knowledgeable and we learned a lot on each talk, including a lot about the animal's daily habits. There's usually a chance to ask questions too, if you have any.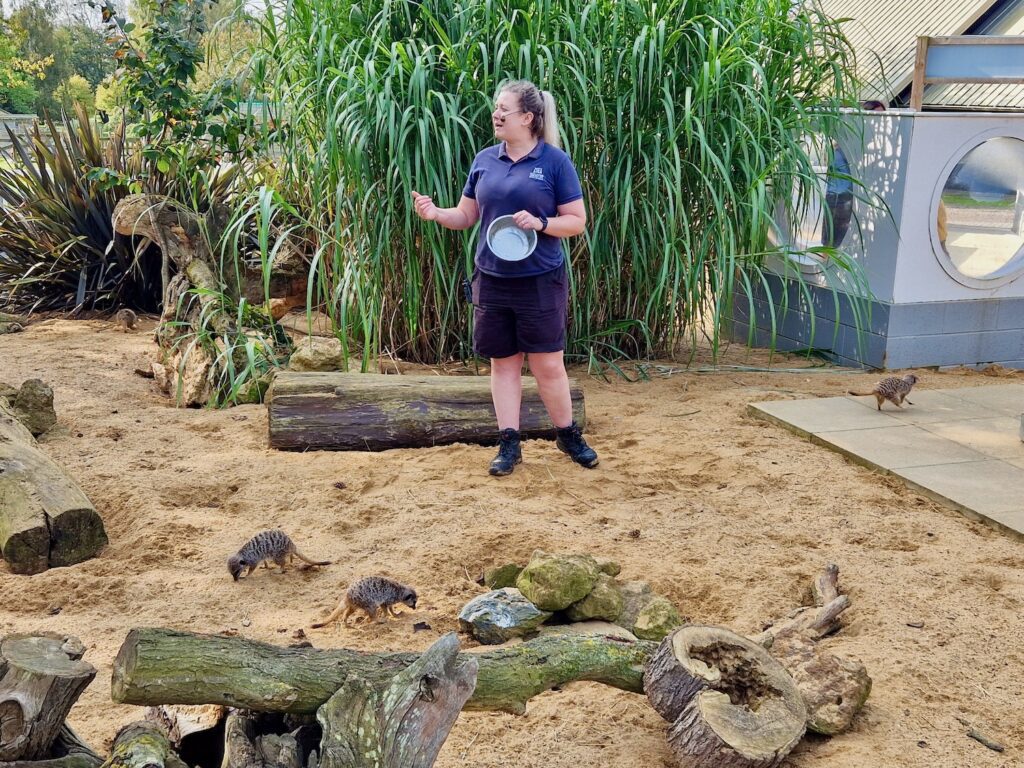 Animal experiences
Africa Alive offers a range of animal encounter sessions which can be booked online prior to your visit. Encounters include a junior keeper experience, meet the giraffes and sessions with the meerkats and lions, just to name a few. Prices vary and each encounter has age restrictions. 
Food and drink
Africa Alive has a few different places where you can purchase food and drink during your visit. Close to the main entrance you'll find Parkside Pizza, which serves like pizza, chicken tenders and chips. Just across from Parkside Pizza is the Keepers Hut, which serves paninis instead of pizza, but still with chicken tenders and chips. There is indoor and outdoor seating available. 
Another option is The Glade, which is located near the meerkat enclosure. You'll find a range of baguettes, jacket potatoes, panini and salads, as well as children's lunch boxes. There is indoor and outdoor seating available at this location.
Depending on the time of year, you can also visit one of the Africa Alive snack shacks, which are dotted around the zoo. These are only have seasonal opening times though.
Children's play area
Close to Parkside Pizza and the main entrance you'll find a children's play area. The area isn't very big, with only a couple of pieces of equipment but there is a large jumping pillow which was really popular during our visit. This area of the zoo has quite a lot of picnic benches and there's also a mini golf course which you have to pay to use. 
How long should you plan to stay at Africa Alive for?
Africa Alive isn't a massive zoo however, you can still spend all day there if you want to. We arrived at 9:30 and left just before 4pm. During this time we managed to go to two animal talks, have some lunch and see pretty much all of the animals.