When booking a holiday at any Haven park, it can be hard to know what kind of accommodation to choose. Here's what you can expect from a bronze caravan to help you make a more informed decision about Haven accommodation.
Haven's caravan grades
A few years ago Haven changed the names of their caravan grades so they might sound a bit different if you haven't visited for a few years. Here are the different grades in order of price:
​Saver
Bronze
Silver
Gold
Signature
Choosing your Haven holiday home
Something you can now pay extra to do before your family holiday is to choose where your holiday home is. Prices vary depending on the holiday park you're staying at, and the grade and location of the caravan. This is a great idea if you want to stay in a specific location or only want to be a short walk away from the main facilities. You can find out more about choosing your holiday home in another blog post. 
A bronze caravan at Haven Seashore
Although we stayed in a bronze caravan at Haven Seashore, the accommodation types are supposed to be pretty standard from one location to another. You can look at the specifics of this particular caravan grade on the Haven website, as well as those for the Haven saver caravan all the way up to signature caravans.
As standard, a bronze caravan comes with double glazing and central heating. The heating can be turned up or down easily, which was good because we were a bit too warm at times The one thing I wish caravans at Haven had was WiFi, but I don't think this is going to happen any time soon.
Living room
The living room area is the largest part of the bronze caravan. The decor may vary between locations and caravans but we found ours to be very modern and clean. It was nice that it had a bit of a beach theme/ colouring as well.
Our living room had a large corner sofa, which was more than enough space for the 4 of us. A footstool was a lovely touch too as it meant we could spread out that little bit more. We also had a small coffee table with storage, which was a great place to keep our games that we'd taken with us. Bronze caravans also get a 32-inch Freeview TV which is mounted on the wall, surrounded by more storage and hidden cupboards to the side. The whole room had a really lovely feeling to it and was a great family room for us.
Although not a dining room on its own, the living room does have a dining table suitable for 4 people. It was pushed next to a window when we arrived and could sit 3 people around it easily. When we wanted all of us to use the table we had to pull it out a bit, which wasn't a problem. When you're travelling with children, it's always nice to have a dining table as it can be used for things like colouring and games as well.
Kitchen
Even in a bronze caravan, which is one of the accommodation options in the lower price ranges, you get a nearly fully equipped kitchen. Although not massive, the kitchen has so much to offer and it means that you need to bring less with you.
Just next to the caravan's door is a storage cupboard/ where the boiler system is. There is also cleaning equipment like a dustpan and brush. To the side of this we had a large fridge/ freezer, which was turned on when we arrived. This was great for being able to put our food away straight away. If you're looking to cut some costs and stay on a budget, the fridge makes cooking in the caravan much easier. You can bring whatever you want from home or buy from the shop on site.
In the kitchen, we had a dishwasher, cooker, toaster, kettle, sink, microwave and so much storage space. We actually kept forgetting where we'd put some things because there were so many cupboards! This isn't a bad thing though. It means you can really spread out and organise anything you bring with you. The kitchen also comes stocked with glasses, plates and cutlery, as well as cooking equipment like pans and a cheese grater. You won't find absolutely everything you need here but the basics are provided.
​It's important to note that you won't get things like washing up liquid, tea towels etc. included. Remember to add these to your packing lists!
Bedrooms
Bedroom 1
The bigger of the two bedrooms is what I would consider the master bedroom. This comes with a double bed and sometimes, an additional toilet. This room has bedside tables on each side, over-bed storage, wardrobes and drawers, as well as a make-up/ desk area. We loved how much storage this bedroom had and we could really spread out in the room. Some bronze caravans also have a TV in the main bedroom but this isn't always guaranteed.
The bed was really comfortable however, the pillows are quite thin and not that great. We found some extra pillows in one of the wardrobes, which I assume are for the sofa bed. We shared these out to make us all a bit more comfortable. If you're driving to your Haven holiday, it might be an idea to take your own pillow/s if you're a bit particular about them! If you're wondering where to store your suitcases, there's plenty of space underneath the bed.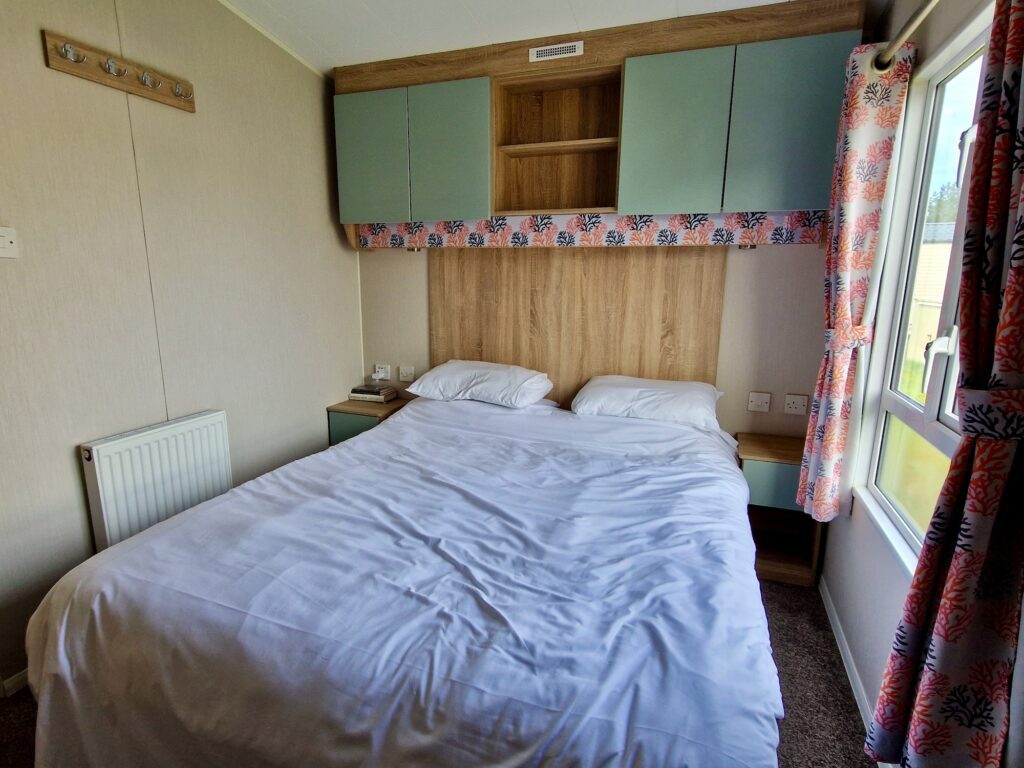 Bedroom 2
The second bedroom is what I would usually say is the children's bedroom. This room is significantly smaller than the main bedroom and squeezes two single beds in. These beds share a bedside table in the middle and there is a very small amount of space in the middle of the beds. The beds also seem smaller than an average single bed, with not much space to turn over if you're an adult.
Although a small room, there was plenty of storage for two people. Along with over the bed cupboards, there was also a wardrobe and hooks on the side. There is plenty of space in this room for children, especially if it's just somewhere to sleep and store their clothes etc.
Bathroom
The bathroom is the smallest area in a bronze caravan and included a toilet, sink, some space for storage and a shower. Bronze caravans don't come with towels or bath mats so this is something you'll need to bring with you from home. The walls offer a radiator and a couple of hooks so there is space to hang the towels once they are wet. What was nice about this bathroom was the storage space. We had plenty of space to put all of our toiletries and additional toilet rolls that we'd brought with us. You only get one when you arrive to this is essential when you do your packing.
Sometimes with caravans, the water pressure isn't great but our shower was lovely. This could obviously change depending on location though. The water was always hot however, if someone us using the sink in the kitchen, this could be affected.
Parking
For the duration of your stay you usually get free parking next to your caravan. This will vary depending on your Haven location but we've only ever seen the odd caravan that didn't have a parking space right next to it. In this case, there has been parking just on the road in front instead.
Would we choose a bronze caravan again?
We loved our stay in this bronze caravan at Haven Seashore. it was one of the more comfortable accommodations that we've stayed in at a caravan park and it was the ideal place for us as a family. Haven caravans have plenty to offer, no matter which grade you go for and if you want something basic, this one is ideal. A few differences between this and a Haven gold caravan are a patio/ decking area and a bit more space inside and when I want a cheap holiday, this isn't worth paying for. The bronze caravan was great value for our family holiday, had a lovely living area and comfortable beds. What more could I ask for!