AD | Press tickets
From 3rd to 11th June 2023, Sandringham in Bloom can be seen at the Sandringham Estate in West Norfolk. We visited over the first weekend to see what it was all about.
What is Sandringham in Bloom?
From Saturday 3 – Sunday 11 June, Sandringham will showcase and celebrate all things flora and fauna at a new event Sandringham in Bloom over an inspiring nine days.  Celebrations will take place across all areas of the House, Gardens and facilities at the Courtyard, with live music at weekends, expert advice available from our Gardeners and a relaxing gin bar in the Gardens.

Sandringham website
Contact
The Ticket Office
Sandringham Estate
Sandringham
Norfolk
PE35 6EN
TEL: 01485 544112
E-MAIL: ticketoffice@sandringhamestate.co.uk
Opening times
Garden Opening Times: 9am – 6pm
House Opening Times: 10am – 5pm
AM tickets can arrive anytime between 9am – 12noon
PM tickets can arrive anytime between 1-5pm.
Sandringham in Bloom ticket prices
Tickets to Sandringham in Bloom cost £26 per adult when booked online. Children under 17 are free but must be accompanied by an adult.
Included in the ticket price:
Free Garden tours on the day of your visit
Show gardens made by local charities and communities
Floral displays in the House including Queen Elizabeth II Floral Robe display
Sculptures in the gardens and expert advice from our gardeners.
Parking at Sandringham
There are two car parks available at Sandringham, the North and West car parks. They operate on an automated number plate recognition system, where you enter your registration number at a pay machine before you leave. You will be charged the appropriate fee depending on how long you have stayed at Sandringham. Find out more about parking on the Sandringham website.
When buying your ticket to Sandringham in Bloom online, you have the option to add all-day parking for only £4. Parking costs on the day are much more expensive and prices are as follows:
30 minutes – Free parking
Up to 1hr – £2.50
Up to 2hrs – £4.50
Up to 3hrs – £6.50
Up to 4hrs – £8.50
All Day – £10.00
A stroll around the gardens
The gardens at Sandringham are 60 acres, so be prepared to cover a lot of ground. You'll start your experience of Sandringham in Bloom at the entrance to the gardens, where you'll be given an information leaflet and map. It's worth keeping this handy so that you can easily locate the 20 different installations around the grounds.
As you find each wonderful celebration of flora and fauna around the garden, you can read a sign about each one. With small amounts of information available about each, it's nice to get children to read themselves. We learned essential information about the garden sculptures, what was used as part of the displays, the ideas behind the features and a bit more about the royal family at the same time.
Walking around the gardens can take some time with 20 different things to see. Once you reach the house, you'll find a gin tent outside and this is a nice place to take a break. At the weekend, you can hear live music in the tent so that's a little extra special detail to enjoy. The drinks on offer are reasonably priced. There are quite a few tables/ chairs outside the gin tent and deck chairs dotted around.
Inside Sandringham House
As part of your ticket for Sandringham in Bloom, you also get access to some of the rooms in Sandringham House. Before heading in though, be sure to get a photo from the front of Sandringham House. As one of the royal homes, Sandringham House is used regularly and is quite well-known for being a residence at Christmastime. I wasn't prepared for the emotion that hit me once I entered the house. As a lived-in property, there are such lovely touches and reminders of Queen Elizabeth II, with some beautiful pictures dotted around the walls.
Photography not allowed!
Photographs are not allowed inside Sandringham House and there are security ropes in place in most rooms so ensure you don't touch anything. Along with plenty of others, we set the alarms off a few times by pointing over the ropes. The staff were great though and very understanding, with gentle reminders about what we could and could not do in the house.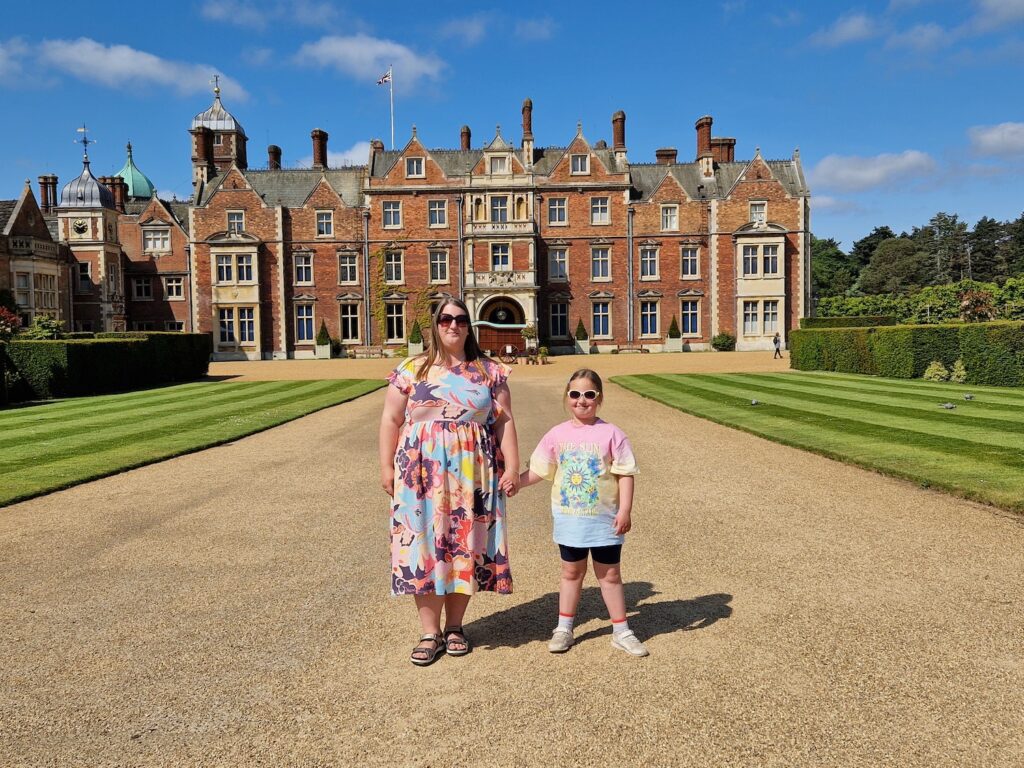 In the open rooms, you'll find stunning floral displays, with flowers taken from around the gardens of a beloved royal residence. The floral arrangements are so colourful, bringing out the best in each room you get to see. Particular stand-outs for me were the fireplaces filled with flowers and the dining table, which is definitely not set up for a traditional royal meal! Staff are on hand to answer any questions and they're really very knowledgeable. I loved learning the history of Queen Alexandra, and discovering who the place settings were for at the dining table.
In the main house, you'll find a big showpiece for Sandringham in Bloom, Queen Elizabeth II's floral coronation robe, which is on loan from Salisbury Cathedral. The robe is made from a combination of pampas grass, helichrysum flowers, ruscus leaves and in places, rice! Made by a team of 24 floral arrangers the robe took around 300 hours to complete. To see something like this, made with such a well-loved British monarch in mind, was really something else. It was a highlight of our time in Sandringham House.
Watercolours by His Majesty The King
Also, running until 12th October 2023, you can visit the Sandringham ballroom where a collection of watercolours by His Majesty The King, King Charles III are on show. Here, you can see paintings of the Welsh hills, the highlands of Scotland and at Windsor Castle, Highgrove, Birkhall Castle and the surrounding Norfolk countryside at Sandringham. Erin and I walked around trying to pick out our favourite, and talking about the different locations. Living in Norfolk, it was nice to see some familiar places, as well as some I hadn't heard of before.
How long did we spend at Sandringham in Bloom?
We arrived pretty close to 9am, and finished our walk around Sandringham's stunning lawns and the house at around 2pm. Generally, we strolled around at quite a slow pace, taking in as much as possible and stopping to take quite a lot of photos. It was so nice to be part of these celebrations and to discover Sandringham for the first time. As a family, we found that there was so much for us all to enjoy and plenty of spaces for us to take a break if we needed to.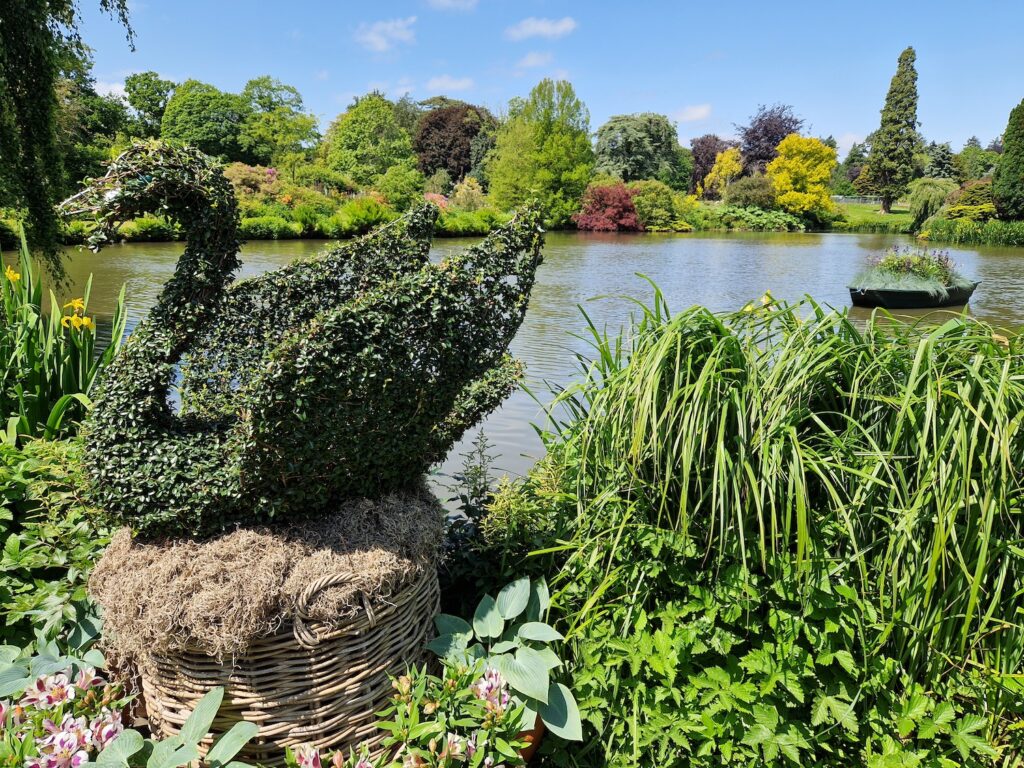 Considering how much we walked (around 11,000 steps), Erin did amazingly well and that really says a lot. The gardens at Sandringham are huge and there's so much space to stretch your legs and even for kids to run around when they want to. With so much space, people are never really close together unless at one of the installations and even then, we only saw maybe 3-4 groups together at any one time.
Sandringham in Bloom is only on for a short time so be sure to book tickets ASAP and discover it for yourself, while you can!