Every year, people look for more and more 'Instagrammable' locations, and Norfolk Tulips is one of the best. Norfolk tulip fields are the only ones in the UK who raise money for a local charity.
Buying tickets
Ticket sales are only open for a very short period of time and usually sell out the same day. Follow Norfolk Tulips on Instagram, where they announce when tickets will go on sale, and when they sell out.
Tickets in 2023 cost £5 for adult admission and £3 for children. Money raised goes to The Norfolk Hospice Tapping House. Ticket purchases are non-refundable and cannot be swapped.
Opening days/ times
Opening days and times for Norfolk Tulips aren't released until closer to the time. With varying factors such as the weather and how things grow, this isn't a set date every year. However, you can expect exact dates to be roughly in late April/ early May.
For a rough idea of opening times, in 2023 they were as follows:
Monday – 10am – 4pm
Tuesday – CLOSED
Wednesday – CLOSED
Thursday – 10am – 4pm
Friday – 10am – 4pm
Saturday – 10am – 4pm
Sunday – 10am – 4pm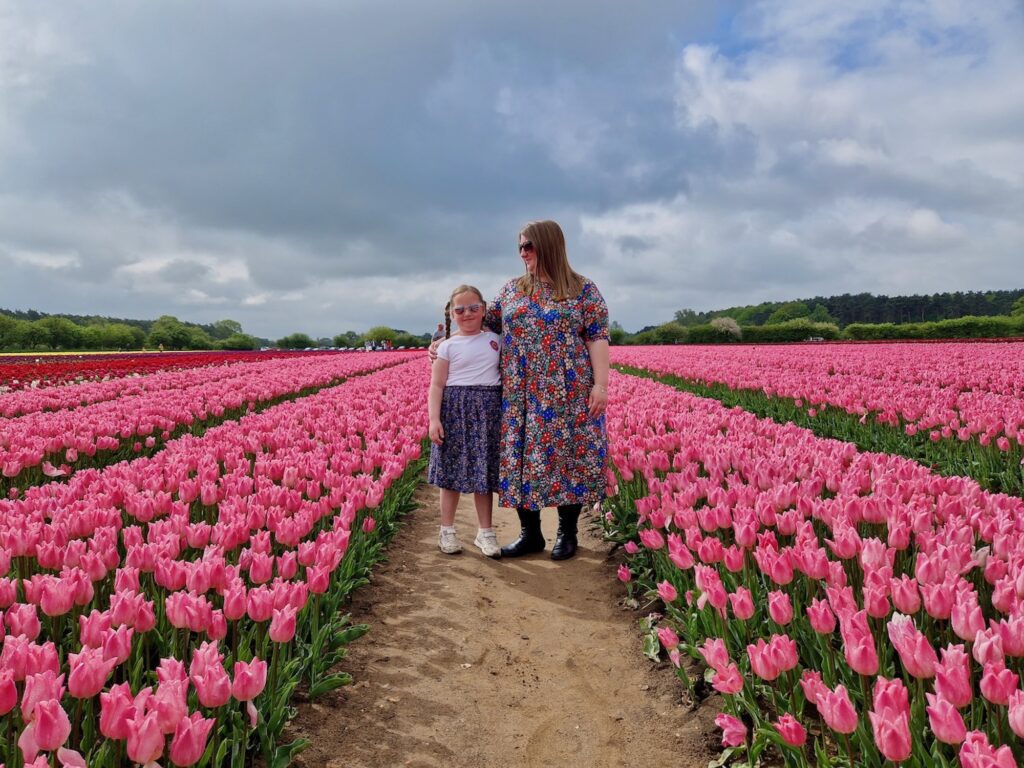 Getting to the tulip field
Norfolk Tulips can be found in West Norfolk, near King's Lynn. The exact location of the tulip field is given out to ticket holders. Parking is included with your ticket and driving is the best way to get there. 
If you're travelling by public transport, this can be quite tricky as there are no direct options. The closest place for buses and trains is King's Lynn, with trains being possible from London Kings Cross and Norwich.
How long can you stay?
When you buy tickets, you do so in 45-minute slots, with the first entry being at 10am. This is more to help control the flow of people and you are welcome to stay longer. On our visit this year, we stayed for close to two hours.
What facilities are there on site?
As well as the beautiful tulip field, there are some other facilities for guests to use. You'll be glad to know that there are toilets on site. In 2023 there was a selection of stalls and food vendors, selling things such as wood-fired pizza, chips and coffees from local traders, as well as bunched tulips. There was a small section of tables and chairs to sit on, as well as hay benches.
Is Norfolk Tulips accessible?
As this is basically a field of tulips, there are working paths in between the rows. The majority of these are quite narrow and very bumpy. While some pushchairs might be okay in some places, wheelchair users will struggle.
Top tips for visiting Norfolk's tulip fields
As first-timers this year, we didn't really know what to expect. We turned up quite unprepared and wished we'd had some advice beforehand. Here's what I would have liked to have known beforehand:
The most important of any tip I can give is to set an alarm for when tickets go on sale. They sell out FAST! People want to make nice social media content, as well as family photos.
The best time to visit is first thing in the morning. The first slot is at 10am and this is when we arrived. At this time, the tulip fields are pretty quiet and you can take lots of nice photos without many people around.
This is a working field so be sure to stick to the paths.
Even after a day of bad weather, the actual paths between the tulips weren't too bad. There was muddy ground around the edges of the field but it was mostly easily avoidable during out visit. Of course, with heavier rain this could be different.
Food available was reasonably priced and delicious. It's well worth staying for.
This is a rare opportunity and the Norfolk tulip field is only open for a limited time every year. Make the most of it!
Think about your clothing choices. There are tulips in multiple colours and certain clothes will only stand out in a few areas. People will, and do, take changes of clothes and accessories.
You cannot pick the tulips but you can buy some from a stall.
If you're taking children with you, make it fun! Erin loves this kind of thing but I can imagine younger children might get bored after a little while.
What else is there to do nearby?
As visiting the Norfolk tulip fields isn't really an all day activity, you might want to look at other things to do nearby. Here are some ideas:
King's Lynn
Holkham Hall
Hunstanton Beach