As part of the National Lottery's open week, one of the free attractions included was Gressenhall Farm and Workhouse. We made sure we took advantage of the offer and spent the day there on a free day out.
About Gressenhall Farm and Workhouse
Gressenhall Farm and Workhouse is part of the Norfolk Museums group, which is made up of 10 properties in Norfolk. Set in acres of beautiful countryside, Gressenhall is home to a traditional Norfolk farm, a thrilling woodland adventure playground, a workhouse museum and a museum focusing on the history of Norfolk.
Contact
General enquiries: 01362 860563
Email: gressenhall.museum@norfolk.gov.uk
Address:
Gressenhall Farm & Workhouse
Gressenhall
Dereham
NR20 4DR
Website: https://www.museums.norfolk.gov.uk/gressenhall-farm-and-workhouse
Opening times
Gressenhall is open daily from 10am to 5pm, from March to October.
Prices
Free admission to all our museums with a Norfolk Museums Pass
Adult £15.30
Family discount adult £13.90 (available with a paid child ticket)
Concession* £14.60
Child (age 4-18) £13
Child under 4 Free
The Workhouse
Gressenhall Farm and Workhouse is based in a former workhouse, originally opened in 1777 as a 'House of Industry'. The museum allows you to learn all about what conditions would have been like, who would have been there and the type off lives people would have had during that time. This is a truly unique museum and not something I've ever seen before.
Inside the museum you have the chance to dress up as some of the 'inmates'. If you're visiting with children then this is always a good idea as it helps to break up some of the heavier educational areas. You can learn the true stories of its inhabitants, helping you to really picture who was living there and their lives. Erin found the costumes to be very heavy and very uncomfortable!
Moving around the museum, you can learn more about the 'inmates' and their way of life. As well as the true stories dotted around, there is also projections of staff on some of the walls, talking about life inside the workhouse. It was interesting to learn how different groups of people were separated and not even allowed to talk to one another. These groups had very different lives, with some not even being allowed Christmas dinner.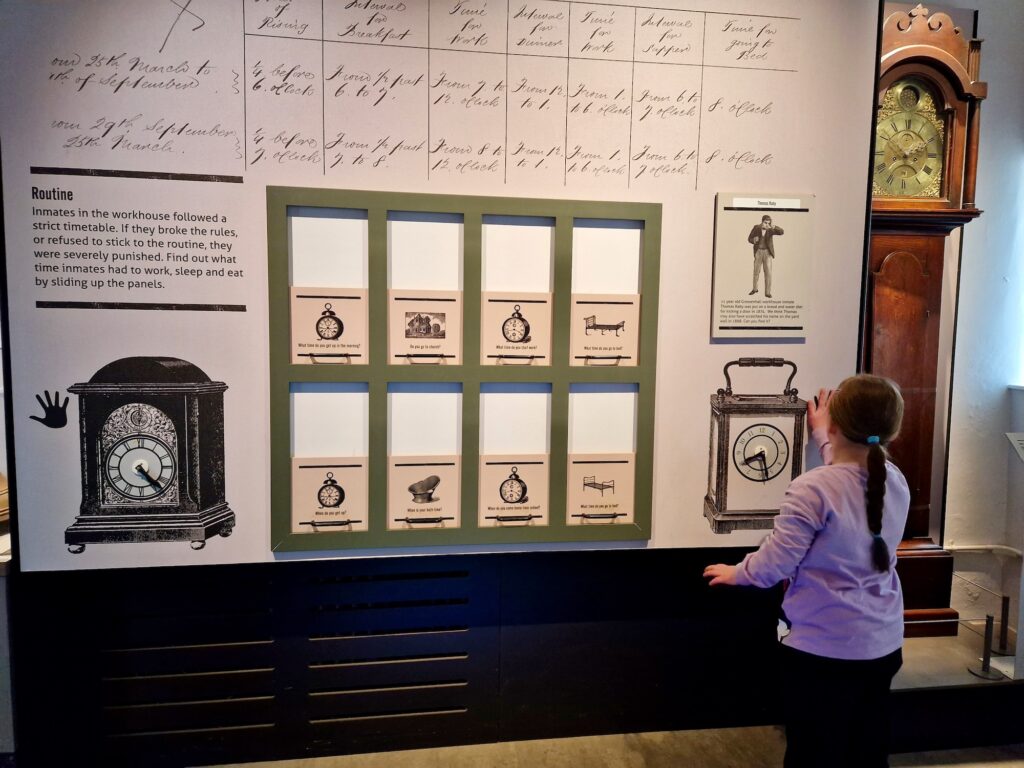 Something I particularly liked about this museum was that there was a lot for children to do. Whether that be lift-up flaps, puzzles or drawing, there is something for kids in most rooms. Erin enjoyed learning about the people in the workhouse and it was good for her to be able to look at the differences between her life and theirs. She was not impressed with the meals given or that children would be at school sometimes for so many hours in a day.
One area we all found really interesting was the laundry room. Obviously, without electricity and the washing machines we have today, things were very different. This area has some displays where you can smell what some of the washing would have been like and let me tell you, it is not nice! The interactive displays, even the gross ones, helped to make our day as enjoyable as it was.
Museum of Norfolk Life
Unfortunately, we ran out of time during our day to visit the Museum of Norfolk Life. This is on the other side of the building from The Workhouse so it is easy enough to do both at the same time. It's somewhere I'd like to go back to so we can learn more about the story of rural Norfolk and the history of where we live.
Gressenhall Farm
Our day started with a trip to Gressenhall Farm. The weather was a bit varied on this day so we tried to concentrate on outdoor areas while it was still dry. We arrived at opening time, so around 10am, and this is a great time to go on the farm as it's not too busy first time.
This is a traditional working farm and there are lots of opportunities to learn about what they do. The indoor displays are interesting, although some are quite gory and there are hands-on experiences such as learning how to churn butter or milk a cow! I particularly liked the room that explained everything from sowing seeds to harvesting crops.
Animals will depend on the time of year you visit. We were extremely lucky as there had been a lamb born a day before, and a set of twins a few days before that. There was also a pregnant pig and some calfs. Among these, we also saw some magnificent Suffolk punch horses, which was a highlight for Erin.
Something fun and a bit different to do on the farm is to go on a tractor ride. A tractor will drive around the farm, pulling a sort of bus behind it. If you don't fancy walking around the larger area of the farm, this is a fantastic opportunity to see it all without getting too tired. The tractor rides are free and included in your admission.
Adventure play area
One of Erin's favourite parts of our day at Gressenhall Farm and Workhouse was the fantastic woodland playground, which she had been asking to go to all day. This is set a short walk away from the main courtyard and is sort of behind Village Row.
The play area is huge and you'll find something for children of most ages, from age 2. This play area is quite new and you can tell. There's been a lot of thought put into it and the range of equipment is fantastic. You'll find everything from swirly slides, climbing equipment, assault courses and a zip wire. Next time we'll be making sure we spend a bit more time here as we only had time for a quick visit before heading home.
The play area is open until 4:45pm daily.
The Village Row
The Village Row was one of my personal favourite parts of our day at Gressenhall Farm and Workhouse. On the left hand side of the courtyard, you can go back in time to various different buildings and shops. These shops go all the way back to the 1870s right up to the 1980s.
Find out what happened in the post office, general stores, seed merchant and blacksmith. We really enjoyed looking around, finding things that were different than they were today. This was a great time to talk to Erin about how technology has developed over time, for things such as tills. We also really enjoyed having a look in the village school, where there are desks (with books inside), a piano, abacus and a blackboard. Erin loved looking around the old school room, finding things that were different and working out what to do with an abacus.
This is such an interesting area and there's so much to look at.
Food and drink at Gressenhall
The Mardlers' Rest Café
Although we hadn't planned on it, we found ourselves in the Mardlers' Rest Café at lunchtime. Check on your visit for opening times as they varied from the website times while we were there.
The cafe offers a range of hot and cold food from sausage rolls, quiche and chips to children's lunches which includes a sandwich, crisps, snack and drink. The menu isn't huge and it didn't seem like there are a whole lot of vegetarian or vegan options however, there might be more available if you ask.
We wanted something quick and cheap so we opted for 3 bowls of chips, costing £2.10 each. The food was really reasonably priced, with the chips actually costing less than a hot chocolate. Tables are on a first come first served basis and it does get busy quickly so you might have a little but of a wait.
Picnic areas
Gressenhall has loads of spaces to eat outside if you've decided to take a picnic. Dotted around are picnic tables, both in the courtyard and near the adventure play area. We also found quite a large gazebo with an undercover space where you're welcome to eat your own food as well.
Don't forget a souvenir
Before you leave, make sure you stop by the gift shop, where you can get something for the whole family. The shop sells a range of products from Gressenhall branded items, books and postcards. The shop isn't huge but there's a nice selection.
Would we go back?
We have been to quite a lot of great places in Norfolk but Gressenhall Farm and Workhouse is one of my favourites. It's somewhere you can spend the whole day and do a range of fun activities. There's something for everyone and all of us had a good time. Not only is Gressenhall educational but it's really fun and interesting. It's somewhere you can spend the whole day and really get your money's worth.