AD | Press tickets
If you're looking for an amazing family day out in the summer look no further than the Duxford Summer Air Show. We attended for the first time this year and couldn't believe how much there was to see and do. Read on to find out more!
Getting to IWM Duxford
Address
IWM Duxford
Duxford
Cambridgeshire
CB22 4QR
By train
The nearest train stations to IWM Duxford are:
Whittlesford Parkway
Royston
Cambridge
There are taxi ranks at Royston and Cambridge. Alternatively, you can take the 7A bus from Whittlesford Parkway (Monday to Saturday only).
Parking
Parking is available at IWM Duxford for the Summer Air Show. If you would like to park at the event, parking permits must be purchased in advance. Sales end when ticket sales close. Permits must be displayed and visible in your car upon arrival and for the duration of your visit. For the 2023 Summer Air Show, parking permits cost £5.
Shuttle buses
If you choose not to drive to IWM Duxford, there are shuttle buses available for the Summer Air Show. These run between Cambridge train station and IWM Duxford, and Trumpington Park and Ride and IWM Duxford, at various times throughout the day.
Use of the shuttle buses is free, just show your event ticket to the driver.
Ticket prices
Tickets prices for the 2023 Summer Air Show. Column 1 shows regular prices and column 2 shows prices for IWM members.
| | | |
| --- | --- | --- |
| Gold ExperienceSpecial VIP package. Visitors with a disability can bring a personal assistant free of charge. | £110 | £110 |
| Standard Adult Please ensure you book a parking permit if you plan to drive to IWM Duxford. | £47.50 | £42.75 |
| Standard Child (aged 15 years and under)Children aged 15 years or under go free with a full paying standard adult ticket | Free | Free |
| Parking PermitPlease ensure you book a parking permit if you plan to drive to IWM Duxford. Includes Blue Badge parking. | £5.00 | £5.00 |
| Air Show Programme Add a pre-purchased programme to your booking and save. Programmes purchased on the day will be £10. IWM members receive 10% off merchandise. | £8.00 | £7.20 |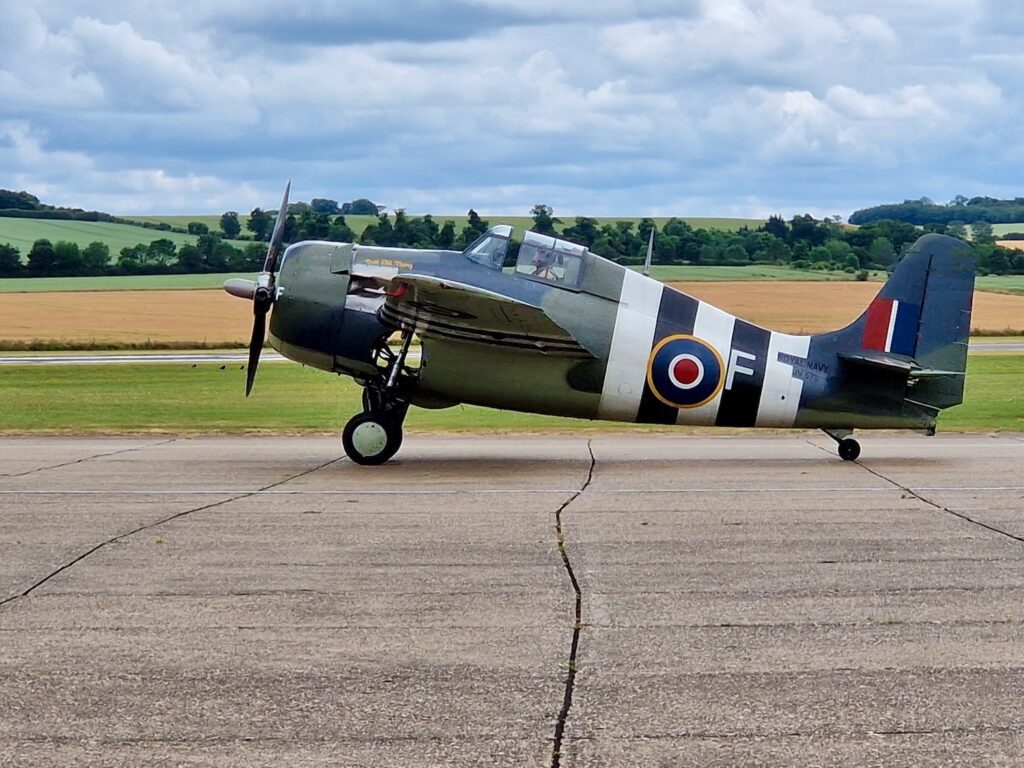 When does the event start and end?
In 2023, the Duxford Summer Air Show was held over a weekend on 24-25 June. Dates will vary each year to be sure to check this carefully. Entry to the Duxford Summer Air Show starts at 8am on each day and the event ends at 6pm.
Get ready for a fun-filled family day out!
As first-timers to the Imperial War Museum Duxford we had no real idea of what to expect from one of their air shows. Ahead of the event you can see a map online and get a rough idea of what there is to do but that doesn't prepare you for just how good the day is going to be. We arrived at around 8:30am after parking over the road (with a parking permit) and were blown away by how much was going on straight away.
To make the day easier, grab a map or download one to your phone. The map was set out into three different sections; blue, green and red, and this made it much easier to find everything we wanted to do.
​Top tip: take chairs and blankets!
Something we didn't really consider before going to the Duxford Summer Air Show was where we would watch the air show from. As first-timers, we had no idea what the set up was like. We realised very early on that many, if not most, people were very prepared and took in things like camping chairs, blankets and used those amazing little festival trolleys to carry it all around. As people entered IWM Duxford, they found a spot and set themselves up for the day. We saw many of these with no-one sitting in them as they were off enjoying the day. This is a great of way getting a good spot ready for when the air show starts. Not only that but if you're with children, it's a great idea to have somewhere to sit when everyone needs a break and gets tired.
Traditional fairground rides
It's not very often you go somewhere and do not have to pay extortionate amounts for children's activities. One of Erin's favourite parts of the Duxford Summer Air Show was the traditional fairground rides. Although not a huge area, there was a carousel, helter-skelter slide and swings. Children (and adults) were able to go on these rides for free as many times as they liked. Erin loves a carousel so she couldn't believe it when we told her she could go on as many times as she wanted. When you've already paid an entrance fee, it's nice to have something like this included as part of your ticket price. The queues weren't very long on the day, although there were always people waiting.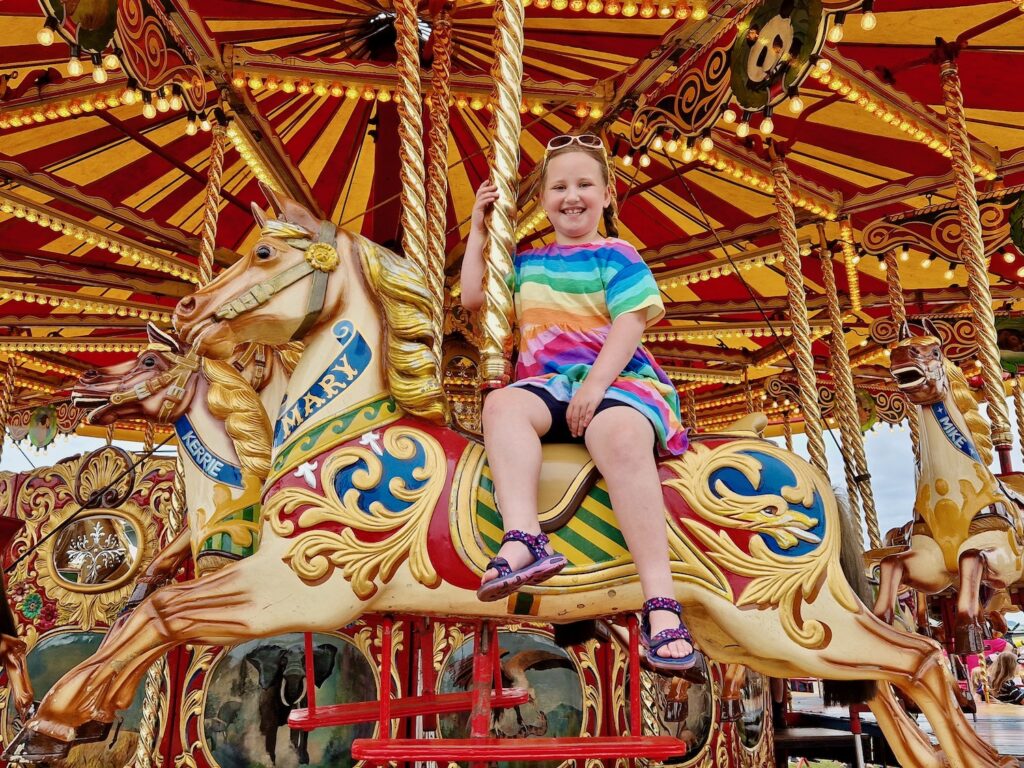 Food and drink
It can be a long day, especially if you get there close to 8am and leave at 6pm. The good news is that there are plenty of catering vans all over the place, as well as a couple of indoor cafes. You'll find everything from burgers, to hot dogs, to fish and chips at the Duxford Summer Air Show. Prices are what you would expect from this kind of event, with food being quite expensive at some of the catering vans. We paid £4.50 each for a portion of chips which we didn't mind. One van was charging £12 for sausage and chips, which we wouldn't have been happy paying. Many of the vans didn't display any options for children so it would be worth asking if they could do smaller portions etc.
Another option is to take your own food and drinks with you. We took a mix of snacks and drinks as well as buying the chips for our lunch and this worked out well for us. There are plenty of places to sit and eat, whether that be a spot on the grass or at a picnic table.
The British Airliner Collection / Air Space
Something we did pay extra for on the day was a Boarding Pass, which allowed us to explore the British Airliner Collection and some other aircrafts in Air Space. Our Boarding Pass cost £12 for a family and allowed us to go on board 10 different aircrafts and this was one of the highlights of our day. From passenger planes to a Concorde, we saw and learned so much.
It was fun to pretend we worked on some of the planes, discovered what some were used for and where they would go to, as well as explaining to Erin why most of them had ash trays! You might think that there couldn't be much difference between 10 aircrafts but you'd be wrong. We thoroughly enjoyed seeing why each one was different!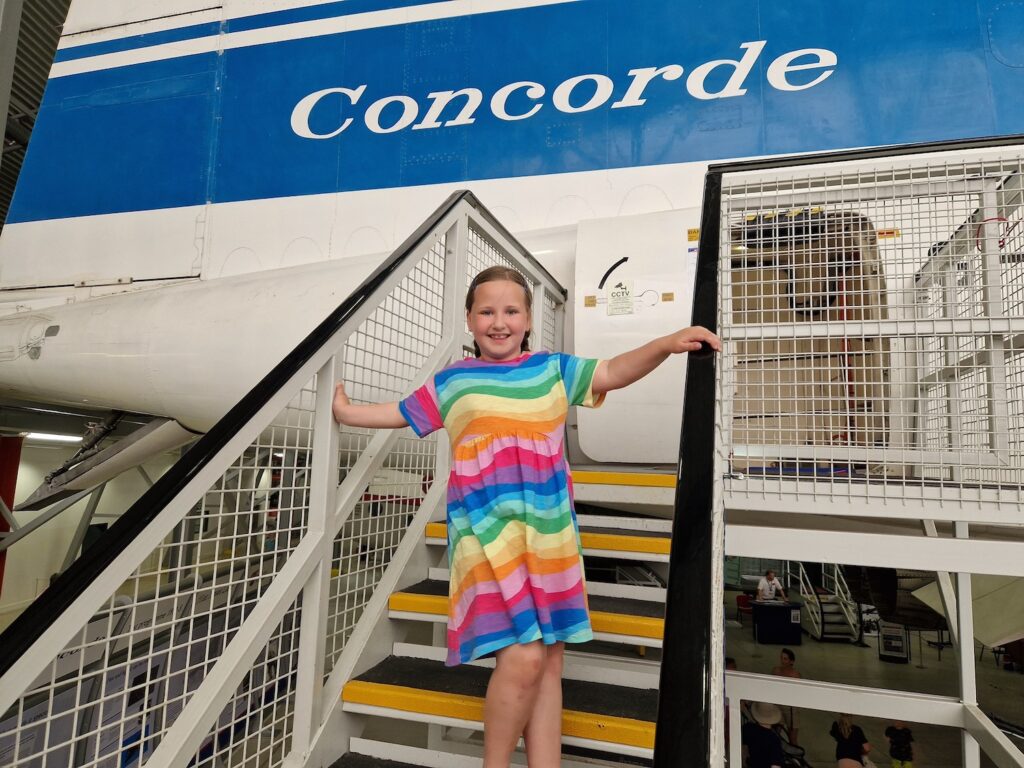 Food and drink may not be consumed on board any aircraft and all children must be accompanied by a responsible adult.
Vintage entertainment
Throughout the day you can catch a range of special vintage entertainment. This ranged from live music in hanger 4 (Battle of Britain), dressing up with 'Up An' At' Em' and learning about pilot attire from various different wars and being able to talk to serving members of the 6 Regiment about their experience in the military, while viewing displays of their equipment and vehicles. Something I really liked was being able to walk around the Duxford Air Show, and finding new things going on all of the time. There's so much fun entertainment going on over the course of the day and there really is something for everyone to enjoy.
The main event: the flying display
With so much going on, you must not forget about the flying display, which covers most of the afternoon. Flying starts at around 1pm, with the last display at around 5pm (depending on what day you visit). While it might sound like 4 hours is a long time, especially if you're visiting with children, you don't have to sit and watch absolutely everything. We did a mix of sitting and watching and walking around to do other things at the same time. The great thing is, you can see the displays from nearly everywhere at IWM Duxford unless you're inside a building. You can also get a good view from the grassy areas near the fairground rides, where you can relax a bit more and spread out.
As someone who doesn't really know anything about aviation, I was worried I wouldn't really know what was going on. I needn't have worried though. The official programme details the flying programme for each day and you can see who is doing what. This list also really helps you to see what is happening and what time so you can plan your day accordingly if there's something you want to see more than something else. IWM Duxford is known for having the best flying displays and rightly so.
We sat and watched all different kinds of aircraft doing awe-inspiring flypasts, action aerobatics and aerial displays. Okay, we might not have known exactly what was going on but we loved seeing what each display was, what they were going to do and how exciting it was going to be. Depending on when you go, you might be lucky enough to see a display from the Red Arrows!
Things we didn't manage to do:
Although we did a lot during our day, there was so much more we could have done. Some other activities included:
American Air Museum
Shopping – there are plenty of stalls and shops selling such a wide range of products
Face painting
Land Warfare
Air and Sea
Historic Duxford
Would we go again?
We had the best day at the Duxford Summer Air Show and would definitely go again. There was such a great mix of activities to do, both indoors and outside. We felt like the ticket price offered great value for money, especially as children go free. Apart from buying some food and the additional Boarding Pass so we could go on the planes, we didn't spend much extra. IWM Duxford is a museum site, all of which is open during an event day. Sadly, we didn't have time to look around all of these parts so we would love to go again for this. I really felt like this was a well-thought-out, family-friendly event with something to please most people.
​Interesting in visiting IWM Duxford? The Duxford Battle of Britain Air Show is on 16th and 17th September 2023. Tickets can be purchased from the official website.