AD | Press tickets
In Norfolk, I think we're very lucky to have so many amazing outdoor places for days out. Around a 40 minute drive from Norwich, we have Pensthorpe natural park, where we recently spent a wintery Saturday.
Opening times
Winter opening times
Wednesday: 10:00 am-4:00 pm
Thursday: 10:00 am-4:00 pm
Friday: 10:00 am-4:00 pm
Saturday: 10:00 am-4:00 pm
Sunday: 10:00 am-4:00 pm
(Café opens at 9am)
Entry prices
Winter prices
(check website for dates)
Adults – £9.95
Children (3-16) – £8.95
Children (under 3's) – FREE
Seniors (60+) – £8.95
Green Traveller – £8.95
Carers – FREE with full paying admission
Getting to Pensthorpe
Address
Pensthorpe Natural Park
Pensthorpe,
Fakenham,
Norfolk
NR21 0LN
Travel information
Postcode for satnav: NR21 0LN
Closest EV charging: Tesco Oak St, Fakenham NR21 9DX 2.4miles (7KW)
Nearest railway station: Kings Lynn
Nearest bus stop: At the entrance (X29 First bus)
Contact information
Website: https://www.pensthorpe.com
Email: info@pensthorpe.com
Phone: 01328 851465
What is there to do at Pensthorpe Natural Park?
Nature Reserve
Pensthorpe is a huge nature reserve which is wonderful for the whole family to walk around. You can pick up a map in the shop, or download one before your visit to help during your visit. The map is really well-detailed, with markings and labels for different things to do and various different walks. If you have a pushchair or wheelchair with you, you'll be glad to know that there are safe routes for you and they are marked out on the map so they're easy to find and follow.
Around the nature reserve there are quite a few different activities for children to take part in such as leap frog, nature trails and pond dipping… just to name a few. Although we didn't get to do everything on this visit, we can't wait to go back again in spring or summer to do some more. Something I loved is that there are a few different places where you can do something as simple as playing Pooh sticks.
Gardens
At Pensthorpe you'll find 6 glorious gardens to explore, such as the Millennium Garden and the Wave Garden. As I'm sure you can imagine, there wasn't quite as much to see in winter as there would be in winter. However, this didn't stop us from looking around a couple, and reading the signs to see what kinds of flowers and plants there would be in just a couple of months. We could already see signs of spring in some places!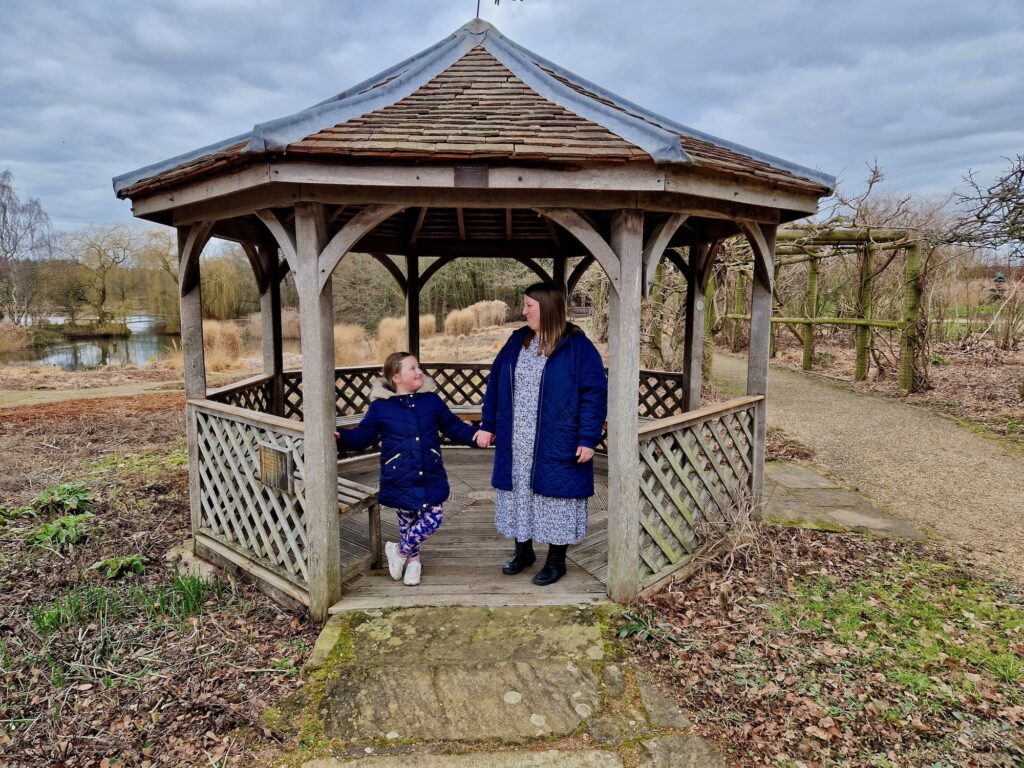 Don't forget the wildlife
Pensthorpe is home to many different species of animals, wild birds and insects. As you walk around, you'll struggle to go very far without seeing one thing or another. As we visited in winter, there wasn't maybe as much as in other seasons but that didn't stop us from trying to find as many different kinds of animals as we could.
If you head left at the gift shop you'll end up walking around Mill Pond, which is home to plenty of different kinds of ducks. One of the great things about Pensthorpe is that they really encourage education about nature and wildlife. There are boards noting which ducks you might see in this area, their names and some information about them. This was great for Erin and it really got her wanting to read more about the animals.
We made a point during our day to head to the very right-hand side of Pensthorpe to see the flamingoes and cranes. We were informed upon arrival that these would be out from 12-2 so we made sure that we made time to do this. We missed out on seeing flamingos on a trip to Banham Zoo so we were all quite excited about this. The Pensthorpe Conservation Trust has been working on raising the number of Eurasian cranes (or the Common crane) and helping to stop them from being extinct. There is a crane hide where you can sit and watch the cranes safely, without disturbing them.
Hootz House
Hootz House is a children's play area with a difference. Instead of your standard soft play, Hootz House is nature themed with areas for children of all ages. Think towers to climb, rope bridges to cross, amazing slides, and an area for the under 3s. It's advisable to book a session for this indoor play area, which you can do online before your visit or on the day when you arrive. Bear in mind that sessions have limited spaces.
We made this the first point of call on our day out, as Erin was absolutely bursting to go in. Staff were great at explaining what was what and that we had no time limit due to it being a quieter day. After a quick exploration, Erin couldn't wait to show us everything. There really is so much to do here and at 7, Erin was more than able to do everything.
Although adults are welcome to go in and play as well, there is also a seating/ viewing area up some steps. This is a great place for a rest, a sit down for anyone not playing and there are toilets up there as well. Hootz House has a small cafe serving drinks and snacks so it was nice to have somewhere out of the way to enjoy these.
Wild Rootz
As well as a fantastic indoor play area, Pensthorpe offers some amazing outdoor play areas in Wild Rootz. Pensthorpe has really thought about what people need and there are so many fun family activities to do here. This area is set over nearly 2 acres with tunnels, burrows, slides, zip wires and even a stream to explore.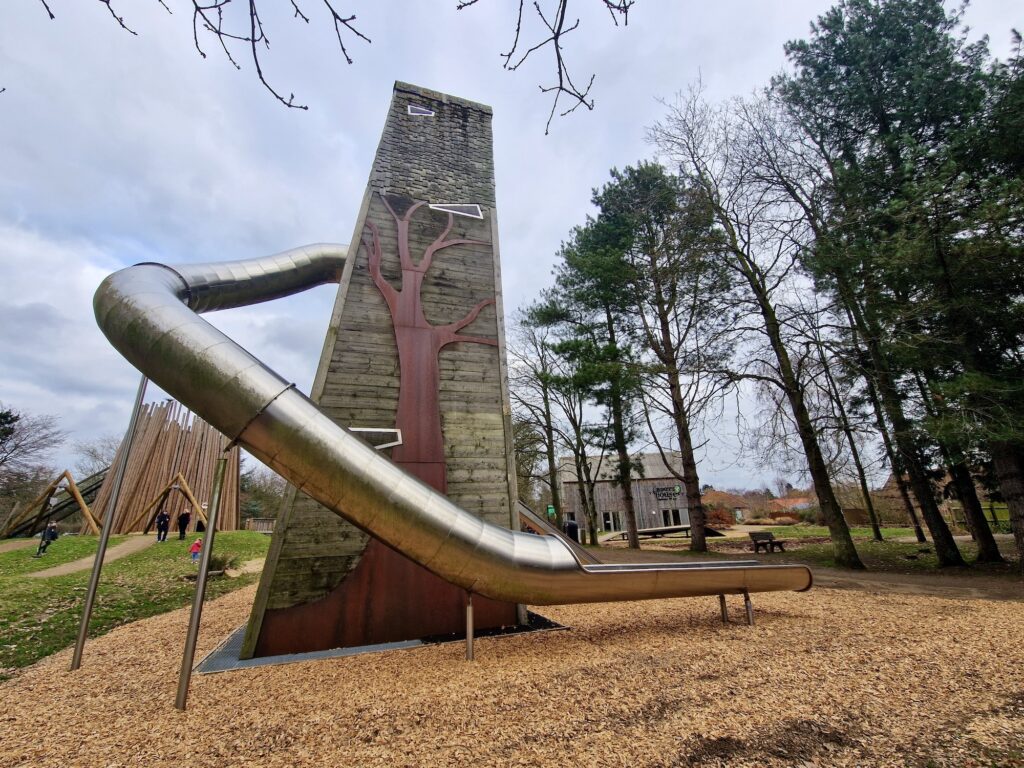 Erin's eyes lit up as soon as we got to Wild Rootz. We last went to Pensthorpe when she was only 2 so didn't remember this bit at all. There's really something for everyone here too and Pensthorpe has clearly thought about children of all ages. There is plenty of climbing equipment of varying difficulties, worm-like slides, musical equipment and also sand play. I think Erin would have played here for hours if we could have done.
Courtyard Cafe
If you're feeling a bit peckish, then be sure to stop by the Courtyard Café. Open from 9am, you can grab breakfast before Pensthorpe opens or there for lunch you can choose from sandwiches, toasties, burgers and even afternoon teas. There's really something for everyone on this menu!
Looking for a family day out in Norfolk? Make sure Pensthorpe is at the top of your list of places to visit.