Cleethorpes is a popular seaside town in North East Lincolnshire. It's a great place for family days or trips away. There's loads to do so find some inspiration for things to do in Cleethorpes in the list below and get planning your next trip.
Cleethorpes Beach
Cleethorpes has miles of sandy beaches and it's one of the best places to spend your day. You'll find lots of space to spread out close to Cleethorpes Pier, which you can also explore the underneath of. This beach is great for making sandcastles, collecting shells and going on donkey rides. During the summer season you can go for a paddle in the sea, try and catch some crabs or eat an ice cream on the sand.
​There are facilities such as cafes, restaurants and toilets nearby so you have nearly everything you'll need right there!
Cleethorpes Coastal Light Railway
For over 75 years, the Cleethorpes Coastal Light Railway is one of Britain's oldest seaside miniature railways. Trains run roughly every 30 minutes, or 40 minutes if the steam locomotives are in service from around 10:30am to 4pm. Trains run between the Cleethorpes Kingsway and Lakeside, which is where you'll find the Signal Box Inn. You can get drinks, snack and other refreshments at each station.
Website: http://www.cclr.co.uk
The Meridian Line
For something free and quick to do, take a visit to see the Meridian Line. The Greenwich Meridian Line is located along the coastal path close to the Meridian Showground and is easy to get to. You'll also see lovely views of the coast during your walk. It's free to see the Meridian Line and you can go at any time of day.
Cleethorpes Seafront Amusement Arcades
You can't have a day a seaside resort without visiting the amusement arcades. Cleethorpes has so many different amusement arcades that it can be difficult to choose which one to go to. Have a walk through a few before deciding where to spend your time. You'll find a mix of 2p machines, classic slot machines and shooter games. Some arcades even have soft play areas and bowling alleys.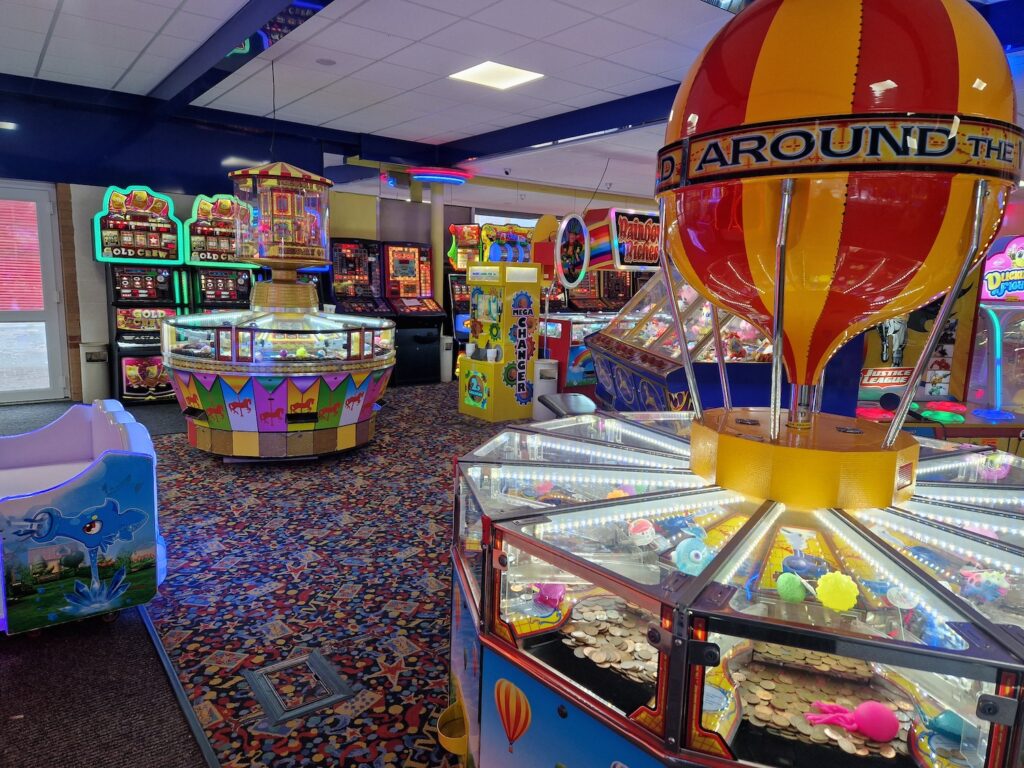 Cleethorpes Leisure Centre
If you're looking to go swimming while you're in town then Cleethorpes Leisure Centre is the place to be. With a huge pool, wave sessions and a slide, it really is a fun place for the whole family. This can be a popular place during school holidays though and booking sessions is advisable.
Website: https://lincsinspire.com/sport-leisure/centres/cleethorpes-leisure-centre/
Magical Castle Soft Play
Magical Castle Soft Play, located at the Meridian Point retail park, is a great option for children. This soft play center is absolutely huge and has a range of indoor play facilities to keep the kids busy for a couple of hours. You'll find all sorts here such as a bouncy castle, climbing wall, huge slides and climbing equipment. There are sections for babies and toddlers too so even the youngest of children can have fun.
Sessions do need to be booked online and you'll get a reserved table for your party. Food and drinks are reasonably priced too!
Website: https://www.magicalcastle.co.uk
Parkway Cinema
Sometimes you need a bit of downtime when you're on holiday or need something a bit calmer to do with the kids. Parkway Cinema shows the latest films as well as others throughout the year. Families can enjoy Little Penguins sessions on Saturday and Sunday mornings where tickets are only £3 each. Food and drink can be purchased at the cinema and there is plenty of parking available outside.
Website: https://cleethorpes.parkwaycinemas.co.uk
Cleethorpes Bowling Alley
Located right next to Parkway Cinema, Cleethorpes Bowling Alley has been popular with families for many years now. With 16 bowling lanes with fully automated scoring systems and bumpers for everyone who needs them, this is bound to provide a great time. Cleethorpes Bowling Alley caters for birthday parties and bowling leagues, as well as offering food and drink on-site.
Website: https://www.cleethorpes-bowling.co.uk
Enjoy fish and chips
Cleethorpes and the neighbouring town of Grimsby are famous for their fish and chips. Haddock is the fish of choice here, with some places like Steels Cornerhouse Restaurant not offering others like cod. Steels is a personal favourite of mine, and it's just a short walk away from the beach or St Peter's Avenue. You'll find other options along the seafront and on Cleethorpes Pier.
If you want to learn more about the local history and the fishing industry, the Fishing Heritage Centre in Grimsby is a great place to visit. You can also take a tour of a fishing boat, the Ross Tiger.
Steels website: https://steelscornerhouse.co.uk
Cleethorpes Boating Lake
If you're looking for free things to do then Cleethorpes Boating Lake is a lovely area to walk around. Located on Kings Road, there's plenty of parking available. It's easy to spend some time walking around the lake and feeding the ducks if you want to.
Only a short walk from Cleethorpes Leisure Centre, the boating lake is easy to get to and there are other things to do nearby. You can visit meridian showground, Cleethorpes Discovery Centre or The Signal Box Inn – The Smallest Pub on the Planet (locally named).
Looking for something else to do? Check out these other attractions in Lincolnshire:
Rand Farm Park
Visit Lincoln Cathedral
A day at Hubbords Hills
Have a picnic at Weelsby Woods